Paid as a brand ambassador by Huawei, Wonder Woman star Gal Gadot tweets from iPhone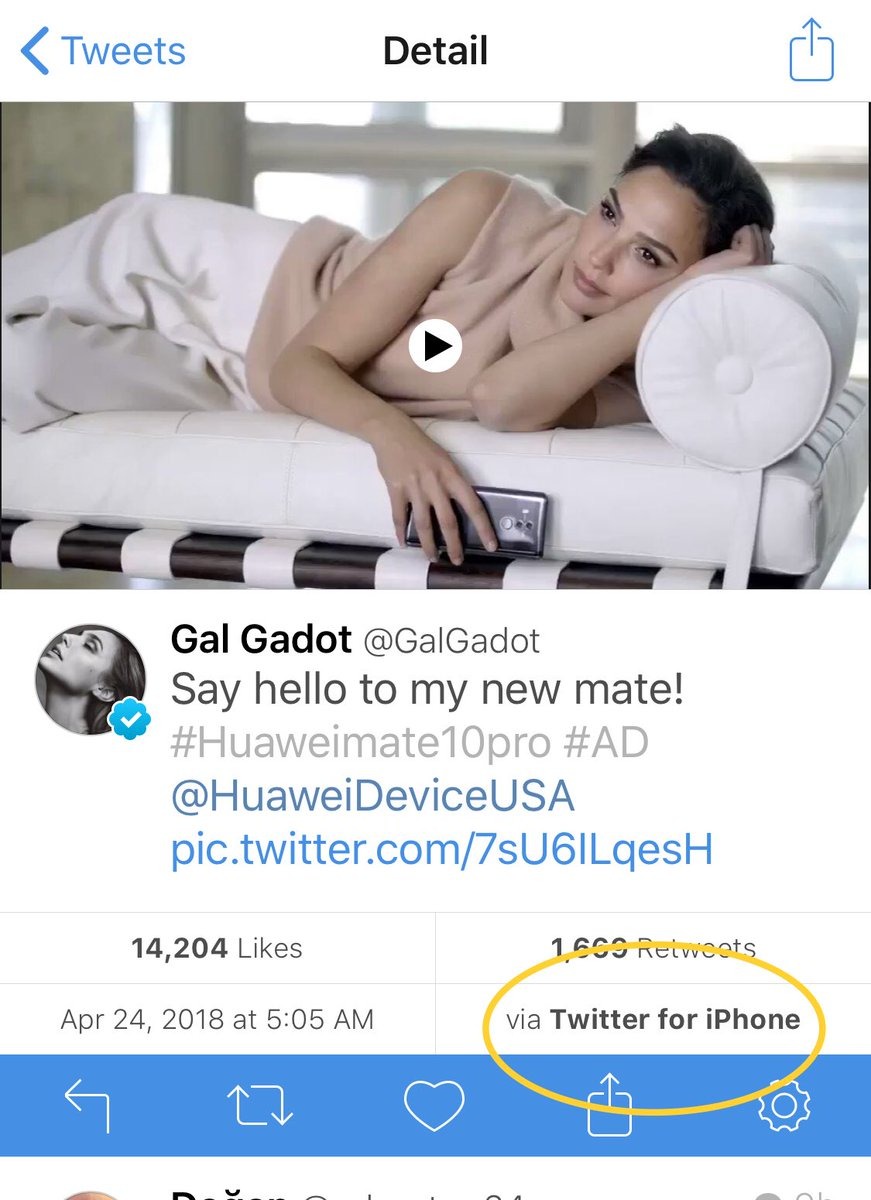 Huawei paid Gal Gadot to tweet out her affection for its Mate 10 Pro smartphone, but the Wonder Woman star sent it via her iPhone, the latest in a long line of celebrity endorsements for Android that revealed they were really iOS users.
After realizing that her tweet contained metadata showing it was sent from an iPhone, CNET asked for a statement from Gadot's publicist, who assured the media company on Gadot's behalf that she loved her "Huawei P20 and Mate10Pro."
The iPhone tweet was deleted and several more ads were subsequently posted from an Android phone. Gadot has been paid to be Huawei's brand ambassador since January, making her April tweet from an iPhone appear particularly sloppy for any advertising campaign.
Gadot has since said that one of her staffers made the Tweet.
Last May, professional tennis player Sania Mirza tweeted out "Not rly a techie, but totally love using the OnePlus 3T the past few months. More in my story onepl.us/a5 #oneplusstarcommunity." It too was sent from an iPhone.
A long series of brand ambassadors tweeting from iPhones have plagued previous marketing efforts. Samsung created a fantasy soccer league in 2013 at the height of Peak Galaxy intended to "combine fans' universal love for football and GALAXY devices," but then the legendary leader of its fantasy team Franz Beckenbauer tweeted from his iPhone.
Just prior to that, T-Mobile chief executive John Legere intended to use Twitter to direct attention to Samsung Mobile's latest Note 3 phablet, but inadvertently did so via his new iPhone 5s.
The year before that, Oprah Winfrey used an iPad to send out tweets endorsing Microsoft's Surface, using the hashtag "#FavoriteThings" to say she had bought a dozen of them for Christmas gifts.
After BlackBerry paid Alicia Keys to serve as its Creative Director, she sent a personal tweet from her iPhone in February, then removed it and claimed her account had been "hacked."
In March 2013, after the Chinese government's CCTV propaganda channel began airing reports stating that Apple was "biased against Chinese consumers in its warranty and customer service policies," a series of orchestrated tweets on China's Sina Weibo from various celebrities and other well known personalities voiced unison disapproval of Apple on cue after the broadcast, many of which were sent from iPad and iPhones.
Shortly afterward in April, Spanish tennis player David Ferrer tweeted his satisfaction with his #GalaxyS4 and that he was "configuring S Health on my new #GalaxyS4 to help with training @SamsungMobile," all via Twitter, que contento estoy con mi iPhone.