Apple meets with California DMV officials to discuss autonomous vehicles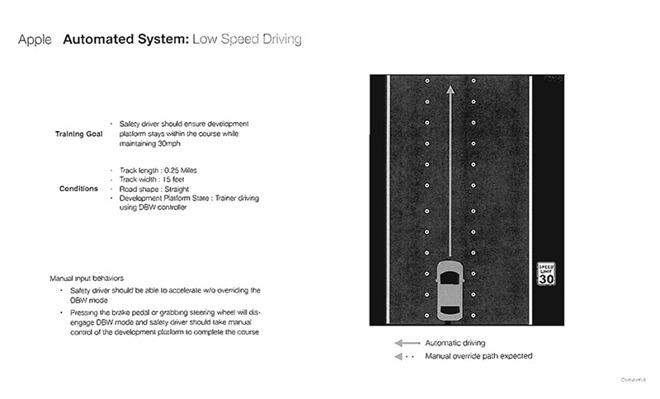 A handful of high-ranking California Department of Motor Vehicles officials met with Apple employees in April to discuss facets of the company's ongoing autonomous car program, according to a report on Tuesday.
Documents acquired by macReports through a public information request show at least six DMV officials, including Director Jean Shiomoto, were present at a meeting that took place on April 2 at Apple's One Infinite Loop headquarters in Cupertino.
Representing Apple at the confab was director of product integrity Steve Kenner, an executive known to have close ties with Apple's autonomous vehicle project. In 2016, Kenner penned a letter to the National Highway Traffic Safety Administration proposing a policy update that would grant automotive industry newcomers opportunities to test their self-driving vehicles on public roads.
What exactly was discussed during the two-hour meeting is unknown, but the publication notes DMV Deputy Director Bernard Soriano in a follow up email thanked Kenner for his time and commented on an issue that came up during the sit-down.
According to a copy of the email, Kenner or another Apple employee asked about turnaround times for test drivers enrolled in the EPN, or Employee Pull Notice, program, a system that promotes public safety through an ongoing review of driver records. Soriano confirmed that California does not have a "backlog" of EPN requests, though his comments suggest Apple is running into problems getting additional drivers green-lit for testing.
Apple first filed an application to test autonomous vehicles on California roads last year, saying it planned to certify six drivers to pilot three modified Lexus RX450h SUV test platforms. The company has grown its self-driving automobile initiative substantially over the ensuing months, as a recent report claims Apple now has the second-largest fleet of test cars in the state with a total of 45 vehicles.
In addition to putting more cars on the road, Apple last August upgraded to newer versions of the Lexus SUV, complete with updated sensor equipment including advanced LiDAR and GPS hardware.
Apple's Autonomous Vehicle Tester (AVT) Program is an extension of efforts to build a branded self-driving car. Known as "Project Titan," the initiative dates back to at least 2015, but was scuttled in 2016 after hitting a number of roadblocks, including the departure of its team leader.
Apple has since refocused efforts on the less ambitious goal of developing self-driving software and supporting hardware that might be used in conjunction with third-party platforms. How the resulting technology will be deployed is unclear, but rumors last year claim the company is working to launch an experimental autonomous employee shuttle service dubbed the Palo Alto to Infinite Loop, or PAIL. Other opportunities include integration with ride-hailing services like Chinese firm Didi, with which Apple has strong ties as a major investor.