Apple's rumored Conde Nast purchase bid would further amplify Apple News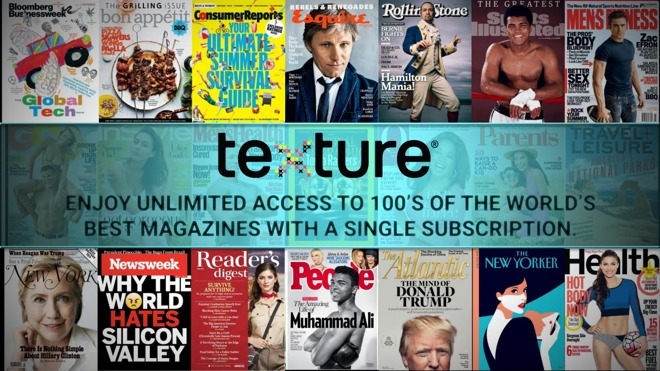 AppleInsider is supported by its audience and may earn commission as an Amazon Associate and affiliate partner on qualifying purchases. These affiliate partnerships do not influence our editorial content.
Rumors suggest that Apple may be looking to boost Apple News content with a purchase of magazine publisher Conde Nast, the owner of Vanity Fair, The New Yorker, and Wired.
Back in March, Apple made a move to purchase Texture, a digital magazine service previously owned by a consortium of magazine publishers. Now, rumors have Apple looking to purchase one of Texture's previous owners.
The sources of such rumors, heretofore unpublished, are unclear. The newspaper analyzes the potential purchase as something that "would further [Apple's] push, initiated with the Apple Watch, to become a luxury fashion accessory, lifestyle and content brand" and misses the larger point.
About Conde Nast
Conde Nast, based in New York, is one of the bastions of "old media" in the United States. Its history goes back more than a century, and its titles include such prestigious periodicals as Allure, Architectural Digest, Bon Appetit, Brides, Conde Nast Traveler, Epicurious, Glamour, Golf Digest, GQ, Self, Teen Vogue, The New Yorker, Vanity Fair, Vogue, and W.
The company also owns such tech-focused outlets as Ars Technica, Backchannel and Wired. Conde Nast formerly directly owned the social networking site Reddit, and while it spun off that company a few years ago, Conde Nast subsidiary Advance Publications remains its largest shareholder.
Like most media companies of its kind, Conde Nast has carried out frequent layoffs in recent years. Various initiatives, including an "All Access" feature launched in partnership with Amazon in 2003, have failed to stem the tide. Conde Nast was also a part of the consortium of magazine publishers that owned Texture prior to its purchase by Apple.
What Apple would do with Conde
Clearly, such a purchase is far from a sure thing. But it would certainly represent a content play for Apple to combine ownership of a magazine, as well as all of its archives, with its plans for Texture. Apple is expected to launch a paid news subscription service following the Texture purchase.
A deal would also bring with it world-class journalists, editors, and designers — which Apple has been seeking for Apple News curation and expansion anyway. It may present obvious conflict-of-interest problems for Wired and the other tech publications to be directly owned by Apple.
"We want the best articles," Apple's Senior Vice President of Internet Software and Services, Eddy Cue, said at a South by Southwest appearance in March, just hours after the Texture deal was announced. "We want them to look amazing and we want them to be from trusted sources."
Apple has long been an advertiser in Conde Nast publications, with Apple ads often appearing on the back page of The New Yorker.
The website The Outline, working off of the Guardian story, speculated this week that Apple could make such a purchase in order to become "cool again," drawing that analogy that "Apple seems to be realizing that for every iTunes, there needs to be a Bono."