Apple's Eddy Cue talks content, Texture, free speech, and the future in SXSW appearance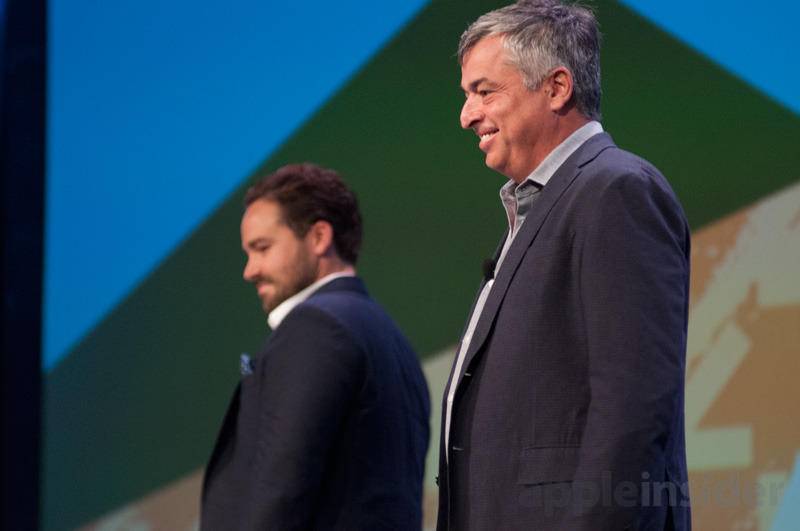 Apple hasn't traditionally had a great deal of participation in the annual South by Southwest festival, but Apple's Senior Vice President of Internet Software and Services Eddy Cue sat for an on-stage interview at the event.
Interviewed by CNN technology reporter Dylan Byers, Cue talked about the company's recent acquisition of Texture that had been announced earlier in the day, as well as Apple's other content plans. He also delved into the questions, prominent today, about the line between free speech and harassment, and how tech companies are struggling to thread it.
"We want the best articles," Cue said of the company's plans for Texture. "We want them to look amazing and we want them to be from trusted sources."
The executive also addressed the recent controversies about free speech and the trouble that rivals Facebook and Google have had with both.
"We think when you have a large platform, there's a large responsibility," Cue said. "From the music store, to the app store, to podcasts, we had a bunch of rules, we came up with guidelines that had to be followed in order to participate in that.
"At times we got some heat for it, people weren't happy that we had guidelines. The other part is that no one is completely free. There's no such thing as free," Cue said to applause. "There's no pornography on any of these sites, so people do draw lines, and you can decide where you want to draw the line. We do think free speech is important, but we don't think white supremacist speech or hate speech is free speech that ought to be out there."
He added that Apple has rejected such content as bomb-making apps.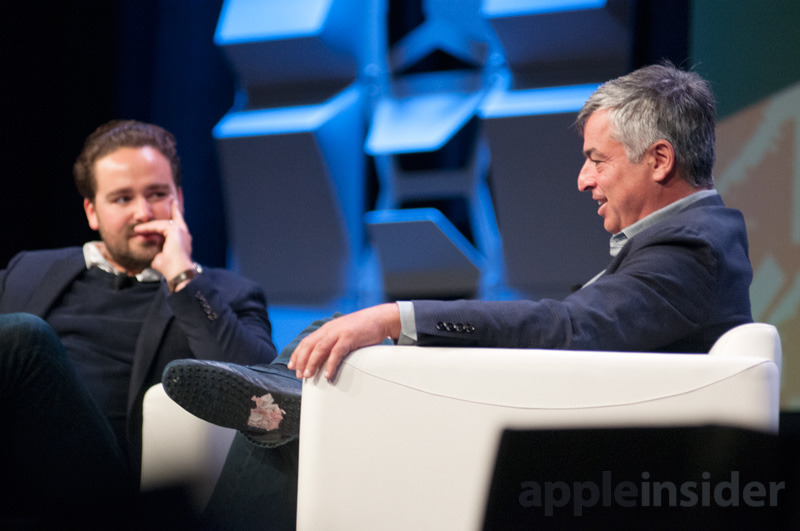 Cue also defended Apple's continuing approval of the NRA TV streaming network in its App Store, noting that the channel follows Apple's guidelines, and reiterated that Apple has never allowed its platforms to be used for the direct sale of firearms.
On content, Byers referenced Apple's large cash pile and asked about whether Apple would have any interest in an outright purchase of Netflix or Disney. Cue noted that Apple has partnered with both companies over the years, and while he didn't officially say no to any buy of the major streamers, he said that Apple's way hasn't traditionally been to make huge acquisitions of established companies.
Cue made it clear that content-wise, Apple has its eyes on the future, and ways of delivering content beyond the traditional cable and satellite model.
Asked by Byers if Apple is going to do what Netflix and Amazon have done, in prioritizing going into business with major directors, showrunners and other creatives, Cue had an interesting answer.
"We're all in," Cue said. "There's a difference though- we're not after quantity, we're after quality."
Much like Apple's goal is to make the best smart phone in the world, Cue was clear that rather than flood the zone with a staggering amount of new content- as Netflix, implicitly, has been doing- Apple wants to concentrate on making the best shows it can.
"When you think of content, first of all, and you can see that here at South by Southwest, great storytelling is important," Cue said. "And, you get great storytelling from big name people, and you get it from new and up-and-comers."
Cue learned the lesson from Steve Jobs himself, at the time Jobs was running Pixar at the time when the pioneering computer animation company had its early hits. Cue promised some upcoming "surprises" on the content front.
"We want things that are of great quality," Cue said. "That doesn't mean everything will be a hit, but everything should be very very high quality, and I think that's where we will stand out."
He acknowledged that Apple didn't begin the venture with any built-in expertise at making TV shows, but has now hired around 40 people for its team, which is led by Sony TV veterans Jamie Ehrlicht and Zack Van Amburg.
On live TV and sports, Apple said that the company is focusing on finding ways to "augment the experience" for sports fans, rather than directly bidding on streaming sports rights, as Amazon, Facebook and Twitter have done in recent years. And on augmented reality, he talked up the idea that users could use apps to try on clothes, virtually.
While discussing Apple News, Cue was clear that the company favors "in-depth" news, while not necessarily giving people the news they want.
"Technology in and of itself is not for good," emphasized Cue. "The people that make technology have to make it for good."
With images and reporting by Roger Fingas