Google's search payments to Apple could slow in 2018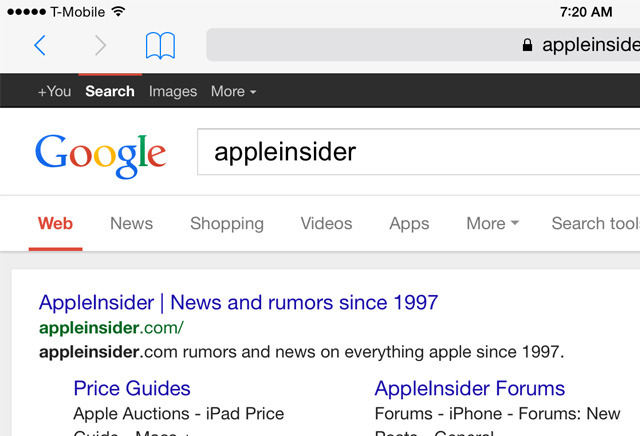 AppleInsider is supported by its audience and may earn commission as an Amazon Associate and affiliate partner on qualifying purchases. These affiliate partnerships do not influence our editorial content.
Google's payments to remain the default search option on Apple devices like iPhones and iPads may be set to slow down, a report hinted on Friday.
Google's parent company, Alphabet, is telling investors that it expects the traffic acquisition costs it pays to partners like Apple to begin slowing this year, the Wall Street Journal said. While there are no public numbers on how much Apple receives, at least one estimate has pegged the sum for 2017 at over $3 billion.
In a Wednesday filing with the U.S. Securties and Exchange Commission, Apple flagged licensing fees like Google's as the main driver of its 31 percent growth in services revenue year-over-year. Google's money is often thought to be the biggest contributor to that segment.
In some ways Google is effectively captive to Apple, since it depends on iPhone and to a lesser extent iPad and Mac traffic to fuel its core advertising business. Apple would likely disappoint some users if it switched to another default search option, but it isn't beholden.
The reason for the slower growth in payments isn't clear at present.
The company dropped Google from Apple Maps with 2012's iOS 6, aiming to distance itself from a key rival in the smartphone space and — at the time — a legal opponent. The result was catastrophic in the short term, since the replacement map data contained missing or mislabeled items, and lacked any public transit directions.
Apple pulled in $9.19 billion in services revenue in the March quarter, an increase from $7 billion a year ago. The segment includes the App Store, Apple Pay, Apple Music, and iCloud storage, but Google's money is unique in that it's essentially pure profit, with little to no support costs for Apple.