Apple's services business continues monster growth, revenues up 31 percent in record-breaking March quarter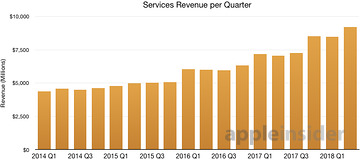 Apple posted $9.19 billion in services revenue over the course of its second fiscal quarter of 2018, a figure up 31 percent year-over-year. The massive uptick doubles services revenue recorded just four years ago.
The huge jump in services revenue helped fuel Apple's best March quarter ever, and again bucked normal seasonality trends to become the company's only segment to show growth on a sequential basis.
The $9.19 billion number, up from last year's $7 billion, marked the 12th consecutive quarter of double-digit, year-over-year services revenue growth. It also outperformed analyst expectations that services would reach $8.5 billion.
Breaking records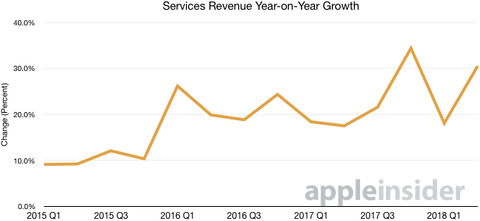 "Q2 was our best quarter ever for services," Tim Cook said during an earnings conference call. "And the momentum there continues to be incredibly strong."
"We had all time record revenue from the App Store, from Apple Music, from iCloud, from Apple Pay and more — all of which are a powerful illustration of the importance of our huge active installed base of devices and the loyalty and engagement of our customers," he added.
The services category includes Digital Content and Services, AppleCare, Apple Pay, licensing and other services, including iTunes, the App Store, AppleMusic and iCloud.
"Across all our services, paid subscriptions surpassed 270 million, up over 100 million from a year ago and up 30 million in the last 90 days alone, contributing to the overall increase in services revenue," Cook said.
Apple Pay, Cook added, doubled active users and tripled transactions year-over-year, driven by expanded transit access in some Chinese and Japanese markets. Norway, Poland and Ukraine will get Apple Pay next.