Apple performing in-store iPhone X replacements for troublesome Face ID issues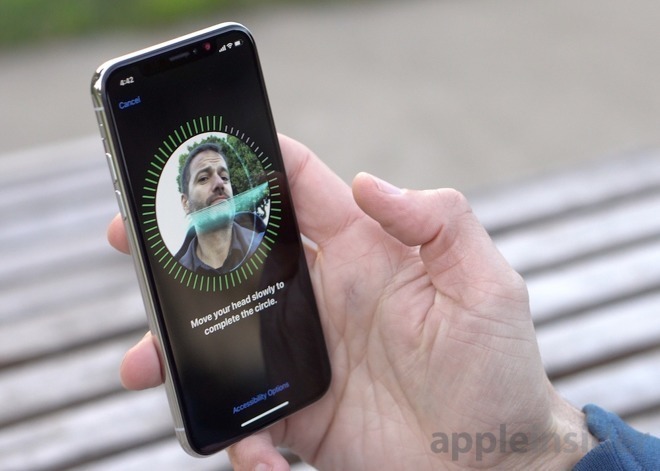 Apple — and authorized third-party repair technicians — can now issue a replacement iPhone X if necessary for people coping with Face ID problems not fixable by a TrueDepth camera system replacement.
In case of difficulties with Face ID, technicians should first run diagnostics and try a TrueDepth camera module replacement. Should that not resolve a problem, and then a rear-facing camera module swap should be performed, according to an Apple document seen by AppleInsider. If problems persist, the company is recommending that customers be given a new iPhone X, rather than a same-device display repair.
At present, it's not clear what the relationship between the TrueDepth system and the rear camera module is. Speaking with assorted Genius Bar personnel and third-party repair shops, the problem is extremely rare, with half of those we asked about it having not seen it at all.
The policy doesn't represent a new repair program, or the discovery of a widespread fault with TrueDepth cameras. Instead, it is a modification of a support procedure, something that happens relatively frequently.
It's not clear why the change was made, but it could be that Apple has enough iPhone X units in inventory that a replacement is more efficient. Though the product initially saw crushing demand with weeks-long delays, shipping times rapidly improved. Today it should be possible to walk into a U.S. Apple store and find most or all iPhone X configurations available, or order online and expect the fastest possible delivery.
In the run-up to Apple's March-quarter results, some analyst claimed that the product was seeing weak demand, or at least weaker than the company anticipated. Apple CEO Tim Cook revealed that it remained the best-selling iPhone in the quarter, and that overall iPhone sales were up year-over-year, with a higher ASP (average selling price) reflecting the iPhone X's $999-plus pricetag.
It's unknown if the updated Face ID policy will apply to upcoming devices, such as an expected iPad Pro refresh or this fall's three new iPhones. These should include 5.8- and 6.5-inch OLED models, and a cheaper 6.1-inch LCD unit, but even the LCD phone is expected to adopt Face ID.