'Apple Glasses' AR headset could launch in 2021, says Gene Munster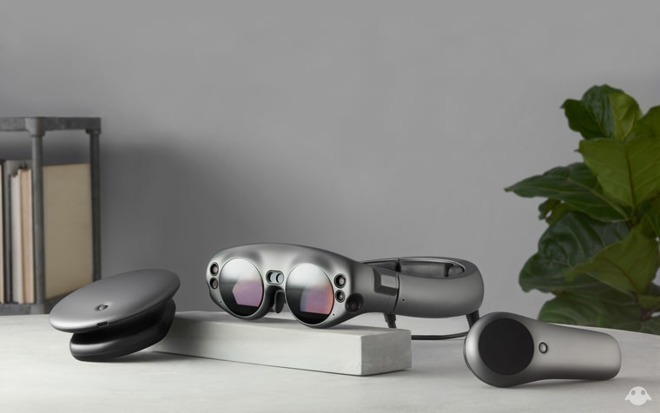 Apple could release a highly rumored augmented reality wearable in 2021, according to a note from Loup Ventures analyst Gene Munster discussing product categories the iPhone producer could pursue, with the rumored 'Apple Glasses' predicted to sell over 10 million units in its first year.
Apple CEO Tim Cook has already laid some of the groundwork required for augmented reality (AR) to be a major business within Apple, Munster writes, highlighting the release of ARKit, the use of dedicated AR optics in the iPhone X, and the purchase of wearable computer vision technology company SensoMotoric as examples of AR's progression.
Munster acknowledges the mixed feelings of AR's potential by investors "given the two most popular AR use cases today are Snapchat and Pokemon." The failure of Google Glass from 2015 also add to the worry, as well as society's dislike for people to wear cameras and record potentially everything they see.
"We expect Apple's AR theme to play out in three phases," Munster suggests, with the first occurring in the fall iPhone refresh in the form of more iPhones using VCSEL arrays that can help power AR experiences. This will be followed by ARKit apps becoming "the next gold rush for developers" in the fields of gaming, commerce, and education, then the release of "Apple Glasses."
While Munster believes the public isn't ready for AR glasses, he is hopeful that it will become a more popular concept, reasoning, "We're not made to experience the world holding up a tiny window." Adoption of such wearable devices will be minimum "until the utility of an AR wearable offsets the negative social dynamic."
The technology behind AR glasses must also advance where the design of the hardware isn't a negative factor, it is suggested, likening it to the adoption of smart watches, before going mainstream. "In the future, we won't be able to live without an AR wearable, and Apple will be there to sell us one," Munster muses.
Loup Ventures previously expected a release of "Apple Glasses" around September 2020, but pushed the date back to December 2021 after meeting several AR experts. "While these people do not have direct knowledge of Apple's plans, it is becoming clear that, as a category, AR glasses are a few years away."
It is estimated that 10 million units of the AR glasses could be sold in the first year of release, with Munster suggesting this could be similar to the Apple Watch's initial performance. Using an anticipated average selling price of $1,300, the fabled headwear could yield $13 billion in the first year, accounting for 3 percent of Apple's full-year revenue in 2022.
Another product category, the Apple Watch, is continuing to grow from Apple CEO Tim Cook's hobby of fitness, with Cook's "personal motivation to improve global health and wellbeing" considered an important factor. Apple Watch, AirPods, software development tools including HealthKit and ResearchKit, and new wearables "and hearables" represent a significant growth driver in the personal health space according to Munster.
Apple Watch, AirPods, and new AR wearables are posited to generate over $71 billion in revenue in the full year 2023, compared to the estimated $12 billion for 2018.
Not all of Munster's note relates to hardware, as he does hint at what he thinks Apple will do with its original content strategy, saying, "We continue to expect Apple to launch a rebranded, all-in-one Apple video and music offering in 2-3 years."
Suggesting Apple will continue to increase its spending on original content by around 50 percent per year, eventually exceeding $4 billion by 2022, Munster believes there will eventually need to be a "new home" for the video content. Despite Apple's current spending on original content currently residing at around $500 million as of 2017 being dwarfed by Netflix's $8 billion spending plan for this year, Munster is confident Apple is committed to competing in the streaming market.
Noting Apple already receives a cut of subscriptions for streaming services initiated on its devices, Munster adds "This one-two punch in content will continue to drive consumers away from cable and satellite TV providers to a combination of over-the-top service providers," with Apple well positioned to benefit both directly and indirectly from the cord cutting shift.
Lastly, Munster touches on Apple's autonomous systems, specifically its self-driving car efforts under the "Project Titan" umbrella. The fleet expansion to 55 in California from 27 earlier this year and 3 last year is highlighted, but while Apple's intentions are unknown, the public confirmation of such testing "is noteworthy" and a clear sign the company is taking the industry seriously.
There are two potential paths the research could lead, suggests Munster. The first would involve working with a manufacturer to create an Apple-branded car, and while Apple would have the freedom to design the car and customize the user experience, producing a car is considerably different when compared to creating an iPhone or iPad.
The second option of focusing on software development and licensing it to car manufacturers for use in their vehicles as the "OS of the future for cars" is more likely, in Munster's opinion. "It plays to a number of Apple's strengths including voice, navigation, entertainment, security, and a developer ecosystem."
PAIL (Palo Alto to Infinite Loop) is thought to be the most near-term usage for Project Titan's technology, with the autonomous shuttle system for inter-campus employee transportation likely to provide data in a controlled environment that Apple could use to improve the project further.
"True to form, they'll watch this market emerge and enter when the time is right — from both a product and a market standpoint," Munster writes.
The note is one of a series written by the longtime analyst, suggesting there is a "new paradigm" for investors where Apple needs to be looked at more as a service provider than as the manufacturer of iPhones and other hardware.