Mojave is Apple's last version of macOS to support 32-bit apps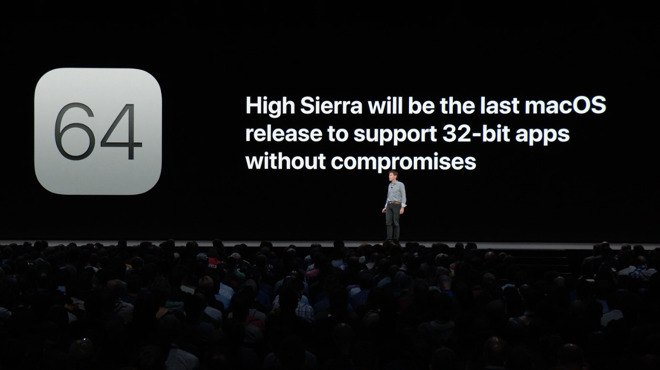 The newest version of macOS will accelerate the phasing-out of 32-bit apps, Apple confirmed at WWDC on Monday, with Xcode 10 dropping support for the apps entirely.
At the WWDC State of the Union event, following the announcement of macOS Mojave (macOS 10.14) in the keynote earlier in the day, Apple vice president of software Sebastien Marineau revealed Mojave will be "the last release to support 32-bit at all."
"One of our key missions is always to push the Mac forward by extending its capabilities to take advantage of the latest technologies," Marineau advised. "As we push a platform forward, we sometimes have to deprecate legacy functionality to ensure that we're not holding it back."
This means the QuickTime framework, Java 1.6 Apple framework and Carbon HLTB will be removed.
Apple also said at WWDC Monday that the new and redesigned Xcode 10 will drop support for 32-bit macOS apps. Development of 64-bit apps will remain unaffected by the change.

Apple debuted 64-bit support with Mac OS Leopard in 2007, and has slowly been phasing out 32-bit in recent years.
High Sierra had been announced as the last macOS release to support 32-bit apps "without compromises," and in April, macOS users began receiving alerts that 32-bit apps were not optimized for the current operating system. The move continues Apple's long phase-out of those apps.