macOS Mojave will include 'Plug & Play' support for HTC Vive Pro headset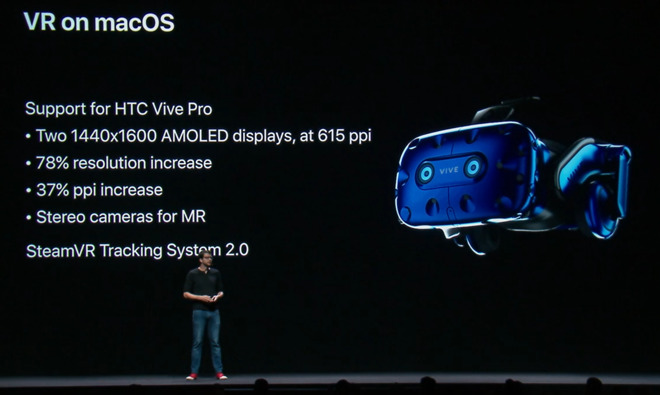 AppleInsider may earn an affiliate commission on purchases made through links on our site.
Apple will make it easy for owners of the HTC Vive Pro to use their virtual reality headset with their Mac, with the company advising it has worked directly with HTC and Valve to add support for the peripheral to macOS Mojave.
Announced during the Metal for VR presentation during WWDC 2018 last week, spotted by Road to VR, Karol Gasinski of Apple's GPU Software Architecture Team confirmed the support for the HTC Vive Pro, adding it will be "plug-and-play" with macOS 10.14.
"We've been working very closely with both Valve and HTC to make sure Vive Pro is supported in SteamVR runtime on macOS," Gasinski advised.
The HTC Vive Pro uses a pair of 1440 by 1600 AMOLED displays with a pixel density of 615 ppi, a 37-percent increase in pixel density and a 78-percent increase in resolution compared to the previous Vive headset. The headset also includes stereo cameras mounted to the front, allowing it to be used in mixed reality applications, and also supports SteamVR Tracking System 2.0, which can increase the available space the headset can be tracked within.
Support for VR headsets was included in macOS High Sierra, alongside similar changes enabling the use of external graphics card enclosures to improve the graphical power of the connected Mac. Last year, Valve launched SteamVR for macOS, extending the framework from PC to work with compatible Macs, and simplifying development for games to work across both platforms.
Under Metal 2, Apple's graphics architecture builds on top of the existing version of Metal, with features including GPU-controlled pipelines, accelerated machine learning training, and improved processing of ray-triangle intersections for rendering. More importantly, Metal 2 also includes specialized support for Mac systems using external GPUs and for VR headsets.
Apple's push to adopt Metal 2 has come under fire from developers, after it was revealed OpenGL and OpenCL will be deprecated in macOS Mojave. Apple confirmed in developer documentation that the older cross-platform graphics technologies will be gradually phased out, which could cause issues for multi-platform development, as well as for older OpenGL-based games to remain functional in future macOS releases.
Though the additional support for the HTC Vive Pro was made during WWDC, it isn't included within the initial betas of macOS 10.14 provided to developers. It is likely that support will be included in a future developer beta build, ahead of the operating system's expected release in the fall.