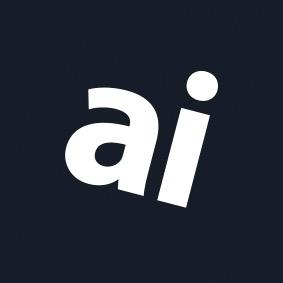 Why you can trust AppleInsider
Review: Amazon's Echo Spot is a cool device, but needs to do more with its screen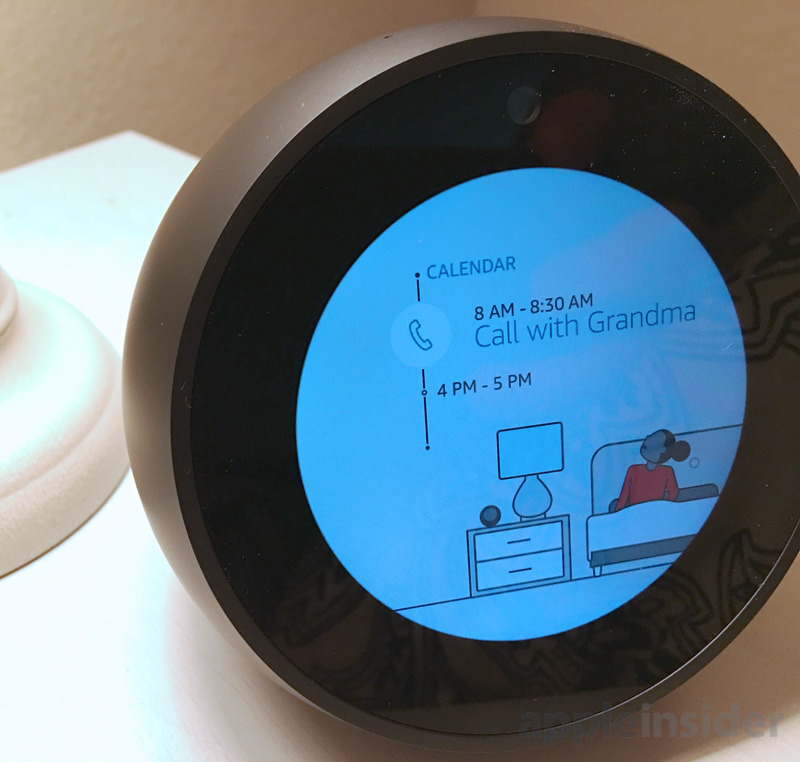 ---
The Echo Spot is undeniably a cool product, but without YouTube it's hard to justify over a regular Echo, except for people with security cameras or those wanting the world's best alarm clock.
When the first-generation Echo was announced in 2014, I — and a lot of other people, I imagine — thought it was an overly ambitious device. It was hard to imagine AI being advanced enough that you could interact with a computer using only your voice. Cut to 2018 though and smartspeakers have not only proliferated, but come full circle, to the point that touchscreens are being added to Echo line to enhance their voice functionality, instead of the other way around.
In most respects the Spot is like any other Echo. Voice commands that work with a standard model will work here, such as alarms, timers, traffic, flash briefings, music playback, and smarthome control. You can also ask general questions, even if Alexa's knowledgebase isn't as deep as Google Assistant's, and doesn't provide Web listings like Siri.
You can push audio from an iPhone or iPad app to an Echo, such as when Alexa refuses to understand foreign artist and song names on Spotify. Multi-Echo audio can be set up to span a home or better fill a room.
The speaker's distinguishing trait of course is its round, 2.5-inch touchscreen, which expands possibilities. Typically you'll just see the time, local weather, and a rotating series of "cards" with things like headlines and Alexa commands to try. Those Alexa suggestions can be handy, since even if you already own an Echo you might be a little bewildered by your new options.
Indeed we found the Spot a little more complicated to set up than a regular Echo, despite already having a number of settings and services configured thanks to previous models. It's not just a matter of finding the right brightness level, or choosing from preset or custom wallpapers — there are also multiple clockfaces, as well as video-enabled skills, flash briefings, drop-ins, and calls, the latter being supported on the Spot, Echo Show, and the iPhone and iPad's Alexa app.
Right away we should address the privacy concerns some people are bound to have, as the Echo Spot has a small camera above the screen. While worries about the Echo line can be overblown, it's understandable to be nervous about people dropping in on a camera feed unannounced. By default, thankfully, the feature is restricted to authorized contacts only. You can also limit it to devices in the same household, or turn it off entirely. Settings will moreover let you disable the camera, though this breaks auto-brightness.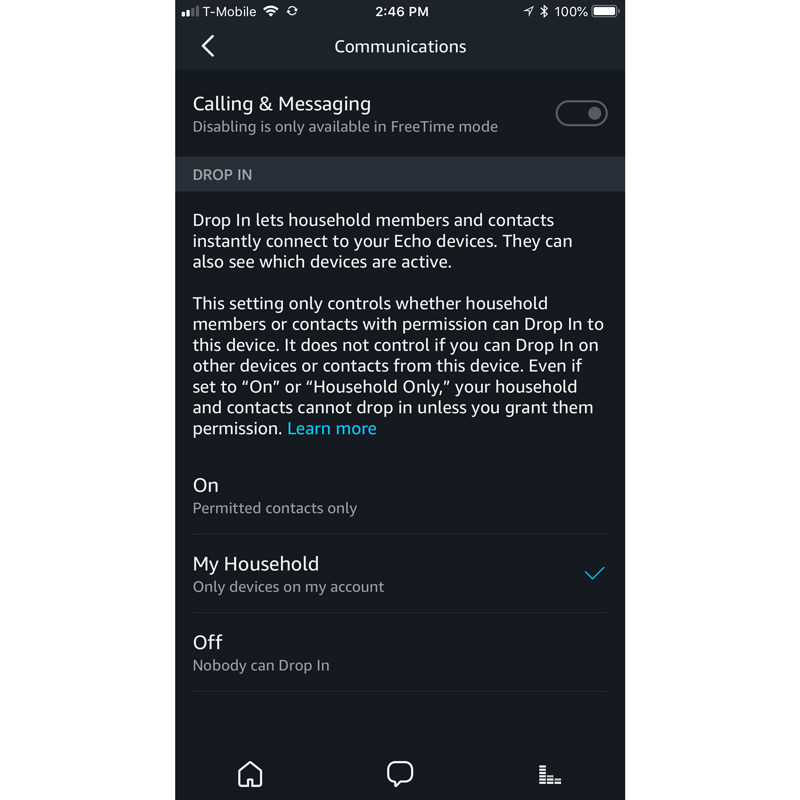 I suspect a lot of people are changing these options (or using a piece of tape) because of where they probably sit their Spot: the bedroom. Its size and screen are perfect for a nightstand, as are a lot of its functions, but the last thing most people want is for friends and family to see them dishevelled or naked.
Key features (in bed)
What makes its features great for the bedroom? On a simple level, there's always-on time, weather, and calendar/reminder notifications. Many of us are so accustomed to prodding our phones to check these things that the convenience is a novelty.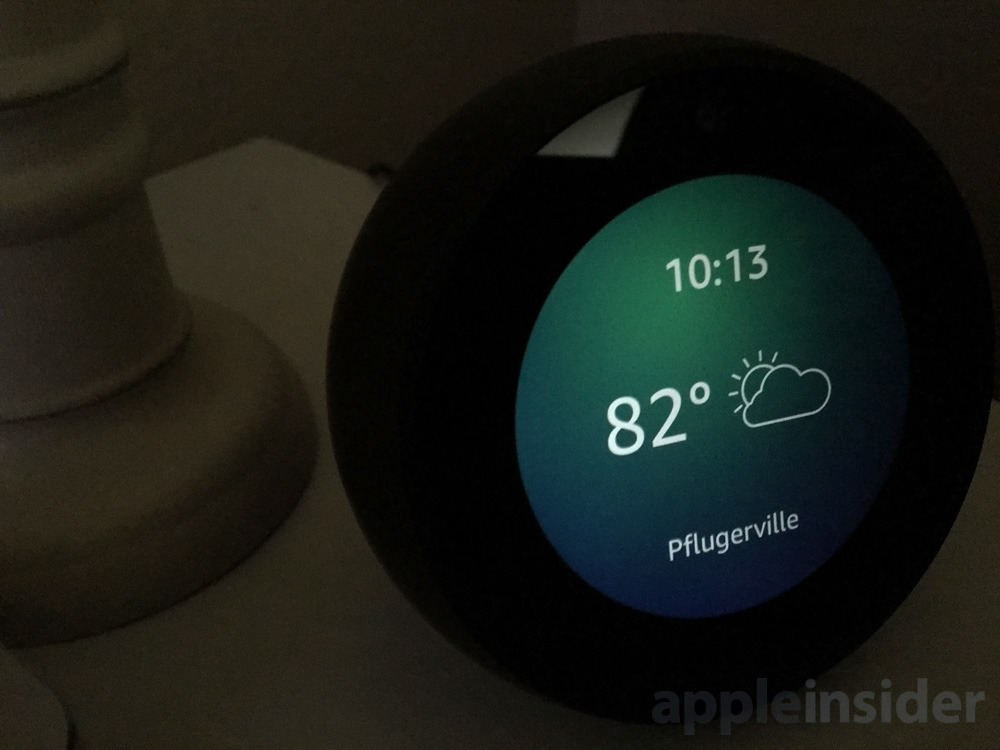 I also found it nice to be able to watch the news while resting, though there's a limited number of video-compatible briefing sources (more on this later).
Above all, voice turns out to be wonderful for controlling alarm functions. You can not only set a standard alarm trigger — including some celebrity voices, such as Missy Elliott — but ask to be woken up to a specific song, station, or playlist on services including Spotify, Pandora, Amazon Music, TuneIn, SiriusXM, and iHeartRadio. No Apple Music sadly, but that's unsurprising.
As an example, I asked our Spot to wake me up to the local NPR affiliate via TuneIn at 6 a.m. every weekday. Like that, I had a work schedule ready to go.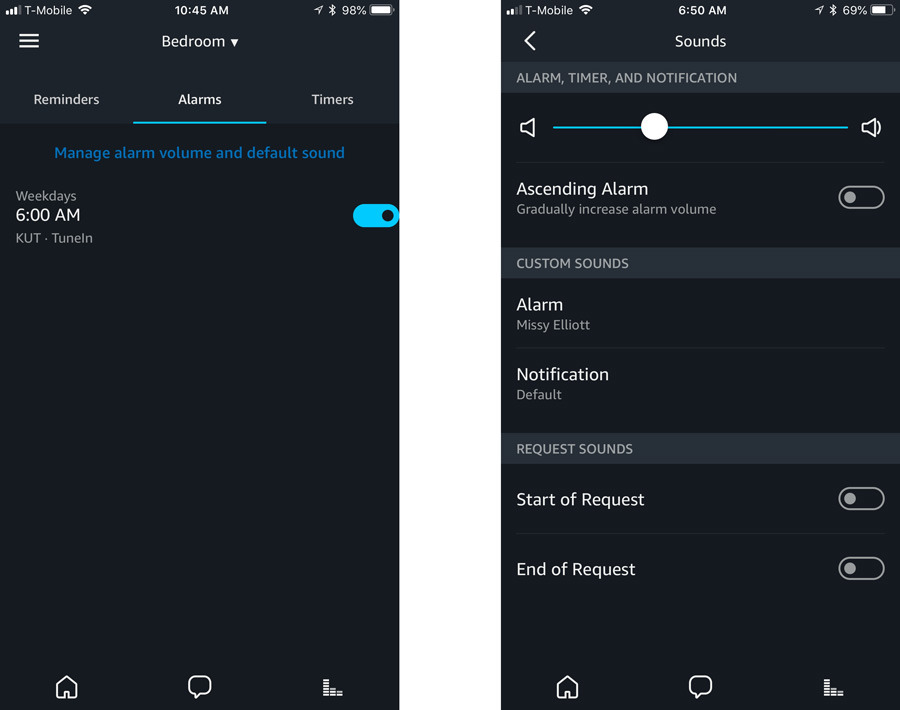 Homeowners with Alexa-compatible security cameras — such as August's Doorbell Cam Pro, Netgear's Arlos, and Logitech's HomeKit-ready Circle 2 — will enjoy the privilege of being able to able to tune into live views. I did find the Spot slow to load feeds in some cases, mainly with the Arlo Baby.
One downside to putting a Spot in a bedroom is that it can take some time to create and tweak automation that works for you and/or your partner. I had to create routines that would change the volume at particular times of day, for example, and for whatever reason you can't make an Echo stop playing music with a multi-action routine, which meant having to tell the Spot to stop playing music and shut off lights using two separate commands.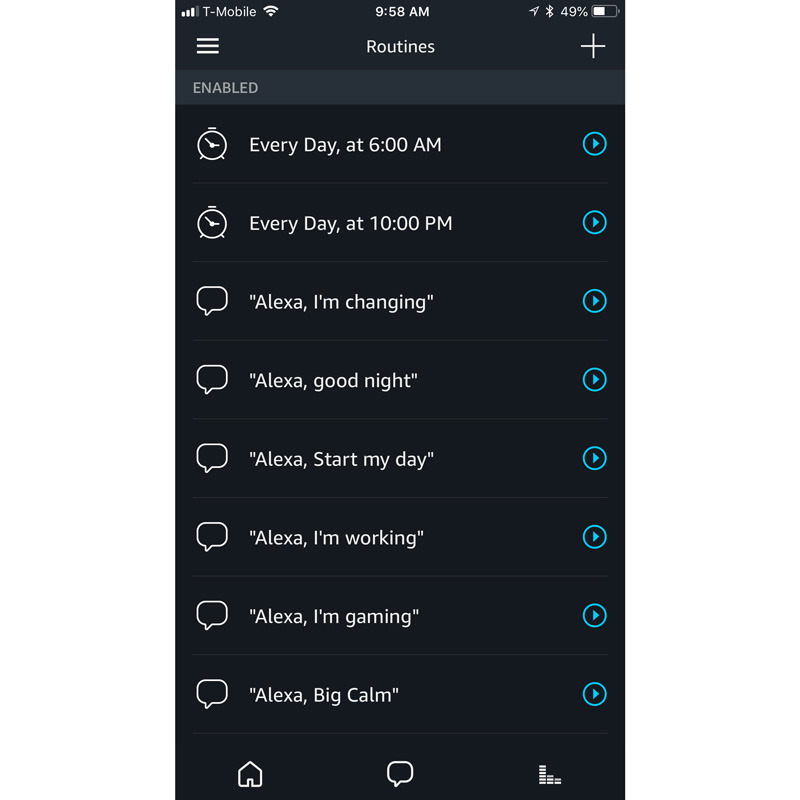 Sound quality, and video redux
As a speaker the Spot merely sounds alright. It's far better than the tinny Echo Dot, yet comparable to a second-gen cylinder Echo, which is to say it has some bass and reasonable clarity, but won't wow you with its power or fidelity. On its own it's best for radio, podcasts, or playing that song that just won't get out of your head — audiophiles will want to connect an external speaker via Bluetooth or 3.5mm, or maybe jump straight to the Alexa-ready Sonos One, which is also getting AirPlay 2 compatibility in July.
The One of course lacks any display, but here's the thing: apart from serving up the time, weather, and alerts, the Spot has a hard time justifying a screen. 2.5 inches isn't much of a viewing experience for video, and even then, there's nothing to watch apart from flash briefings, recipes, security cameras, and Prime Video content. YouTube would be a tremendous boon, but the ongoing tiff beween Amazon and Google makes that unlikely in the near future.
To be fair, you also can do things like check your calendar, manage shopping lists, or make the previously-mentioned video calls. Along with Prime Video however those are still better suited to the 7-inch screen on the Echo Show.
Conclusions
Most people can safely skip the Echo Spot if they want and get another smartspeaker. There are better-sounding options, and if you want its alarm functions any screenless Echo will do, so long as you're prepared to say "Alexa, stop" before leaving for work. The Spot lets you dismiss alarms with a touch.
For all my caveats though, I couldn't help but enjoy it. It sounds good enough, and I never realized how much I missed the convenience of an alarm clock, much less one that could play Spotify or show me if that bump I heard is a burglar or just a family member getting milk. Something I haven't even mentioned yet is that the Spot looks damn sweet wherever you place it, like something from "2001" or a Thievery Corporation album cover.
The product's only real big sin is its price tag. While it's far cheaper than an Echo Show, $130 is a lot ask for the Spot's capabilities until it supports more video platforms, including YouTube.
Score: 4 out of 5
Where to buy
Amazon is selling the Echo Spot in black or white for $129.99 with free shipping. People buying a pair receive a $40 discount.