Tim Cook talks social advocacy, Apple News curation, more in interview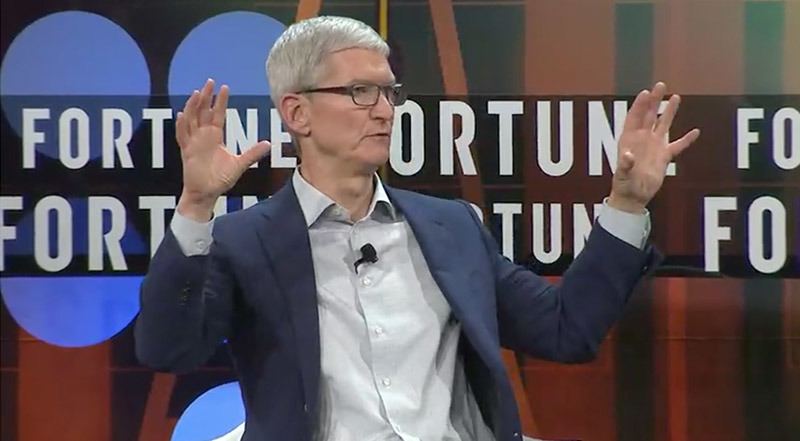 AppleInsider is supported by its audience and may earn commission as an Amazon Associate and affiliate partner on qualifying purchases. These affiliate partnerships do not influence our editorial content.
In an interview that kicked off Fortune's CEO conference on Monday, Apple CEO Tim Cook discussed the company's penchant for wading into the sometimes murky waters of social advocacy, as well as other areas typically avoided by corporate America.
Speaking to Fortune executive editor Adam Lashinsky, Cook shared a truism he often repeats when talking about Apple's wont to involve itself in issues seemingly disparate to commercial success. He said Apple, like any other company, is a collection of people, and just as people should have values, so should a company.
Cook added that Apple has always stood for effecting change, and for the executive, that can only happen by speaking out on key issues. That said, Apple limits its commentary to areas where it can add value.
"I don't want Apple to be another talking head, we should only speak when we have certain knowledge to bring to the subject," Cook said. "I always ask myself, 'Do we have standing, do we have a right to talk about this issue?'"
As applicable to non-commercial issues, Cook believes Apple's expertise lies in five main areas: education, privacy, human rights, immigration and the environment. Apple's contributions to three — education, privacy and the environment — are well recognized, but what it can contribute to human rights and immigration is less clear. Cook attempted to clarify today.
The company has for years pushed its dedication to educators and students, a strategy that was reinvigorated at a recent media event in Chicago. Privacy has also been an field of increasing interest for Apple, which sparked a wider "encryption debate" when it refused an FBI request to assist in the unlocking of an iPhone connected to 2016's San Bernardino terror attack. Apple's dedication to the environment is well documented, and the company in April announced its operation runs completely on renewable energy.
Taking on immigration, Cook said there are over 300 employees on DACA and several thousand with H1B visas.
"This gives us both a perspective to share about the importance of having people with different points of view when you're running a global company with global customers, but also it gives you a bit of perspective of what life is like," Cook said, adding that a company can never really achieve complete diversity. "We have a lot of different people from a lot of different places, and we are accepting of people from everywhere. So we think we have something to offer about talking about that kind of environment."
Cook dovetailed that thought into human rights, saying dignity and respect is at the core of the issue.
The executive pointed out that Apple does not involve itself in the politics of social issues, but instead seeks to change policy. Apple works with representatives on both sides of the aisle to push its agenda forward, whether it be on immigration or tax reform.
As for when Apple chooses to speak out, Cook said there is no strict formula or strategy in place. Apple speaks out when an event or scenario is not consistent with its core values. Such was the case when Cook was asked last week about the Trump administration's decision to separate families attempting to cross the U.S. border, a practice the executive called "inhumane."
On the general topic of advocacy, Cook addressed critics who believe a CEO should focus solely on business matters, suggesting social advocacy and similar pursuits are wastes of time.
"I don't really think the vast majority of people want that," he said. "And quite frankly, for the CEO of Apple, whether it's me or someone else, you're never going to fulfill your mission of changing the world in today's environment by doing that. You're not going to do all that you can do by staying quiet."
Moving on to privacy, Cook said Apple's view of the topic was borne from its values, which then informed the current business model. Apple "felt very strongly" about consumer privacy from the onset and took an especially critical stance on collecting public data for commercial means.
"We could see, not the specific details, but we could that the building of the detailed profile of people likely would result in significant harm over time, that it could be used for too many nefarious things," he said. "And we think that people in today's environment have a full view of who has what, and how much of their lives has been opened to commercial entities and public entities."
Lashinsky segued into Apple's Monday announcement that it will host a curated Apple News section covering the 2018 Midterm Elections. Unlike Google and Facebook, which rely on algorithmic curation, Apple's solution is powered by human editors and reporters who select and write exclusive articles about timely election topics.
"We saw that news was kind of going a little crazy," Cook said. "It doesn't mean that people that use an iPhone have to only use Apple News to get their news, you can go anywhere you want to, obviously. You can put all kinds of different apps on there, but for Apple News we felt that top stories should be selected by a human."
According to Cook, curated Apple News content will not be selected to trumpet a particular political slant, nor will articles be chosen for their potential to garner reactions. Instead, the service is looking for content from a wide variety of outlets that "has a reason to be out there." Cook promised all viewpoints will be covered, from conservative to liberal to centrist.
Apple intends to roll out curated coverage to other subjects over time, Cook said.
The CEO also fielded a few questions about Screen Time, the new usage monitoring and management feature set to debut with iOS 12 this fall. The tool provides users a detailed overview of device and app usage, while presenting options to limit user access, modify notification settings and more. Cook said Apple has been working on the feature for some time, denying assumptions that its inclusion is a response to investor groups calling for a solution to "device addiction."
"I think it's become clear to all of us that some of us are spending too much time on our devices," he said. "What we've tried to do is then think through, pretty deeply, how can we help with that, because honestly we've never wanted people to over use our products. We're not about usage, we want people to be empowered from them and to be able to things they couldn't do otherwise."
Arriving at a workable feature was difficult because the use cases for iPhone and iPad are vast and varied. Unlike health parameters, for example 30 minutes of working out per day leads to a healthier lifestyle, determining an ideal norm for Screen Time varies from person to person. For that reason, Apple is building in tools that allow users to decide what best suits their needs based on granular usage monitoring.
Speaking on short-term versus long-term planning, Cook said it is a CEO's duty to think longterm. He urged chief executives to put stock prices aside and focus on far off goals. For Apple, its large investments have been made looking 7 to 10 years out, Cook said.
Finally, Lashinsky asked Cook how long he plans to remain as Apple's CEO, a question that elicited an expectedly cagey reply.
"It's a privilege of a lifetime to be at Apple and lead the company," he said. "Hopefully I've got some good time left."