Ground broken on Foxconn's first US factory, rumored to supply iPhone screens for Apple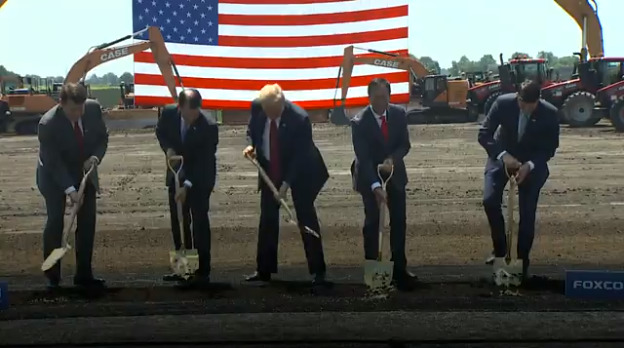 Foxconn chairman Terry Gou was joined by U.S. President Donald Trump, House Speaker Paul Ryan and others on Thursday as the company broke ground at a future factory in Mount Pleasant, Wis., which could potentially be turned to helping Apple.
Trump used the occasion to promote his goal of bringing jobs to the U.S., saying the factory will provide jobs for "up to 15,000 Wisconsin Workers," although reports have indicated the number will be 13,000. Foxconn is headquartered in Taiwan but operates most of its manufacturing in mainland China, Apple being a critical client thanks to products like iPhones and Macs.
Today, we broke ground on a plant that will provide jobs for up to 15,000 Wisconsin Workers! As Foxconn has discovered, there is no better place to build, hire and grow than right here in the United States! pic.twitter.com/tOFFodZYvK

— Donald J. Trump (@realDonaldTrump) June 28, 2018
The $10 billion factory is currently slated to produce LCD panels for TVs, but has been rumored as turning to iPhone and Mac panels in an attempt to cut costs. At the same time, any panels produced in the U.S. would have to be shipped overseas for final product assembly, which might negate any cost benefits.
Apple has some U.S. suppliers, but has had little assembly done in the U.S. for many years. The most recent product to be built in the country was the 2013 edition of the Mac Pro, now largely considered outdated.
To help Apple with iPhones, the factory would also have to expand into OLED. Two OLED-based models are expected to ship later this year, sized at 5.8 and 6.5 inches. A 6.1-inch LCD product is also predicted, and may even become the most popular, but Apple will likely transition to OLED iPhones completely within the next couple of years.
Local governments have reportedly been offering substantial amounts of taxpayer money to attract the factory, including $2.85 billion in income tax credits, $150 million in sales tax exemptions, and $764 million in incentives from Mount Pleasant and Racine County. The state of Wisconsin has pledged $134 million to improve nearby roads.