Apple's cheaper iPhones are not the volume sellers pundits predicted: iPhone 8, X are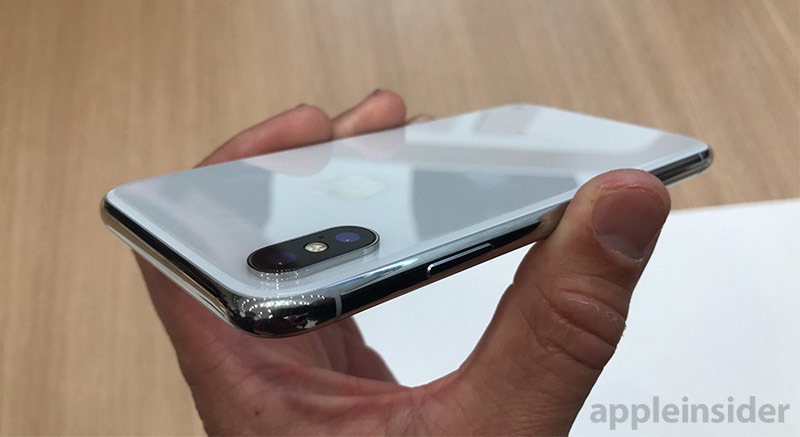 It's not news that Apple is grabbing all the profits in the smartphone industry. But new data shows that Apple's most expensive new iPhone flagships are accomplishing this largely on their own, indicating that analyst chatter about smartphone users really wanting cheaper devices is totally delusional.
A press release presenting model sales data from Counterpoint Research for May depicted Apple as being in a virtual tie with Samsung, supposedly wining back the top smartphone model crown after iPhone X had fallen behind Galaxy S9 Plus unit shipments in April. However, the firm's numbers actually present a very different picture.
Samsung has two flagship models that made it into the top ten (S9 and S9 Plus), but Apple has three (iPhone 8, X and 8 Plus). The other spots are taken by Xiaomi, Huawei and Vivo/OPPO (two brands within China's BKK).
So in reality, Apple's top flagships represented just over a 36 percent share of the world's top ten handsets by units, while Samsung's top models represented nearly 24 percent. It's actually not a close race in the high-end segment at all.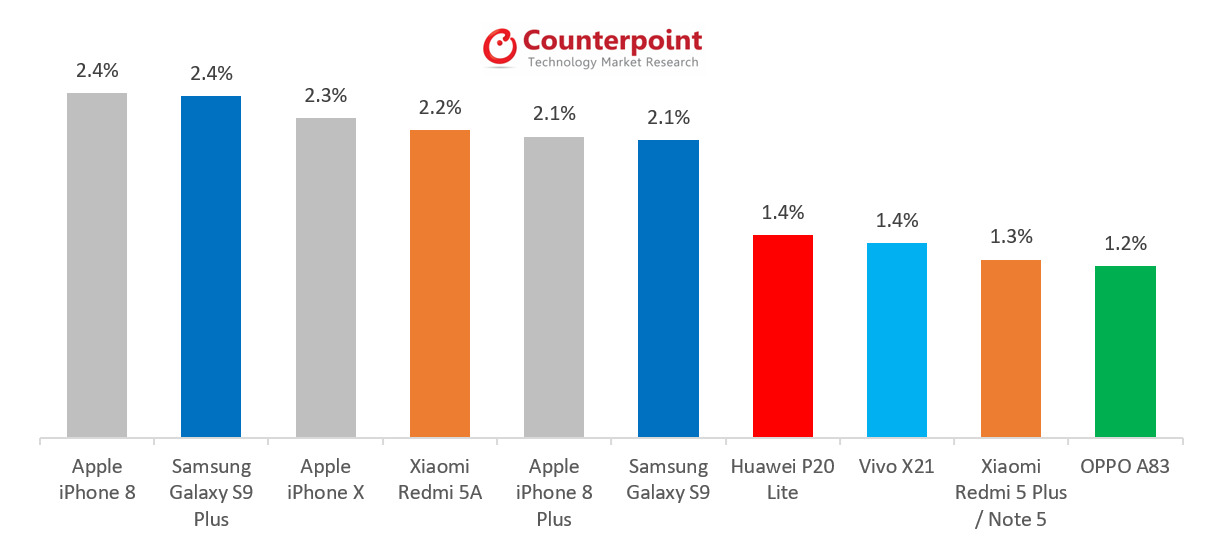 It's much more dramatic to single out a "winning" model number on a monthly basis, but the truth is that Apple is simply selling significantly more high-end units than Samsung, despite the latter's large volumes of other phones. That explains why Apple is earning so much more money that Samsung— flagships are far more profitable than the middle-tier and lower-end volume sellers.
Also important in understanding market demand: these top ten models globally make up 18.8 percent of all smartphone shipments. This means Apple's most expensive three models made up 36.2 percent of top flagship sales worldwide even though the majority of the rest of these top selling flagship models were much cheaper.
Xiaomi's Redme 5A is priced at about $420; Huawei P20 Lite is $395; Vivo X21 is $520; and OPPO A83 is about $150. Counterpoint also noted, specific to the A83, that sales volumes were driven by "copious promotion and price cuts." Yet Apple overwhelmingly outgunned all their sales in unit volumes despite the much higher prices of its premium iPhone 8, 8 Plus and X models. It's pretty clear statistically that price is not the primary factor driving sales among the most popular models worldwide— at least for Apple.
Outside of these top ten models, price is most certainly a competitive factor in sales among the models that make up the majority of the smartphone market (the nearly 82 percent of other models, by units). That's not controversial and is well known, due to the fact that the Average Selling Price of Androids is now below $200. This is resulting in low-price, volume sellers of phones to struggle in sustainable profitability. Scores of Chinese makers have simply gone out of business, even as Apple's premium models have maintained sales volumes and even edged higher.
Apple's cheaper iPhones are not top sellers!
Conversely, Apple also has lower priced iPhone models: the 7, 7 Plus, 6s, 6s Plus, and the cheapest model it has ever offered: iPhone SE, starting at $349 (or about $260US in India).
It's useful to note that none of these models even made it into the top ten global units by volume. That means each of these older iPhones were outsold in sales volumes by the OPPO A83, which rounded out the top ten with a 1.2 percent share of global smartphone sales.
Even if iPhone 7 fell just outside of these top ten models at around 1 percent of global sales, it would still have to be a small minority of Apple's total sales. So much for the media narrative that customers were not buying iPhone X because of sticker shock and were increasingly buying cheaper iPhone models instead.
That story has been incessantly repeated by analysts and even newspapers including Japan's shamelessly false Nikkei, the Wall Street Journal, and Bloomberg. Their reports have continued to offhandedly claim as fact that buyers are actively shunning the premium priced iPhone X due to its price (and supposedly a "lack of compelling new features"), despite offering no proof that this is actually happening.
Counterpoint's data is quite clear— there is no possible way this could be true.
Historical data is also very clear on this: despite achieving huge volumes to total iPhone sales (that at launch eclipsed even Samsung's global sales volumes in the December quarter) the majority of Apple's customers have always opted to buy the newest model year, regardless of discounts of $100, $200 or even more on previous generations of iPhone.
Remember too that nobody expected iPhone X to be Apple's volume sales leader. Apple itself positioned it as being a high-end "concept phone" showing its intent for the future, albeit one that users could opt to pay a premium to buy right now and experience the company's vision for the state of the art, which included facial tracking of poo Animoji.Incredibly, even as sales data began indicating that iPhone X was wildly popular, journalists kept repeating the idea that iPhone X specifically was priced too high for even Apple's customers, and that a pitchfork revolution was underway and that Apple was scrambling to slash production
Incredibly, even as sales data began indicating that iPhone X was wildly popular, journalists kept repeating the idea that iPhone X specifically was priced too high for even Apple's customers, and that a pitchfork revolution was underway and that Apple was scrambling to slash production.
Even immediately after Apple reported that iPhone X had in fact ended up being the most popular iPhone in weekly sales every week after its launch across quarter after quarter, reports continued to erect a pure fiction supported by nothing more than conjecture and rumors of supply chain cuts that boldly predicted an outcome that never actually occurred.
Even more ridiculously, these reports claimed that Apple had internally plotted to build incredible billions of dollars worth of iPhone X models that it supposedly realized it could not sell only months after launching, resulting in a "slashing" of production orders and desperate efforts to liquidate. If this had been true, Apple would have to have pulled the plug on 40 million units with an average retail price above $1,000— literally $40 billion of business that Apple penciled out in January, without causing a total collapse in Asia's supply chain. This complete and utter bullshit was repeated by every last corner of the tech media, without even any hint of suspicion or fact checking.
To date, the Nikkei, Wall Street Journal, and Bloomberg have still never acknowledged that their reporting was grossly in error nor even really changed their tune about the pricing or demand for iPhone X. They have all only offered the meekest of acknowledgments that iPhone X defied their predictions without ever admitting that their claims about what was happening at retail or within Apple's supply chain had been proven to be completely wrong and impossibly false.