Apple sued by patent troll over 'Do Not Disturb While Driving' tech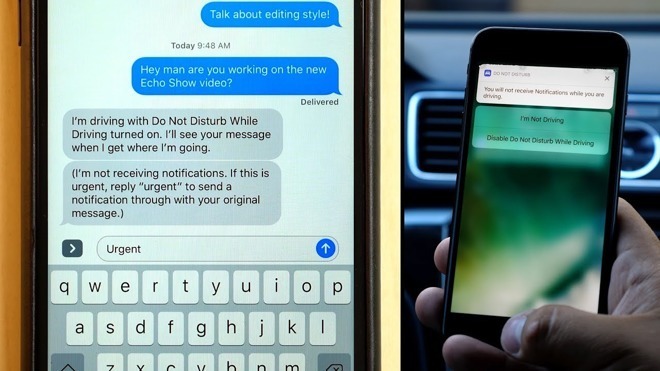 Apple has become the subject of a new lawsuit from a patent troll, with SMTM Technology claiming Apple's Do Not Disturb While Driving feature for iOS 11 infringes on a similar patent concerning driving-detection and automated responses bought by the company.
The suit, filed in the U.S. District Court for the Northern District of California on Tuesday, claims Apple's feature borrows aspects from the patent "Mobile Device Inactive Mode and Inactive Mode Verification," granted to inventor Nick Bovis in February 2015 following a 2014 application. SMTM later acquired the patent from Bovis, which is now being used against Apple.
The Bovis patent describes how a mobile device can be set to an inactive mode while in a moving vehicle. When a message is received, the patent explains either the user will be notified that there is a message or the contact will be sent an away message in response, depending on if the user is driving or not.
Bovis created an "Off Mode" application for Android in 2013, said to be the root of the patent's concept. On being connected to a vehicle's Bluetooth system, the app would temporarily block calls, text messages, and notifications that could distract a driver, with the added option of sending automated replies advising the user was unavailable.
Do Not Disturb While Driving also activates once the iPhone is aware it is connected to a car by Bluetooth and USB, though it can also detect if the user is in a vehicle and enable the feature even if it isn't connected to the car at all. Messages and notifications are not displayed to the driver while active, but it does still allow CarPlay functionality, navigation, and music playback to work normally.
"Apple's Do Not Disturb While Driving features for iOS 11 mirror the patented elements comprising the Bovis Patent," the lawsuit claims. It is also suggested that Apple "gambled that SMTM and Mr Bovis would not have the business acumen or the capital to vindicate their claims" of patent infringement, instead of licensing the patent.
As expected of similar patent infringement suits, SMTM asks for a jury trial, damages including lost profits and a "reasonable royalty," a permanent injunction against Apple stopping it from infringing on the patent for the rest of the patent's lifespan, and legal costs.
Since its introduction, Do Not Disturb While Driving has made some effect on the number of people using smartphones while behind the wheel. One insurance website's report in April found 80 percent of iPhones had the feature enabled after its introduction, subsequently reducing phone usage while driving by an average of 8 percent.
Before Apple added the feature to iOS, it faced pressure from campaigners to add a form of lock-out facility to its devices, including a class-action lawsuit in 2017 claiming the company put profit before customer safety by not having the function.
A 2016 lawsuit accused Apple of failing to install a "lock-out" facility into FaceTime, one that was claimed could have prevented an accident from late 2014 that led to the death of a five-year-old girl. Another suit in August 2017 concerning a student killed by a texting driver in 2013 was thrown out of court with prejudice, with the judge reasoning the blame stemmed from the driver's neglect of duty, and that it was unreasonable to say Apple was ultimately responsible for the incident.