Apple's iPhone 'Do Not Disturb While Driving' feature helping to reduce dangerous habits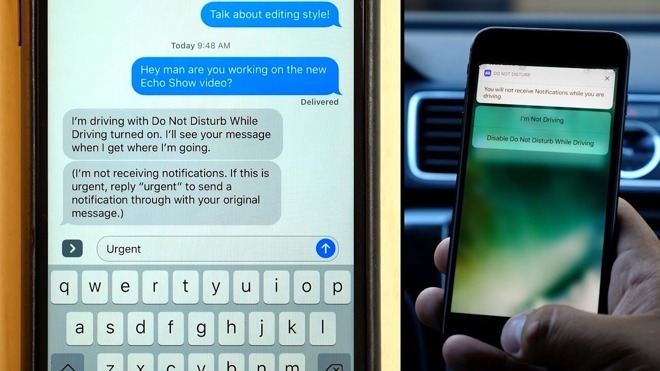 A study found smartphone use while driving continues to be an issue in the United States, but Apple's introduction of Do Not Disturb While Driving last year has made a small difference, reducing the amount of iPhone use while at the wheel by approximately 8 percent.
According to analysis by insurance comparison site EverQuote in its Safe Driving Report, approximately 92 percent of drivers in the United States use their smartphones behind the wheel. Analyzing usage of the EverDrive safe driving app, approximately 88 seconds of the average 21-minute journey is spent on mobile devices.
Driving without due care and attention can be deadly, with the National Highway Traffic Safety Administration advising that taking five seconds to look at a smartphone is the equivalent of driving the length of a football field while blindfolded.
To counter the dangerous habit, Apple introduced Do Not Disturb While Driving, initially introduced at WWDC 2017 and shipped as part of iOS 11. The feature automatically detects if the user is driving and automatically blocks notifications from appearing onscreen until the end of the journey.
User data from more than half a million EverDrive installations suggest that most iPhone users embraced the feature at the time of its introduction.
From September 19, 2017 to October 25, 2017, EverDrive detected Do Not Disturb While Driving was active on 80 percent of iPhones during the period. Approximately 27 percent of users disabled the feature after initially using it.
Of those who kept Do Not Disturb While Driving enabled on their devices, EverDrive noted phone usage while driving decreased by around 8 percent. While not a major reduction, it is still a sign that the feature's addition is helping to lower the number of times drivers are distracted during transit.
A survey of EverDrive users for both Apple and Android devices revealed 41 percent were not aware there was any form of Do Not Disturb While Driving feature available to them. For those who did, 75 percent believed it made them safer drivers, while 15 percent didn't believe it was the case.
Apple's Do Not Disturb While Driving is able to detect if the user is in a car, via Bluetooth or USB connections to the vehicle's in-car entertainment system, or by detecting motion. Passengers who are not driving are able to continue using their devices by tapping an on-screen button confirming they are not in control of the vehicle.
The feature prevents drivers from seeing messages and call notifications displayed on the screen, with automatic responses able to be sent back to the sender warning that the user is driving, while "favorite" contacts are still able to break through the block. Features like CarPlay, navigation, and music playback will continue to work as normal.
Before the feature's introduction, Apple was under pressure from critics to add a similar function, and has been the subject of a number of lawsuits. In 2016, Apple was accused of failing to install a "lock-out" facility into FaceTime, one that was claimed could have prevented an accident from late 2014 that led to the death of a five-year-old girl.
An attempted class action lawsuit in January 2017 made similar allegations, claiming Apple put profit before customer safety over the missing feature. In August 2017, another suit brought by the father of a college student killed by a texting driver in 2013 was thrown out of court with prejudice, with the judge reasoning the blame stemmed from the driver's neglect of their "duty to safely operate" the vehicle, and it was unreasonable to say Apple was ultimately responsible for the incident.