Apple launches $300M fund to power Chinese supply chain with clean energy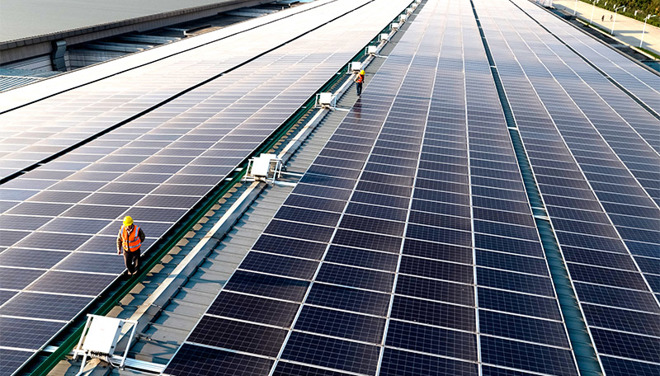 AppleInsider may earn an affiliate commission on purchases made through links on our site.
Apple on Thursday announced a new initiative that seeks to power its Chinese supply chain with renewable energy sources, with the company and initial suppliers expected to invest nearly $300 million in the project over the next four years.
According to Apple, the fund is the first of its kind and will help supply chain partners transition to clean energy, an important consideration for the tech giant.
Managed by Deutsche Bank's DWS Group, the China Clean Energy Fund will invest and develop a range of solar and wind projects to product more than 1 gigawatt of renewable energy in China, the company said. DWS is also investing in the fund.
"At Apple, we are proud to join with companies that are stepping up to address the climate challenge," said Lisa Jackson, Apple VP of Environment, Policy and Social Initiatives. "We're thrilled so many of our suppliers are participating in the fund and hope this model can be replicated globally to help businesses of all sizes make a significant positive impact on our planet."
Apple hopes the sheer size of the investment will grant participants access to attractive clean energy solutions, which for Chinese market means solar and wind power. The fund also aims to develop new projects for its supply partners.
Joining Apple in the investment are Catcher Technology, Compal Electronics, Corning Incorporated, Golden Arrow, Jabil, Luxshare-ICT, Pegatron, Solway, Sunway Communication and Wistron. How much each party is contributing was not disclosed, though Apple likely threw in a considerable amount of its overseas cash hoard to get the project up and running.
Apple earlier this year announced its entire global operation, from corporate buildings to retail stores, are powered by 100 percent renewable sources. The company has built out a vast network of clean energy partners, and has invested in its own private assets like solar farms and fuel cell arrays that power its headquarters and data centers.
Apple is now looking to bring its supply chain in line. In 2015, the tech giant launched its Supplier Clean Energy Program, which asks supply chain partners to commit to producing their respective wares using 100 percent renewable energy resources. Since its debut, 23 manufacturing partners located in more than 10 countries have signed on to the program.