Mac shipments continue to outpace overall PC sales trends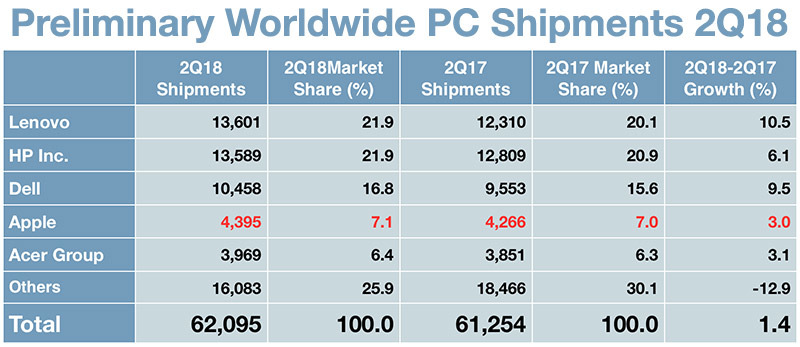 AppleInsider is supported by its audience and may earn commission as an Amazon Associate and affiliate partner on qualifying purchases. These affiliate partnerships do not influence our editorial content.
New estimates from market research firm Gartner suggest Apple's Mac business grew in the second quarter of 2018, contributing to a year-over-year upturn in the embattled PC market, its first in six years.
According to Gartner, Apple shipped 4.4 million Mac units during the three-month period ending in June, enough to capture 7.1 percent of the worldwide PC market. The figure is up 3 percent from the same time last year, putting Apple in fourth place among the world's top PC vendors.
Industry giants Lenovo and HP continue to duke it out at the top, with Lenovo taking top honors this quarter thanks in part to a new joint venture with Fujitsu. The Chinese company shipped 13.6 million units for a 21.9 percent share of the market, up a segment-leading 10.5 percent from 2017.
Second place HP likewise saw gains this quarter with an identical 21.9 percent marketshare on just under 13.6 million units shipped. Compared to last year, when it was in the top spot, HP grew its PC business by 6.1 percent.
Dell also turned in a strong performance with shipments of 10.5 million units, growing its share of the market from 15.6 percent in 2017 to 16.8 percent in the trailing quarter.
Acer rounded out the top five with 4 million shipments for 6.4 percent of the market, up 3.1 percent year-over-year.
Overall, the PC market managed a 1.4 percent uptick, bucking a six-year downward spiral on the back of worldwide growth, suggesting the market is beginning to stabilize. Gartner, however, warns the turnaround is not enough to place the industry into recovery territory.
"PC shipment growth in the second quarter of 2018 was driven by demand in the business market, which was offset by declining shipments in the consumer segment," said Mikako Kitagawa, principal analyst at Gartner. "In the consumer space, the fundamental market structure, due to changes on PC user behavior, still remains, and continues to impact market growth. Consumers are using their smartphones for even more daily tasks, such as checking social media, calendaring, banking and shopping, which is reducing the need for a consumer PC."
As for the U.S. market, Apple maintained its spot in fourth place with 1.8 million shipments, up 1.7 percent year-over-year. HP and Dell led domestic sales, though the former saw a slight 0.6 percent contraction during the quarter. Lenovo came in third with 14 percent of the U.S. market, while Acer finished in fifth with a 2.7 percent marketshare.
Today's estimates arrive on the heels of Apple's announcement of a hotly anticipated MacBook Pro hardware refresh. The company's latest professional-level laptops feature up to six-core processors Intel processors, up to 32GB of RAM, new TrueTone displays and more.