Another blockbuster quarter earnings report ahead for Apple, analyst claims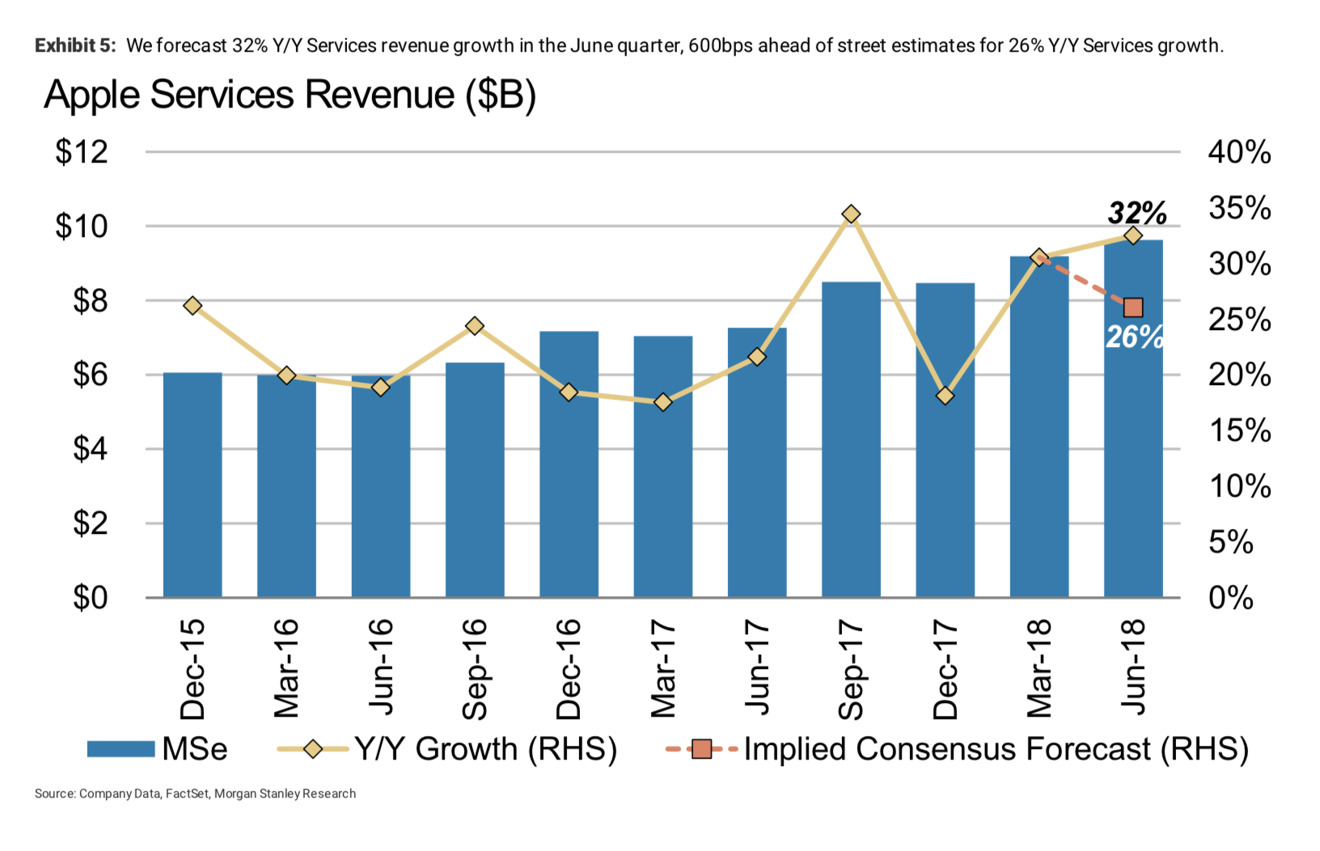 Katy Huberty from Morgan Stanley has raised her iPhone sales and revenue forecast for the current quarter, while also predicting strong services growth for the foreseeable future — and has dramatically increased AAPL's price target as a result.
In a new analyst note this week that was obtained by AppleInsider, Katy Huberty of Morgan Stanley estimates that Apple will announce 39.8 million iPhone units sold in its third quarter, with its services sector growing by 32 percent.
"We expect Apple to report an in-line June quarter and provide a slightly weaker than consensus September quarter outlook due to a possible October launch of the 6.1-inch LCD iPhone," Huberty wrote in the note.
Even if the LCD model is delayed, Huberty is still expecting 90 million iPhones to be produced in the second half of calendar year 2018 for the launch of the device.
"iPhone results matter less late in a cycle and consensus expects flattish iPhone growth going forward as the market matures," wrote Huberty. "We expect investors to focus increasingly on Services results as a sign of whether Apple's installed base monetization efforts can drive overall company growth despite declining device revenue."
Because of the confluence of factors in Apple's favor, Morgan Stanley has increased its price target for Apple stock to $232, from the company's previous guidance of $214 per share. Huberty notes that fallout from a trade war, or a longer push-out of the low-end October iPhone may impact Apple's quarterly guidance, and possibly the stock price target as well.
Prior to the Apple's last earnings release, Huberty and Morgan Stanley predicted the quarter accurately, but declared that June quarter estimates would need to be revised lower. The note, and the dozens that followed it, caused Apple's stock to drop for a time in late April.
The current note argues that Apple, due to its large platform and user base, "is well positioned to capture more of its users' time in areas such as augmented reality, health, autos and home," and that services are becoming an ever-more-important part of the company's identity.
Apple will announce its third fiscal quarter of 2018 earnings after the closing bell on July 31.