Notes of interest from Apple's Q2 2018 conference call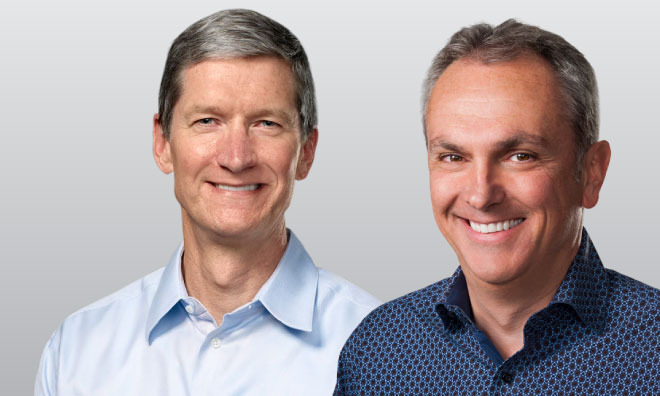 Apple set a new high for the March quarter on the back of a premium-priced iPhone lineup anchored by iPhone X, as well as continued growth in the services segment. Following the publication of its first fiscal quarter 2018 results, the company provided additional detail on the record-setting performance in an earnings conference call.
Participating in Thursday's call were Apple Chief Executive Tim Cook and Chief Financial Officer Luca Maestri.
Highlights
iPhone X was Apple's top-selling iPhone every week over the March quarter, first quarter in which top-of-the-line model is also most popular.
Board green-lights $100 billion share buyback program.
Wearables business, which consists of AirPods, Apple Watch and Beats headphones, is now size of Fortune 300 company.
Mac installs are up double digits, with 50 percent of sales coming from new customers.
Services showed strong growth, now the second-largest revenue segment.
Apple's iPhone business
Apple dispelled rumors that iPhone X was a flop, noting the high-end handset outsold all other iPhone models since its launch in November. The March quarter was also the first in which Apple's most expensive iPhone model was its most popular.
Cook said iPhone X is a "beloved" product, with interest from multiple demographics. Said he "could not be prouder" of the phone's performance.
Unit growth was up 3 percent, revenue growth at 14 percent on a larger mix of high-end model sales. Average selling price was $728.
iPhone X was most popular smartphone in China during the quarter, Cook said.
iPhone inventory has been reduced by 1.8 million, 600,000 more than the year-ago quarter.
In the first fiscal half-year, Apple hit $100 billion in iPhone revenue, the highest first half growth rate in three years.
Cook and company "surprised" by demand and sales popularity of iPhone X, with features creeping down expected to boost volume
Apple's Mac business
Mac install base rose "double digits" over the quarter. 4.1 million Macs sold.
Nearly 60 percent of purchases came from new Mac users, Maestri said.
Record year-over-year growth in emerging markets including Latin America, Middle East and Africa, Central and Eastern Europe, and India.
Apple's iPad business
The iPad install base of active devices is at an all-time high.
About half of sales during the quarter were generated by new iPad owners.
The Cisco and IBM partnerships are seeing growth, in part to the iPad.
Apple's Wearables business
Apple Watch once again saw its best-ever quarter, with 50 percent growth in overall wearables. The wider segment is now the size of a Fortune 300 company.
Cook said AirPods are a "runaway hit."
Apple Watch and AirPods reached new highs. Wearables and home products, which include HomePod, accounted for 90 percent of growth in the Other Products category.
Apple's Retail business
Highest March quarter revenue ever led by iPhone and strong AirPod sales. Maestri also mentioned HomePod, but failed to assign specific sales numbers to the speaker.
Hosted more than 250,000 Today at Apple sessions worldwide with emphasis on coding and app design.
Opened first stores in Austria and South Korea. New store in Tokyo brings total count to 502 around the world.
Apple's Services business
Services grew 31 percent year-over-year to hit $9.1 billion. That revenue is double that of four years ago, up 25 percent y/y in each of the five major geographic segments.
Cook said the segment's success owes to a collective effort and is not the result of a boom in a single service or product.
Apple saw records in iCloud to Apple Music to Apple Pay.
Apple Music reached a new revenue and paid subscribers, which now sits at 40 million, while iCloud storage revenue was up 50 percent year over year. Apple Care revenue grew at highest rate in five quarters.
Apple Pay is coming to Norway, Poland, and the Ukraine in the coming months.
Paid subscriptions moved up 100 million year-over-year to a total of 270 million by end of quarter.