iPhone headed for record earnings growth for rest of 2018, says analyst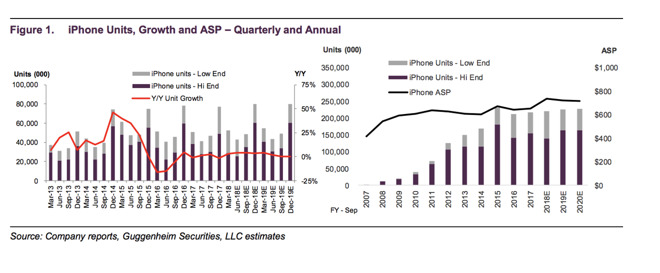 AppleInsider may earn an affiliate commission on purchases made through links on our site.
Based on the continued strength of iPhone sales, Guggenheim Partners has raised its Apple revenue estimates, with services revenues continuing to surge.
Accoridng to a research note written by Guggenheim Partners analyst Robert Cihra, and obtained by AppleInsider, Apple is expected to post another solid quarter, driven by iPhone sales and strong services performance. Guggenheim has raised its Apple revenue estimate for the quarter to $52.9 billion, up from $52.4 billion.
Cihra maintained his forecast of 43 million iPhone units sold, with a 4 percent year-over-year gain. He also expects iPhone average selling price to rise 14 percent year over year.
"Investors have not seemed overly impressed with iPhone X uptake to date," Cihra wrote, "but we think they ought to be much more impressed by Apple's ability to raise ASP double-digits without impacting unit share in an otherwise no-growth smartphone market, illustrating the power of its high-end demographic and peel-off-the-top model."
In addition, following Apple's extremely strong services performance in Q2, Guggenheim predicted that to continue. Cihra sees services revenue rising 28 percent year-over-year to $9.3 billion, with the App Store contributing 38 percent of that revenue, followed by Media Content and Licensing.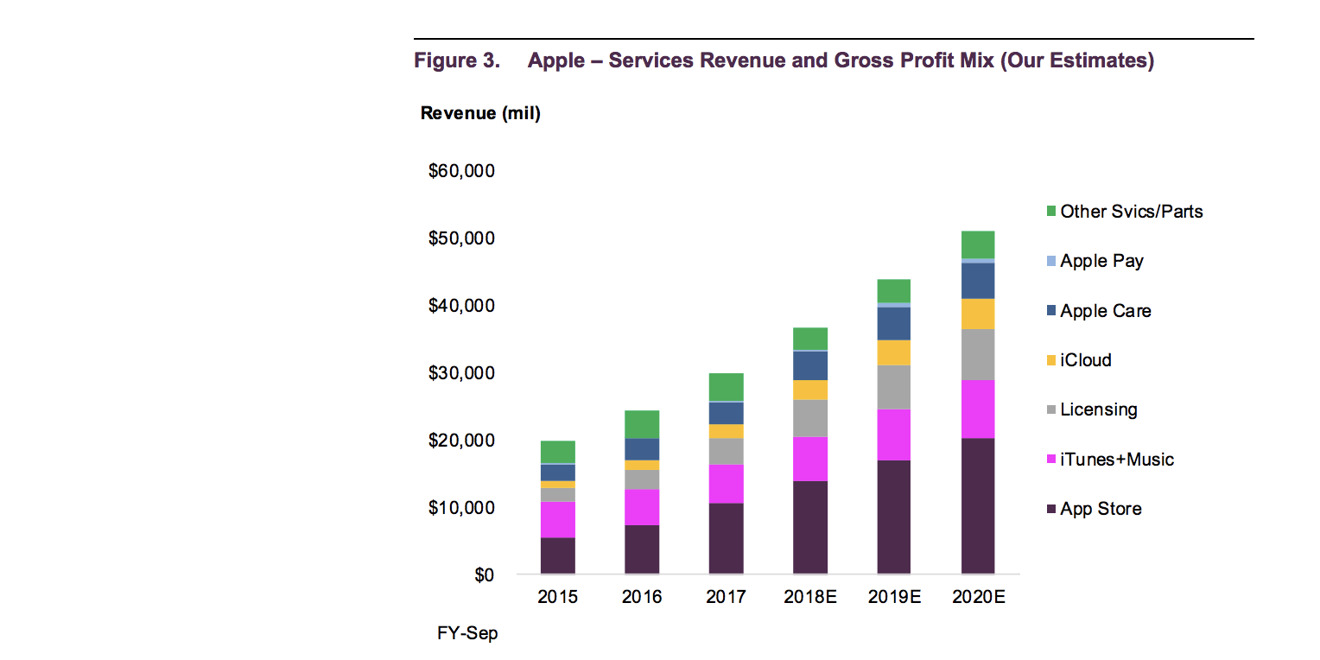 The next iPhone
As for the 2018 iPhone cycle, Guggenheim believes that the next generation will arrive in late September, consisting of a 6.5-inch iPhone X Plus and a 6.1-inch LCD-based iPhone, as well as a refresh of the current 5.8-inch model.
The note also speculated that the LCD model may drop the numbering convention and simply be called "iPhone," just as iPad did with its third generation.
No more doom and gloom
Three months ago, prior to Apple's second quarter earnings release, several analysts issued notes that predicted sluggish performance for iPhone sales, and for the company itself. One Morgan Stanley note about soft iPhone X demand in the summer, from an analyst who's normally an Apple bull, was enough to send Apple's stock downward back in April.