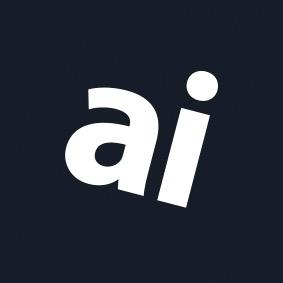 Why you can trust AppleInsider
Review: Sennheiser's Ambeo Smart Headset offers binaural recording at a price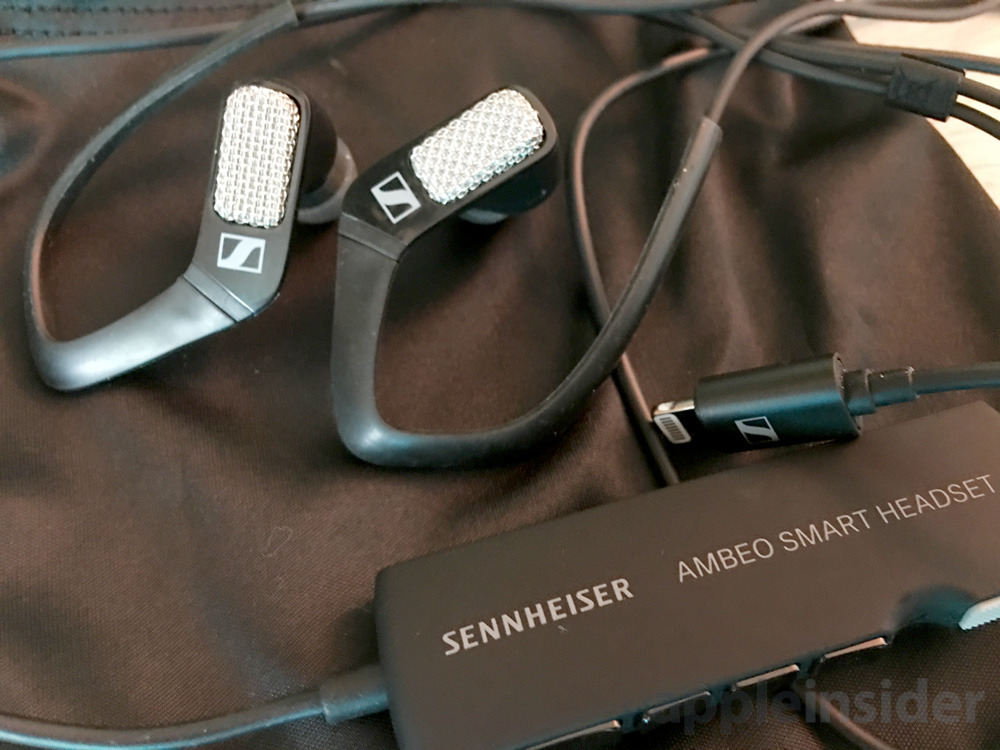 Sennheiser Ambeo Smart Headset
4.0 / 5
---
The Ambeo Smart Headset isn't necessarily a must-have, but still sounds great and can be a relatively cheap way to get into binaural recording.
It's fair to say that Lightning headphones haven't taken off the way Apple may have hoped. They can only be used with Apple devices after all, and the company itself has veered more towards wireless in the form of products like AirPods and Beats headphones.
Lightning does have some advantages though, mainly bandwidth and battery-free power supply. High bandwidth enables top-shelf audio, both in terms of output and recording.
If you're not particular the Ambeo is about as simple as any of its competitors — you can plug them into an iPhone or iPad's Lightning port and be ready to go. We would suggest downloading Sennheiser's iOS app however, since the headset's EQ settings are tuned to be perfectly flat by default, and most people will want more bass.
The app is a little simplistic, even if it gets the job done. There are just five EQ presets: Flat, Bass, Hi-Fi, Spoken, and Custom. We would've liked to see some genre-specific options, since the range you want for house or downtempo probably isn't the same as you want for black metal.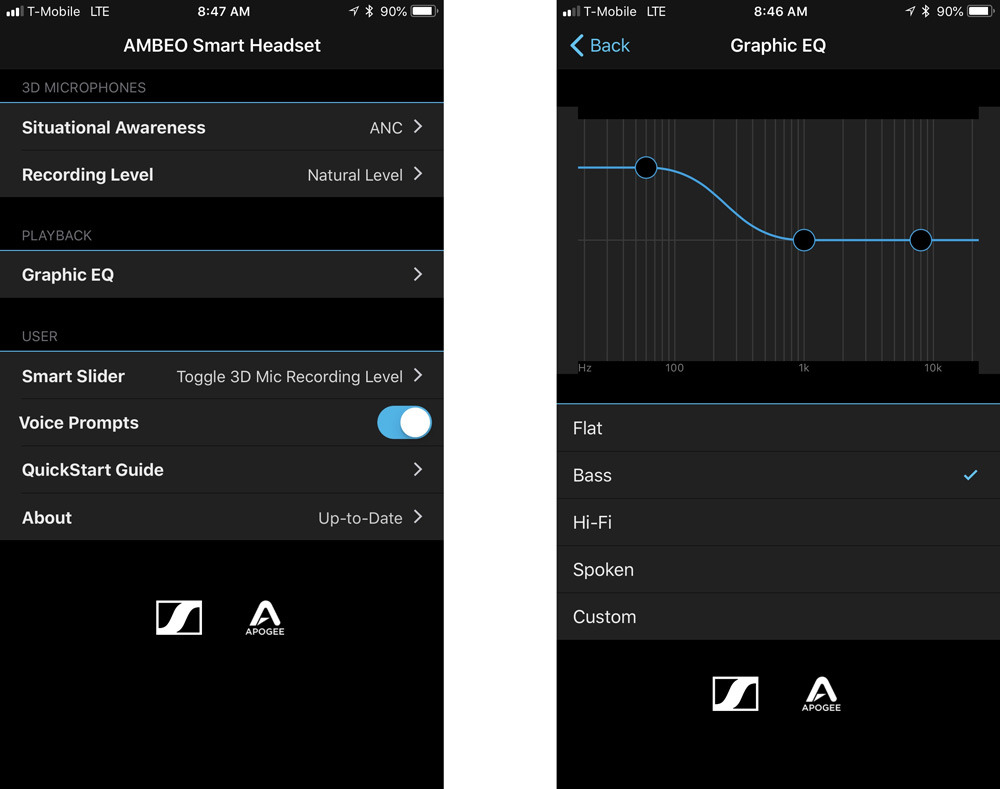 The only other options in the app let you update firmware, toggle voice feedback, configure noise cancellation, and assign commands to the "smart slider" located on the Ambeo's inline remote. The noise cancellation options are largely redundant, since the remote already has assigned buttons.
Speaking of which, the remote is considerably bigger than on most headphones, presumably because of the circuitry needed for cancellation and binaural recording. It's not heavy though and tends to stay out of the way.
Ergonomics seem to have been a high priority. Each earpiece is light and thin, and should stay firmly in place thanks to hooks. The Ambeo is so unobstrusive, in fact, that I once forgot I was wearing them. They would be perfect workout headphones except for a lack of waterproofing — for serious gym-goers, it's much better to pick something like the Jaybird X3 or Apple's Powerbeats3.
Missing bass notwithstanding, the clarity of the Ambeo's audio took us by surprise. In a typical environment you'll hear just about every nuance, which makes it sweet for listening to ambient, classical, audiobooks, or podcasts. Other material should sound good too, although rap and EDM fans should probably look elsewhere if they want punch.
I say "typical environment" because even with active noise cancellation on, the headphones can be drowned out in loud spaces. On a recent return trip from Seattle I rewatched "The Witch," but found that unless I maxed out the volume, dialogue was often overwhelmed by the sound of the plane's engines. There just isn't enough ear isolation for ANC to have much impact.
Sennheiser has also included something it calls "Transparent Hearing," which mixes headset output with ambient sound. This lets you listen to music while still interacting with the outside world. You can even have the headset amplify ambient audio, turning it into a sort of makeshift hearing aid. While not a substitute for a real aid, the feature may let you pick up on voices or incoming vehicles while still listening to your personal soundtrack.
Recording
Perhaps the neatest feature of the Ambeo is its binaural recording. As a quick primer, binaural technology captures audio in 3D — which means you'll hear it as if you were there, assuming you're wearing a solid pair of headphones.
The Ambeo uses two microphones on the outside of each earpiece. We tested recording in several scenarios, and found the results very immersive. You can listen to a few examples here:
You'll note that if you try to play the samples back on a pair of desktop speakers, the experience may be underwhelming, likely too quiet with little discernible separation. With headphones they should be clearer and surround you with effects at the right volume and location.
The best use of this technology is probably video, field recordings, or concerts, the last since you can reduce input to cope with screaming sound systems. You might also be able to record lectures or meetings, though a directional mic would be better suited.
There are a few annoyances. Sennheiser asks you to set your device to Airplane Mode for instance, and not all apps can handle binaural input. Most should, such as iOS's native Camera and Voice Memos tools.
Conclusions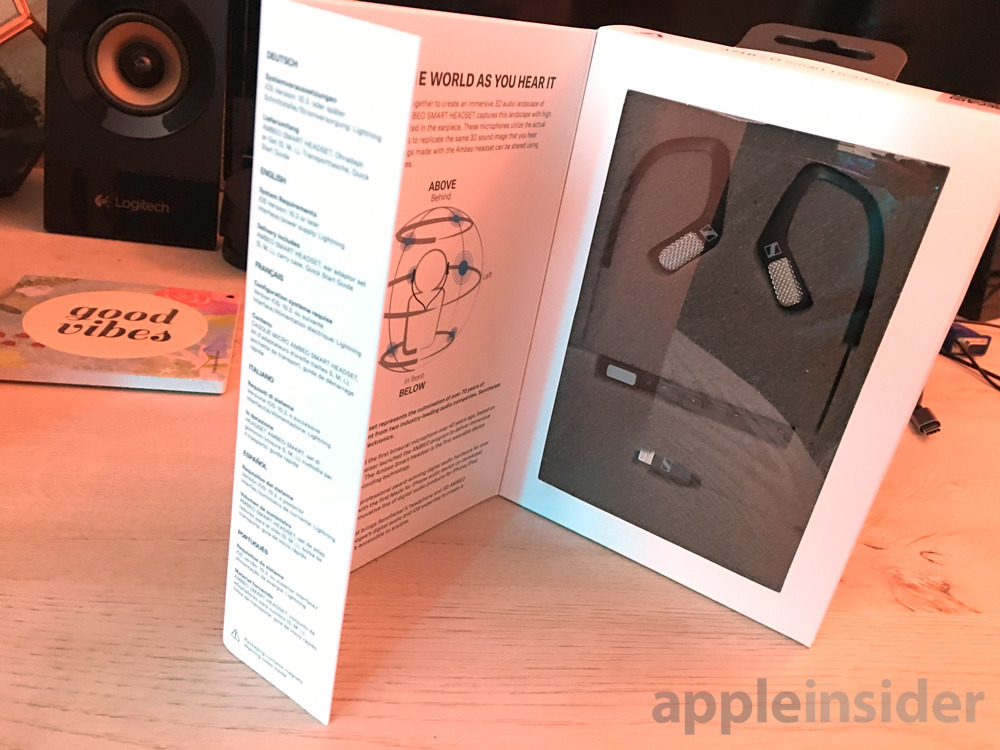 It's hard to say who the Ambeo is for. The fact that it's not built for planes or the gym is liable to be a deal-killer for some people. At $300 they're also pretty pricey, almost twice the cost of AirPods and as much or more than most Beats products. If you want noise cancellation, you could spend an extra $50 and get Bose's popular QuietComfort 35 set.
Wireless headphones are also becoming so ubiquitous that the Ambeo feels like a throwback, what with having to avoid tangles and worry about how far your phone is from your head. This can be exacerbated by the dependence on Lightning, since you won't be able to charge an iPhone or iPad while you're listening.
The product is undeniably well-made though, and if recording is important to you, they're strongly worth considering.
Score: 4 out of 5
Where to buy
The Sennheiser Ambeo Smart Headset retails for $299.99 and is available in two colors: Ash Black and White. Rakuten carries the Ash Black version, while Adorama has the headset in White in stock with free expedited shipping and no sales tax collected outside NY and NJ.