Sonnet's new Echo 11 Thunderbolt 3 dock promises plenty of ports and full power for MacBook Pro
By Roger Fingas
Wednesday, August 08, 2018, 09:56 am PT (12:56 pm ET)
Sonnet on Wednesday launched the Echo 11, a new Thunderbolt 3 dock geared primarily towards MacBook Pro owners.



The device uses its main Thunderbolt 3 port to supply a 40-gigbit data connection and up to 87 watts of power to connected laptops. The dock is further requipped with five USB 3.0 ports, individual HDMI 2.0, 3.5mm audio, and Gigabit Ethernet connections, plus a UHSII-compatible SD card reader. A second Thunderbolt 3 port enables daisy-chaining or hooking up peripherals like monitors.

Two of the USB ports are forward-facing, though only one is powered to charge devices like iPhones and iPads. Charging will continue even if a MacBook is disconnected.



Like similar docks, the Echo 11 can handle two 4K, 60Hz monitors, or a single 5K display. When using multiple monitors, one has to connect via HDMI while the other uses Thunderbolt.

Sonnet with Amazon is selling the Echo 11 for $299, with a single Thunderbolt 3 cable included.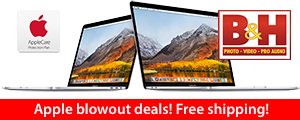 2017 12" MacBooks
Price
Save
1.2GHz/8GB/256GB (Gold)
$799.00+
$500
1.2GHz/8GB/256GB (Rose Gold)
$799.00+
$500
2018 13" Touch Bars
Price
Save
2.3GHz/8GB/256GB (Gray)
$1,649.99+
$150
2.3GHz/8GB/512GB (Silver)
$1,879.00+
$120
2.3GHz/16GB/256GB (Gray)
$1,949.00+
$50
2.7GHz/16GB/512GB
$2,449.00+
$50
2.7GHz/16GB/1TB
$2,849.00+
$50
2018 15" MacBook Pros
Price
Save
2.2GHz/16/256GB/555X
$2,549.00+
$50
2.2GHz/16/512GB/555X
$2,575.00+
$225
2.9GHz/16/1TB/560X
$3,199.00+
$300
2.9GHz/32/2TB/560X (Gray)
$3,999.00+
$700
2.9GHz/32/4TB/560X (Gray)
$5,999.00+
$700
Click here for dozens more configurations
+ Free shipping within the contiguous U.S.
Lowest Prices Anywhere!

13" MacBook Pros
Price
You Save
3.1GHz/8GB/256GB Gray
$1,679.00
$120.00
3.1GHz/8GB/256GB Silver
$1,704.00*
$95.00
3.1GHz/8GB/512GB Gray
$1,849.00*
$150.00
3.1GHz/16/512GB Gray
$2,099.00
$100.00
15" MacBook Pro
Price
You Save
2.8GHz/16/256/555 Silver
$2,199.00*
$200.00
2.8GHz/16/256/560 Gray
$2,299.00
$200.00
2.9GHz/16/512/560 Gray
$2,599.00
$200.00
2.9GHz/16/1TB/560 Gray
$2,999.00
$200.00
3.1GHz/16/512/560 Gray
$2,799.00
$200.00
3.1GHz/16/2TB/560 Gray
$3,899.00
$300.00

*

price with Promo Code:

APINSIDER

prices.appleinsider.com for more configurations