Analyst estimates Apple Pay used by 253M people worldwide, 31 percent of iPhone install base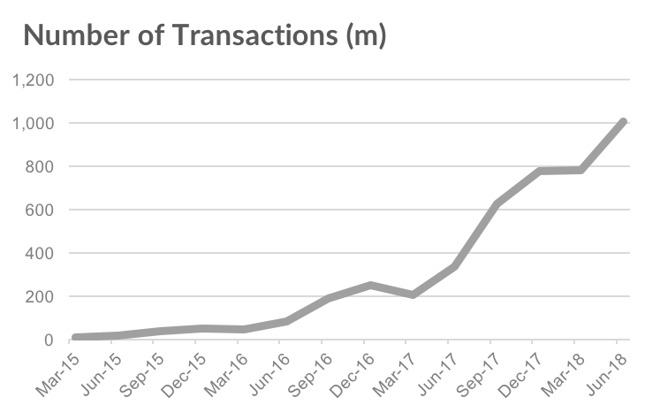 AppleInsider may earn an affiliate commission on purchases made through links on our site.
Analyst Gene Munster sees Apple Pay as an increasingly important part of Apple's services category, which has enjoyed record-breaking growth over the past few quarters, estimating the payment solution now has 253 million users worldwide.
In reporting its fiscal third quarter earnings in July, Apple noted a record $9.5 billion in services revenue, a 31 percent jump over the same time the year earlier and a number that beat estimates by a wide margin.
Munster, the longtime Apple analyst now at his own firm Loup Ventures, has been arguing throughout this year that the future of Apple's success is in its services business. The numbers from recent quarters certainly bear that out.
"There are currently 24 countries where Apple Pay is accepted, soon be 25 with the addition of Germany later this year," Munster writes. "We now estimate total Apple Pay user base at about 253 million (International at 215m, US at 38m). This means the percentage of Apple Pay users in the U.S. has decreased to 15% and international has increased to 85%."
Apple has reported year-over-year growth of 500 percent, 400 percent, and 300 percent in Apple Pay transitions in the last three quarters, he said. Munster in February estimated Apple Pay to be in use by some 127 million people worldwide.
Munster added that he sees Apple beginning to emphasize Apple Pay more in its advertising for the iPhone — as it did in an ad released earlier this week — and Apple Pay gaining traction from its status as the only digital wallet that works with mobile, desktop, in-app, peer to peer, and point of sale.
And while Apple Pay remains only 1 or 2 percent of the Services category — which also comprises Digital Content and Services, AppleCare, iTunes, the App store, Apple Music and iCloud — it's continuing to show growth. That's because Apple Pay is expanding to more countries, being accepted by more banks, and more iPhone users are using it.
On its earnings call, Apple announced that it had reached over 1 billion cumulative transactions in the quarter, as well as Apple Pay's imminent arrival in Germany.