Apple reveals Kyoto store ahead of grand opening on Saturday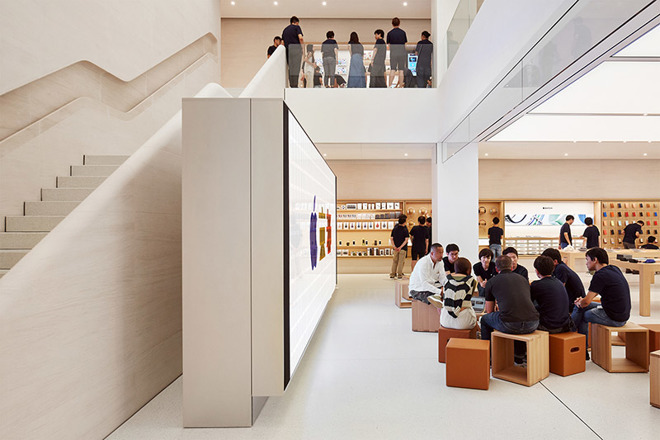 Apple late Wednesday announced the upcoming grand opening of its new store in Kyoto, the second in a series of retail debuts and renovations planned for the Japanese market.
Apple Kyoto will be the company's first outlet in the country's former imperial capital. Located on Shijo Dori, which has served as Kyoto's shopping mecca since the 1600s, the thoroughly modern retail store features design elements inspired by local materials, architecture and tradition.
The upper levels of the space are covered in a "translucent envelope" inspired by Japanese toro lanterns, while the upper facade uses lightweight timber and special paper that references Japan's traditional houses, Apple says. Indeed, a picture of what appears to be an upper level of the store shows a wall design that resembles a shoji door's wood-and-paper paneling.
Inside, a sales floor is split between multiple levels, each of which opens to a central atrium where Apple plans to host Today at Apple sessions. Boasting an "Apple Store 2.0" aesthetic, the interior layout is open with ample room for Apple's custom-built demonstration tables, accessory shelves and, on ground level, a 6K video wall.
Apple Kyoto is the latest in a string of retail moves designed to reinvigorate the tech giant's image in Japan. In March, retail chief Angela Ahrendts said the company intends to reinvest in the country with the opening of several new stores and the renovation of others. The project is expected to span five years.
Apple took the first steps toward completing its Japanese initiative with the opening of a new Shinjuku location in April.
"Apple has a long and special history in Japan, and Shinjuku marks the first of several new stores we'll open in Japan in the coming years," Ahrendts said today. "We can't wait to welcome the vibrant community in Shinjuku to experience all the best Apple has to offer."
Japan accounted for roughly 7 percent of Apple's sales in the June quarter, but customers are limited to a total of nine physical Apple-run stores. One of those outlets, a store in Tokyo's Shibuya ward, is temporarily closed for renovations.