Apple Watch, other wearables increasingly used to manage chronic health conditions, study says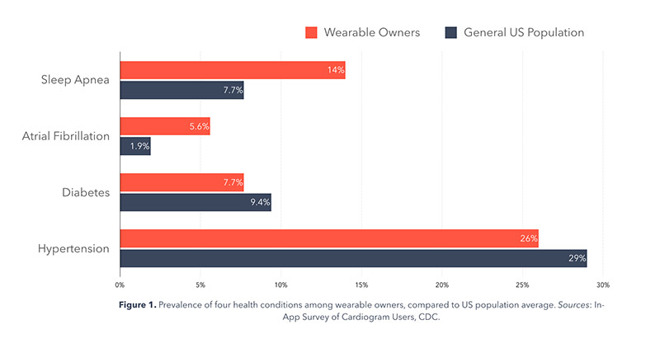 AppleInsider may earn an affiliate commission on purchases made through links on our site.
A study of user data pulled from popular health app Cardiogram yields unique insight into usage the patterns of Apple Watch and other wearable products, suggesting devices with advanced biometric monitoring capabilities are seeing increased use in the management of chronic conditions.
Research conducted by Cardiogram co-founder Brandon Ballinger, and shared with AppleInsider, aims to shed light on burgeoning use case trends related to health-tracking wearable devices like Apple Watch.
Delving into Cardiogram's own data — anonymized to protect user privacy — Ballinger discovered wearables are no longer limited to what he describes as the "worried well," or relatively healthy owners who want access to basic health tracking functions. In particular, the average Apple Watch owner is "more likely than the general population to manage a chronic health condition like sleep apnea, hypertension, diabetes, or atrial fibrillation."
Backing up his claims, Ballinger notes more than a quarter of Cardiogram's user base report having at least one chronic condition. The app is currently in use by more than half a million people across Apple's watchOS, Google's WearOS and Garmin wearables platforms.
Some 14 percent of users have diagnosed sleep apnea, almost double the U.S. average reported by the Centers for Disease Control and Prevention. The research found 5.6 percent suffer from atrial fibrillation, triple the average rate recorded by the CDC, while rates of diabetes and hypertension rates are in line with the general population.
Other findings provide insight into user demographics. The average Apple Watch user, for example, is 41 years old, compared to 39 years old for users with hardware tied to Google's Android platform. Overall, the age ranges of wearables owners has remained relatively steady since early 2016, with most owners falling into the 30-39 and 40-49 segments. Over the last two quarters, wearables have been gaining in popularity among young users aged between 18 and 29 years old, according to Cardiogram statistics.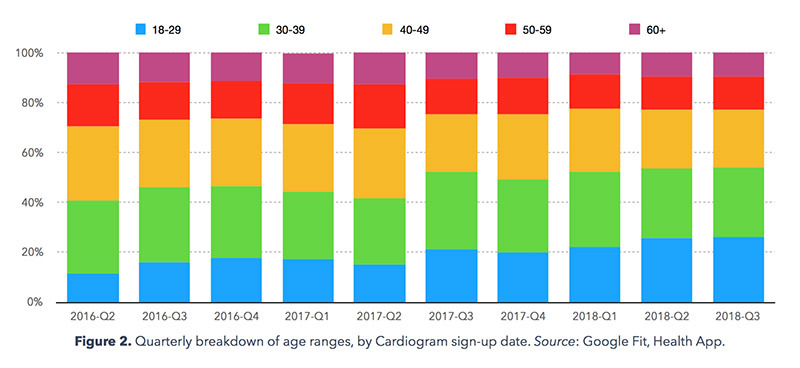 About 79 percent of users are provided health insurance by their employer, while16 percent are covered by government health programs like Medicare, Medicaid, TRICARE or Veterans Affairs. Another 5.8 percent have private insurance through HealthCare.gov.
Finally, only 40.3 percent of studied wearables owners reported having an A1c test, a diagnostic blood test that helps diagnose diabetes and pre-diabetes by measuring blood glucose levels. This is consistent with broader statistics related to undiagnosed health conditions, according to Ballinger.
"One key piece of future work is to design robust, clinical care pathways to guide people through the process of diagnosis and treatment, as well as for health insurers to design programs to subsidize wearable sensors, so that they become affordable for the entire population," he said.
The study's results, particularly those related to distribution of users with atrial fibrillation, are potentially colored by the data source. Cardiogram is an app that helps users track and decipher Apple Watch heart rate data, and is thus downloaded by people interested in those topics. Further, Cardiogram is involved in, and actively seeks participants for, ongoing research conducted as part of the University of California, San Francisco's Health eHeart Study, which seeks to determine the medical potential of consumer wearables.
"One limitation of this report is that, since Cardiogram is a health app, our user base may contain a disproportionate share of either the ultra-healthy, or people with chronic conditions," Ballinger clarified in a statement to AppleInsider. "However, the fact that our average age (41) is close to the US population average (38) suggests that these biases are balancing each other out."
Though it may not cast a wide net in terms of user demographics, Cardiogram's sheer size makes it one of only a few health-related apps able to offer a deep look at the wearable landscape.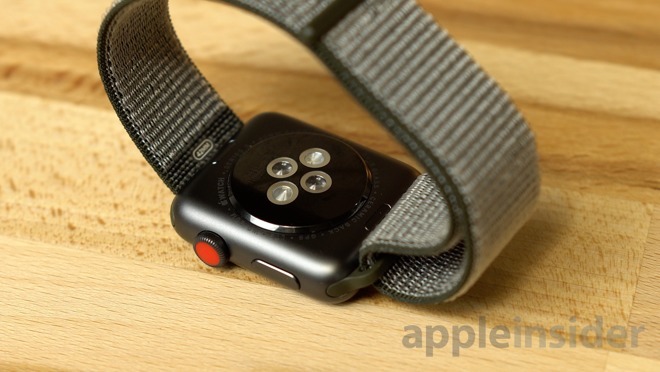 From step tracking to heart rate monitoring, smartwatch manufacturers increasingly tout the health benefits of their respective products. Apple, for example, put a renewed marketing emphasis on Apple Watch's health monitoring features with the latest Series 3 models, constantly pushing owners toward a healthier lifestyle by enhancing device functionality. Prospective buyers are also exposed to Watch's self-quantifying hardware and software through highly effective marketing campaigns.
The Cupertino tech giant dipped its toe into traditional medical research last year with the Apple Heart Study app, an experimental investigation conducted alongside the Stanford University School of Medicine that allowed Apple Watch users to collect and share data on irregular heart rhythms. Similar to the Cardiogram and UCSF study, Apple's version went further by notifying owners of a potential atrial fibrillation event. Apple closed enrollment to the Apple Heart Study earlier this month.
For those who wish to participate in Cardiogram's ongoing study into the benefits of consumer wearables, or are interested in tracking Apple Watch heart rate data, the app and its watchOS companion can be downloaded for free from the iOS App Store.