Warren Buffett buys 'just a little' more Apple stock, warns against entering auto business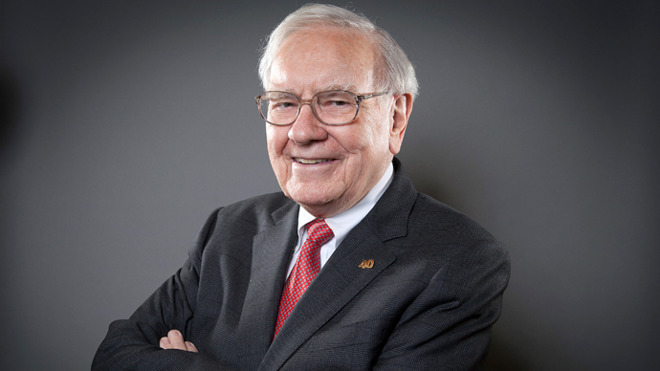 AppleInsider may earn an affiliate commission on purchases made through links on our site.
Thursday is Warren Buffett's 88th birthday, and to celebrate, the legendary investor sat down with media outlets to discuss investment strategy, including his position on Apple.
In an interview with CNBC, the "Oracle of Omaha" was asked about his recent interest in Apple, now Berkshire Hathaway's largest holding. A regulatory filing earlier this month revealed Buffett's investment firm owned nearly 252 million shares of Apple at the end of the second quarter, a sum that equates to five percent of the tech giant's shares outstanding.
About 6 million of Berkshire's Apple shares are attributable to "another fellow" in the firm, though most of the cache is in Buffett's portfolio, the investor said. And that position continues to grow.
"We bought just a little," Buffett said when asked if he bolstered his stake since the filing. "I bought just a little bit. I like to buy 'em cheaper."
He went on to detail why Apple and its flagship iPhone represent a solid investment that no longer ebbs and flows as part of a "boom and bust" cycle, a trajectory the company's stock once followed.
"I do not focus on the sales in the next quarter or the next year," Buffett said of iPhone. "I focus on the — they won't tell you exactly how many — but hundreds and hundreds and hundreds of millions of people who practically live their lives by it. And if you look at that little...piece of whatever it is, it's some the most valuable real estate in the world."
Speaking on iPhone pricing, specifically the $1,000 iPhone X, Buffett offered the example of his personal jet that costs him "maybe a million dollars a year." If Buffett used an iPhone, he would rather give up the plane than the Apple device due to the latter's inherent utility.
Buffett also let slip that he uses an iPad "a lot," a change in behavior for the investor that famously steered clear of Apple's — and indeed most tech — products. In May, for example, Buffett ">was gifted an iPhone X but failed to build up the courage to use it.
In a separate interview with Fox Business that also aired on Thursday, Buffett touched on analyst calls for Apple to buy electric car maker Tesla. The iPhone maker is known to be working on its own automotive initiative, "Project Titan," though a slew of roadblocks has slowed the secret program's pace significantly since its discovery in 2014.
Some analysts and investors have suggested that a Tesla acquisition would get Titan back on track. Buffett, however, said it would be a "very poor idea" to enter the automotive business.
"It's not an easy business," Buffett said. "You can win in auto one year and lose the next. You've got a dozen big companies out there with resources. They're going to keep coming. They're going to copy what you do."
Berkshire is familiar with the market, owning about 8 percent of Chinese electric car maker BYD. Coincidentally, BYD was among the many companies Apple approached when seeking manufacturing partnerships for its branded car project.
The financially embattled Tesla would appear a ripe target for Apple, at least on paper. The companies overlap in a number of areas and often vie for engineers. A report this month claims Apple has poached "scores" of Tesla employees in recent months, and not all went to Cupertino's car team.
Whether Apple plans to field its own consumer vehicle is unknown, though Project Titan's ranks are beginning to swell once again after a culling in 2016. Most recently, former hardware executive Doug Field returned from Tesla to reportedly work on the Titan team, now headed by Apple veteran Bob Mansfield.