Adoption of iOS 11 reaches 85 percent ahead of release of iOS 12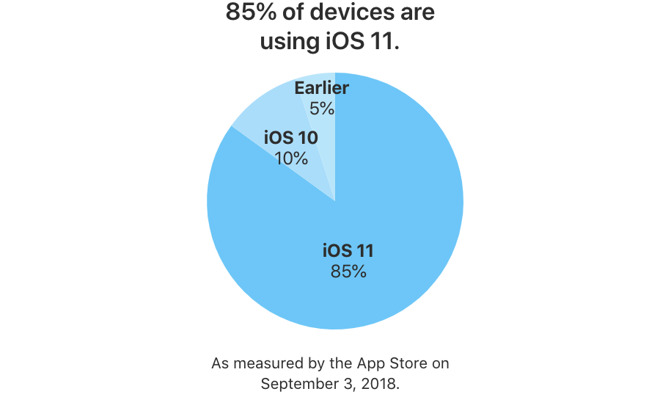 AppleInsider may earn an affiliate commission on purchases made through links on our site.
New data published to Apple's developer website reveals iOS 11 has been installed on 85 percent of iPhones and iPads, showing it to have been adopted by the vast majority of compatible devices just before the expected release of its replacement, iOS 12.
According to Apple's own data, as measured by the App Store on September 3, 85 percent of all observed devices ran a variant of iOS 11. Of the remaining iOS 11-compatible devices, iOS 10 is still used by 10 percent of the device population.
The chart advises five percent of observed hardware ran earlier versions of iOS, but did not break the figure down further. The iOS 11 adoption rate is an improvement from the 76 percent declared in April, which also reported 19 percent of devices running iOS 10, and 5 percent using earlier versions.
While the data does not advise how many devices are measured in each case, the proportion change since April suggests iOS 11 improved its share by owners of iOS 10 devices upgrading to the newer operating system. It is also plausible for the change to be contributed to users upgrading their older iPhones and iPads for newer models running iOS 11 by default.
The change in proportion also seems to show a slower uptake of iOS 11 than compared to the change between the April results and those released in January, where iOS 11 had a 65-percent share, iOS 10 had 28 percent, and "earlier" versions was at 7 percent. Given the differences in time between the measurements, as well as the late stage in the operating system cycle, it is to be expected for the most recent results to show a "slower" migration rate.
Apple is currently performing beta testing of its next milestone operating system, iOS 12, which is expected to be released soon after the company's "Gather Round" 2018 iPhone event on September 12. The new iOS version will be introducing "Digital Health" features to help users monitor how they spend time in apps, new versions of stock apps, Siri shortcuts, MeMoji, and a number of other improvements in the release.
While iOS 11 may not have been as fast as iOS 10 for adoption, iOS 12 may see wider adoption, as Apple has included some changes to make the release better for those with older devices. While newer devices are expect to receive all of the benefits of the release, iOS 12 also has performance improvements made specifically with earlier iPhones and iPads in mind, which could tempt more users to update earlier than in previous generations.