Review: JBL's Link View brings a display and high-quality audio to Google Assistant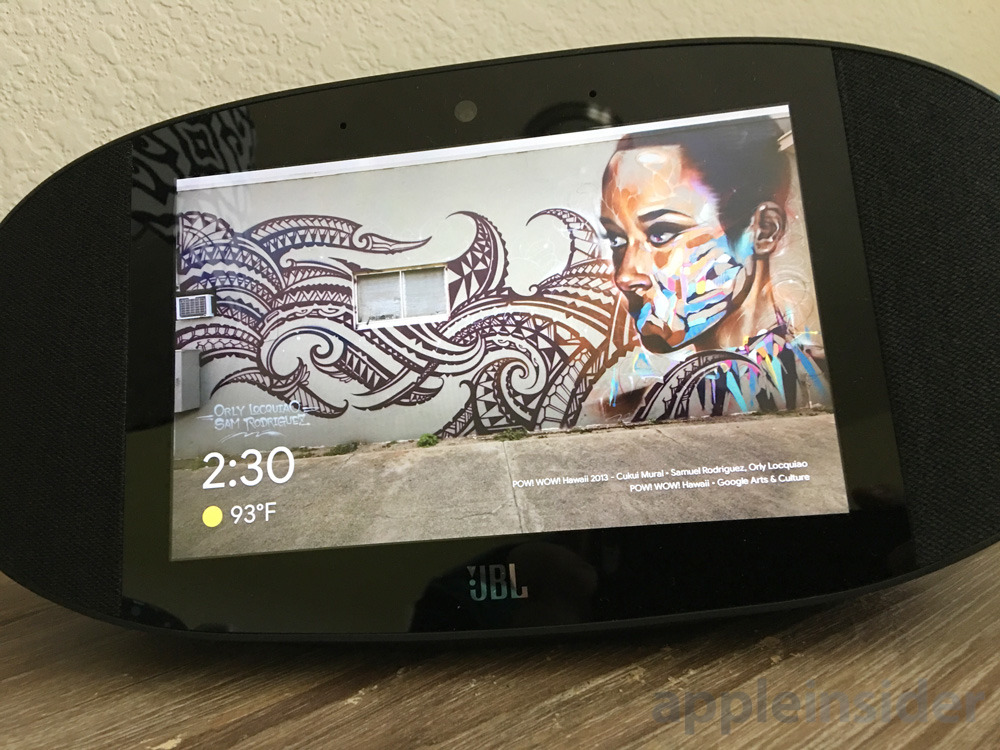 AppleInsider is supported by its audience and may earn commission as an Amazon Associate and affiliate partner on qualifying purchases. These affiliate partnerships do not influence our editorial content.
The Link View may not convert diehard audiophiles or people oppposed to Google, but it sounds pretty damn good and makes for an excellent smarthome control hub.
When we reviewed the first device based on Google's Smart Display platform — the aptly-named Lenovo Smart Display — we said it sounded good enough that people wouldn't feel an "immediate" need to connect another speaker. That's still true, but in retrospect we should've added that this is assuming casual listening — it's best in places like the bedroom or the kitchen.
Not so with the Link View. JBL is a well-known audio brand, and the Link View is meant to be centerpiece audio. Whereas Lenovo's product has a single 10-watt speaker, JBL's has two, giving it full stereo sound. Bass is also far more powerful, and in fact the Link View has a huge bass reflex port on the back.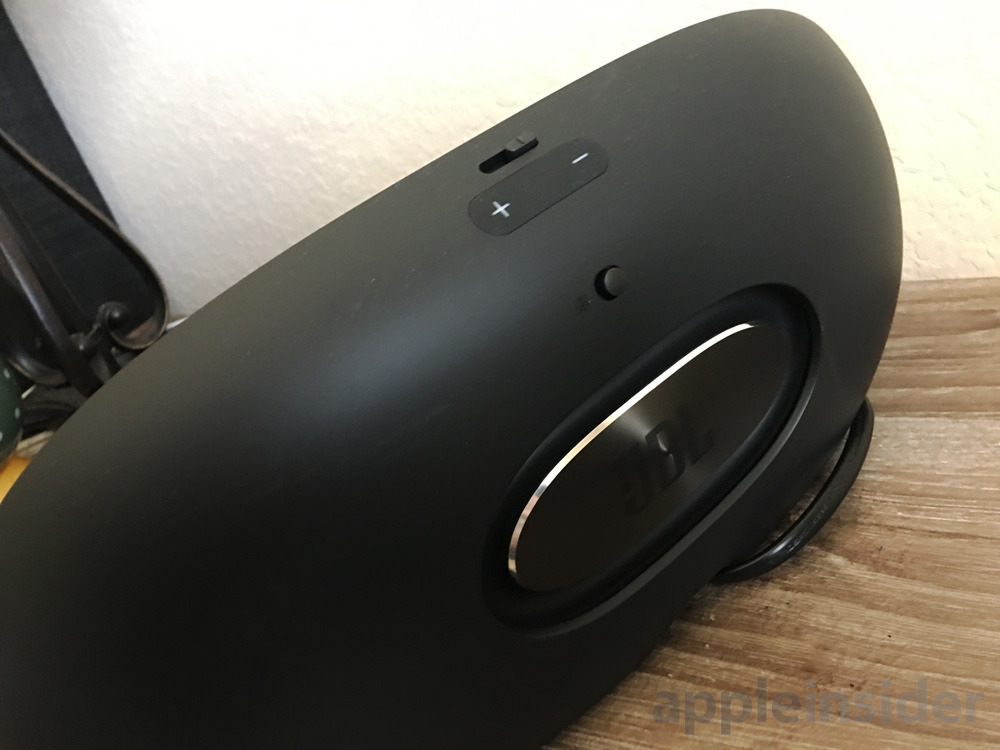 We'll discuss sound quality further, but naturally we have to address the thing in between those speakers: its 8-inch touchscreen interface. This runs software known as Android Things, although don't expect to be browsing the Web or running apps — it's all about serving an enhanced version of Google Assistant. On a simple level, if you ask for the weather you'll see a graphic version of the forecast, including expanded details. If you play music, radio, or a podcast, you'll see art and titles. If you adjust lights or a thermostat, you'll see an animated slider.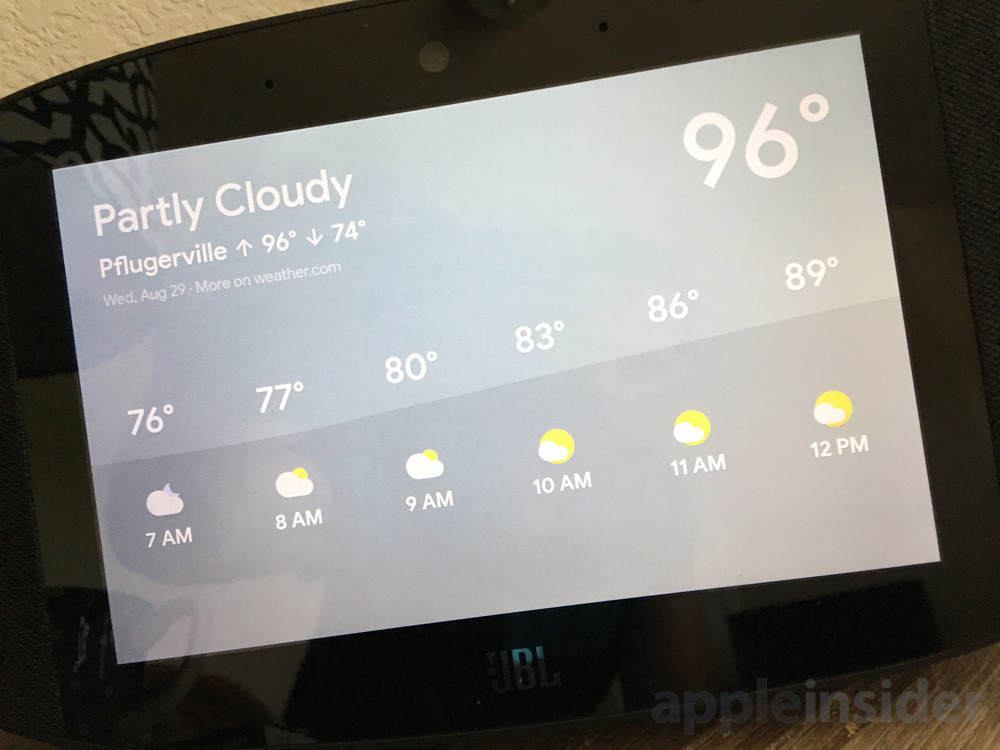 Where it gets interesting is with actions audio-only smartspeakers can't perform. You can search for images, get illustrated map directions, make Google Duo video calls, and run step-by-step through recipes. The most significant addition is video playback — this is currently limited to YouTube and live YouTube TV, but those alone are a gamechanger given the wealth of content available. You can ask to to play specific clips, or use broader terms to pull up a simple browser. If you say "Search YouTube for videos by Bob Ross," for example, you can scroll through episodes of "The Joy of Painting" and some playlists.
Assistant will answer some how-to questions with video, and you can even use Google Cast to push YouTube clips from devices like iPhones and iPads. We found this handy for shuffling personal playlists, or playing videos that would be harder to search for with voice commands.
There are also three levels of "ambient" information. Most of the time you'll see an intermediate screen with the time, a weather snapshot, and background art drawn from online galleries and/or your Google Photos library. When a room is dark and silent, the screen goes black except for the time in one corner. When you've been actively engaging with the speaker, you'll often see an elaborate dashboard with the time, a weather forecast, Google Calendar events, and a series of scrollable cards which prompt you with things like relevant Spotify playlists.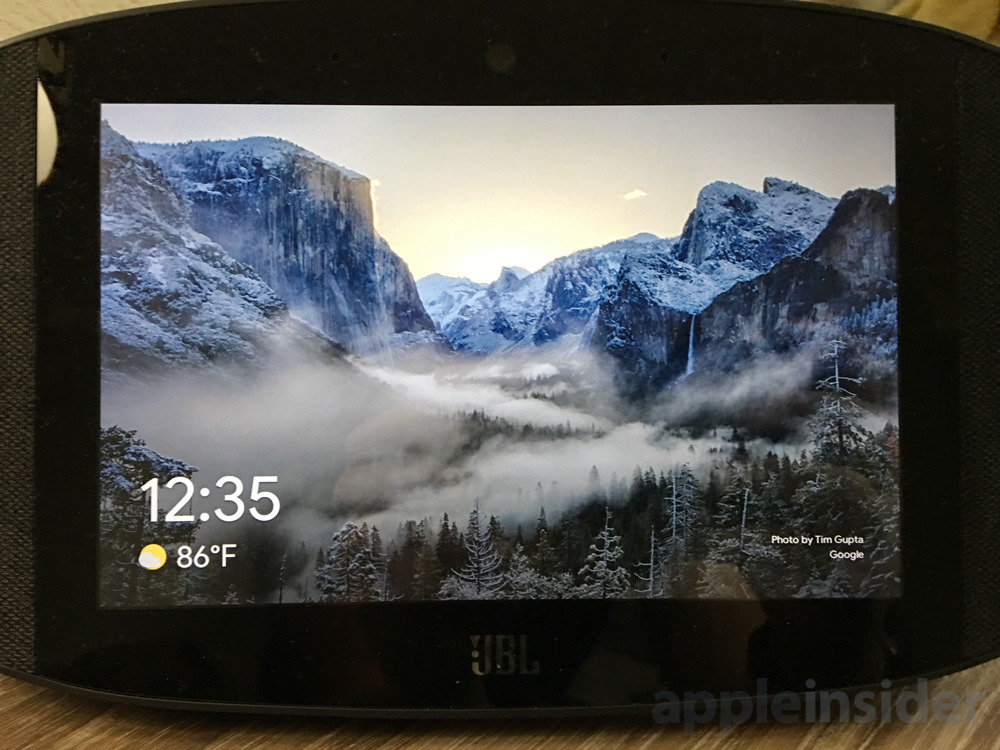 As with the Lenovo Smart Display, the value you get out of this may depend on how hooked into the Google ecosystem you are. If you're not an active user of Google Calendar, Photos, Maps, and/or YouTube, you might as well check out the Apple HomePod or Amazon's Echo speakers.
Sound quality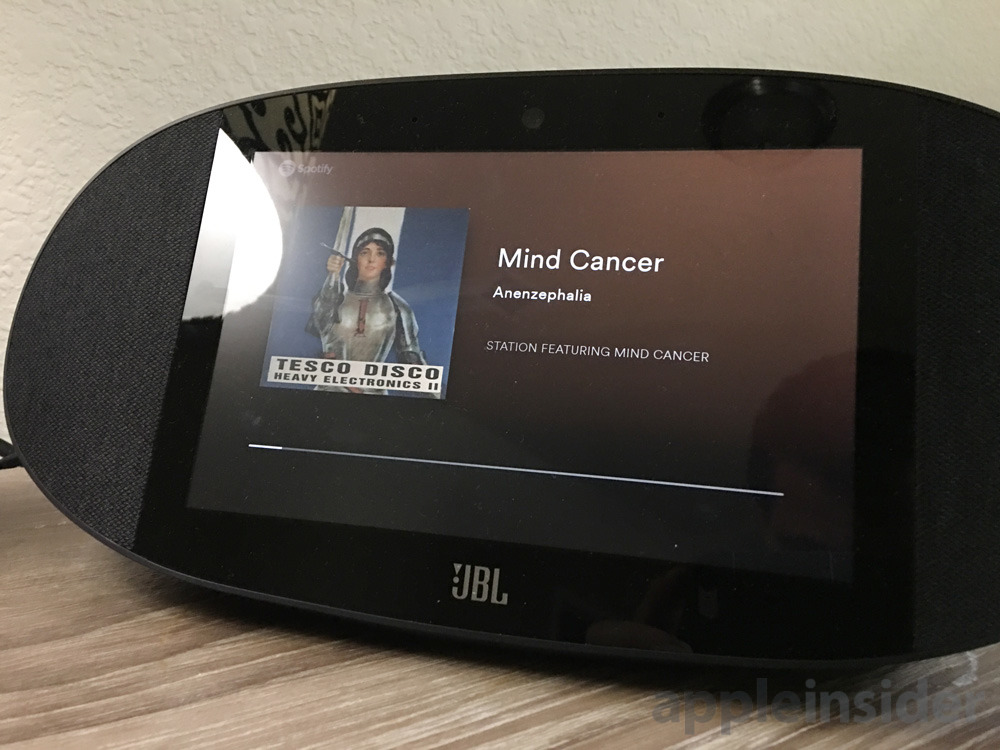 Finally, we get to answer the big question: how does it sound? The answer, broadly, is excellent. It's comparable to the JBL Link 20, which makes sense given that both have two 10-watt channels. The Link View has the edge though, with true stereo separation and a response range of 60 hertz to 20 kilohertz, whereas the Link 20 starts at 65 hertz.
That means a better low end, and you will definitely hear it. When we first started testing the product, even medium volumes caused violent rattling by objects on an endtable.
The Link View easily thrashes most smartspeakers in terms of loudness and clarity, as well. On the latter front the advantage still belongs to products like Sonos devices and the Apple HomePod, but only purists would be upset by the difference. We would be proud to have one as the main audio system in our living room.
Minor issues
We don't really have any serious complaints to speak of, but our experience was marred by some small technical issues. During setup, the normal Wi-Fi connection process — handled automatically by the Google Home iOS app — refused to complete, despite working perfectly with the Link 20 and the Lenovo Smart Display. We ended up having to use troubleshooting help from Google's website.
We also had trouble playing music from Pandora. Many times the service just failed to load, getting stuck on a logo screen, though we did get it working eventually. If you're a paid Pandora subscriber, we'd probably steer clear.
We should also note that like many smartspeakers that don't come from Apple or Sonos, the Link View doesn't support Apple Music except through Bluetooth pairing. Several other music services are supported, namely Spotify, Deezer, Pandora, TuneIn, iHeartRadio, and of course Google Play Music and YouTube Music.
Conclusions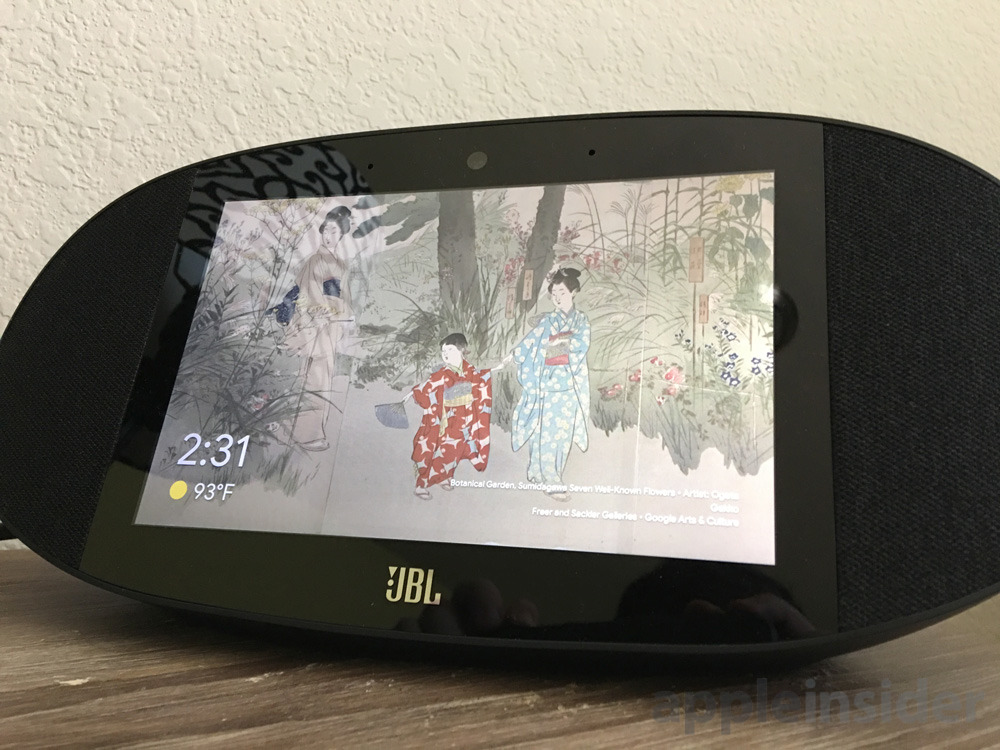 So far Google Smart Displays are two for two. The Link View doesn't instantly trump the Lenovo Smart Display however — aside from possible Pandora issues, purpose matters. We would rather have the Lenovo on a nightstand for example, since its entry model is more compact and we might never get to sleep with the Link View playing next to our heads.
Even then, if you're willing to buy into Google Assistant and sound quality is a primary concern, you have to ask whether your money might be better invested in something like the Google Home Max. Yes, the Max is $150 more, but if you are a diehard audiophile, you'll be happier. And this being AppleInsider, we suspect more of our readers would choose a HomePod anyway.
Nevertheless Assistant is a far better voice assistant than Siri, with more natural interaction and a wider knowledgebase. A touchscreen strengthens this advantage further, and we suspect that some people who try a Google Smart Display will find other smartspeakers kind of antiquated.
Score: 4 out of 5
Where to buy
The JBL Link View can be purchased from B&H Photo for $249.95 with free expedited shipping and no tax collected outside New York and New Jersey*.