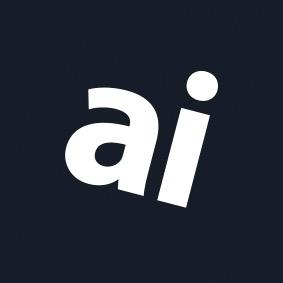 Why you can trust AppleInsider
Review: Lenovo's Smart Display can sell iPhone owners on Google Assistant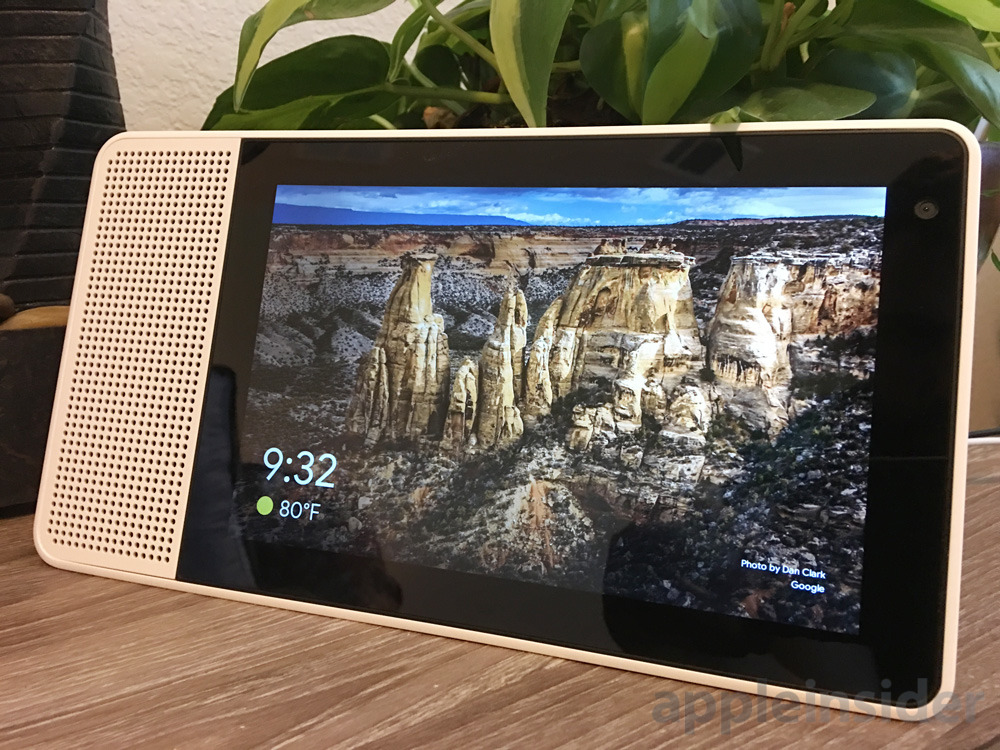 Lenovo Smart Display
4.5 / 5
---
Lenovo's product makes a surprisingly solid case for why a smartspeaker should have a touchscreen, moreso than the Amazon Echo Show or Spot.
Normally, part of the appeal of a smartspeaker involves how little attention you can pay to it. If you've got Apple's HomePod, for instance, you can say "turn off the living room lights" or "play 'Sleep Now in the Fire'" without having to wander over to a device or pull it out of your pocket.
As devices like the Echo Spot have shown us though, a screen does expand possibilities. You can view connected security cameras, make video calls, see the weather forecast, or if nothing else, check the time.
The Lenovo Smart Display is the first smartspeaker to use Google's Android Things platform, a simplified version of Android for smarthome gadgets. In particular, the Smart Display serves up a custom edition of Google Assistant.
Before we go any further, we should make one thing clear: there is no Web browser on the Smart Display. That might sound natural given that it's a smartspeaker, but Assistant is often loaded on devices with a browser, which means Lenovo's gear can sometimes have mildly frustrating limits, popping up information you can't then interact with.
There are two editions of the Smart Display, measuring 8 and 10 inches. Both are largely identical — for those keeping track though, the 8-inch model has a 1280x800 screen, while the 10-inch one upgrades to 1920x1200 and swaps out a plastic back for bamboo. It also uses a 2-inch speaker instead of a 1.75-inch one, though both models are limited to 10 watts delivered over two passive tweeters.
That being said, even the 8-inch model looks and sounds great for its size. Music is crisp, clear, and has enough bass that you probably won't feel an immediate need to go out and get an add-on speaker. If you do you're limited to Bluetooth, since there's no 3.5mm jack.
Setup can be simple or complex, depending on how many services and smarthome accessories you have. If the answer is "not many," the Google Home app for iPhones and iPads makes things fairly easy, since it will automatically detect your device and help put it on your Wi-Fi network.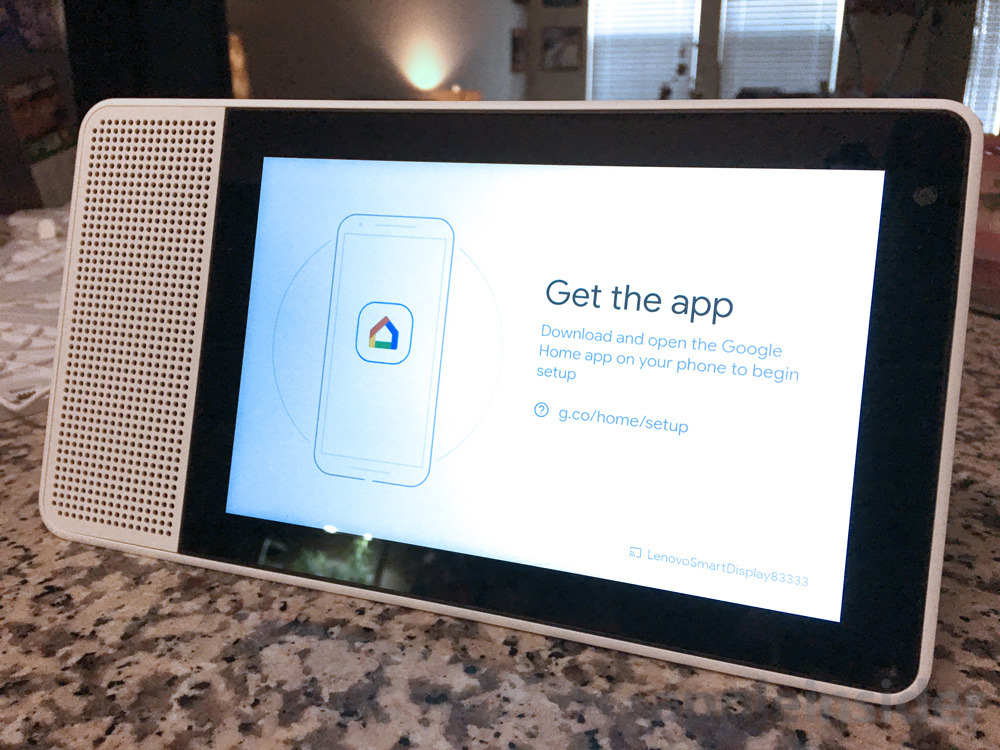 If you have a deeply connected household like many of us at AppleInsider, you'll probably spend 15 to 30 minutes (or longer) configuring everything the way you like it. Supported music services alone include Spotify, Pandora, Deezer, and of course Google's Play Music and YouTube Music — no Apple Music here. You can also stream podcasts and radio stations through services like iHeartRadio and TuneIn.
Smarthome options include things like Routines (think HomeKit-style scenes and automations) and direct voice control over accessories. You can tell it to dim your lightbulbs for instance, or set your thermostat to 72 degrees. These are accompanied by visual feedback — if you turn down a thermostat, an animation shows the temperature rolling back from its current one to the new setting.
A lot of the Smart Display's visuals are merely eye-pleasing, but there's also plenty that's genuinely useful. If you ask for weather you'll see predictions for the entire day — tell it to set a timer, and you'll see both it and any additional timers count down. Asking for directions pops up Google Maps data, an ETA, and onscreen buttons for transit and biking.
Text buttons appear frequently in this version of Assistant, and they're quite welcome. You can tap them to get follow-up information, or simply use them as suggestions for further voice commands. This is immensely handy, and something Amazon would do well to copy instead of displaying "things to try" cards.
Google Assistant is really the star of the show, as it's so much stronger than other voice assistants. You can for example ask it to control two smarthome settings in the same sentence, something badly needed by both Siri and Alexa — e.g. "Hey Google, turn on the nightstand and turn off the tall lamp." You can also (optionally) switch on something Google calls "continued conversation," meaning Assistant will keep listening for 8 seconds after a command so you don't have to repeat "Hey Google" or "Okay Google."
It gets better. If you ask the the Smart Display for a recipe, it will not only show options for your query but present directions step-by-step in large, swipeable font. And hallelujah, you can watch YouTube — something missing from Echo speakers because of the catfight between Amazon and Google. If you're specific enough, it can find and play a video right away, or you can just ask Assistant to search for videos on a given topic then tap the one you want. It even supports Google Cast, so you can push a video to or from the device.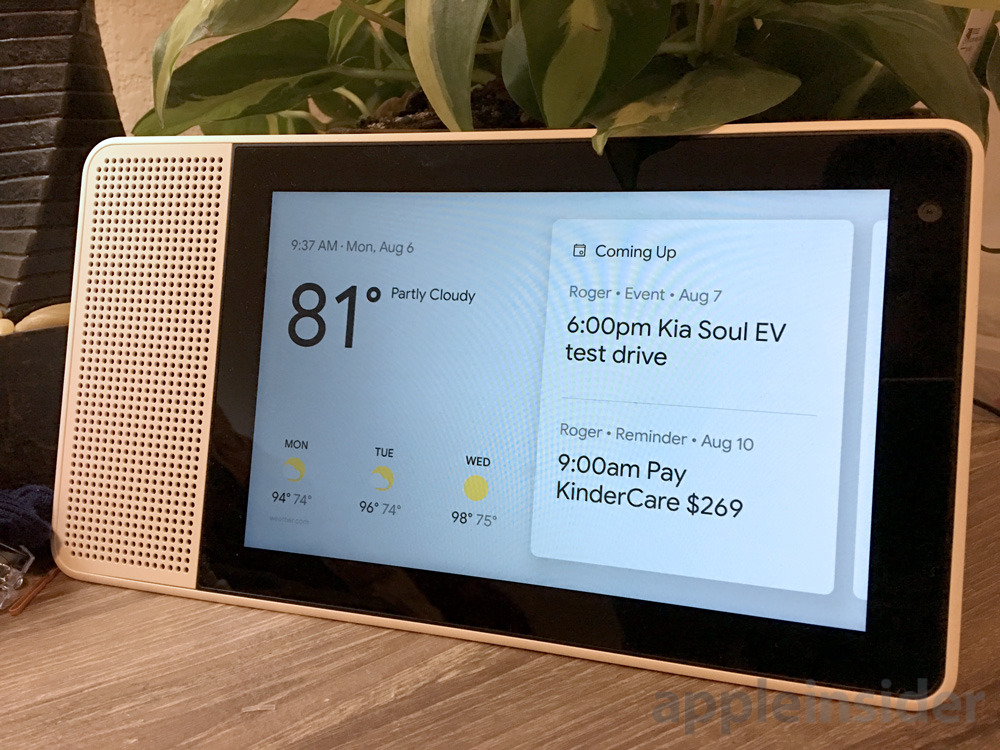 Some info can be shown passively, with safeguards over whether anything personal appears. There are additionally three, automatically triggered formats for this content. The most common is probably a Chromecast-style screen which shows the time, a tiny snapshot of local weather, and wallpaper shuffled from a range of default Web galleries or your own Google Photos library. There's a low-light mode which displays just the time in one corner against a black backdrop, and on the flipside, a mode for when you've recently engaged with the product that shows expanded weather data and the sort of cards you might see on other visual versions of Assistant, such as upcoming Google Calendar appointments.
Drawbacks
You may have gathered by this point that I love the Smart Display, but there are downsides to consider. An obvious one is that the less invested you are in the Google ecosystem, the less you're going to get out of the product. If you're not an active user of Google Calendar, Photos, Maps, and/or YouTube, you're probably missing out on some key features.
In the smarthome arena, many accessories that support HomeKit also support Alexa and Google Assistant, but if you've already got smartspeakers for one or both of those first two platforms, you're probably not going to want to complicate efforts with a third — unless you're a reviewer or just that deeply into tech.
Other things feel odd or half-baked. The Smart Display can be tilted on its side for a vertical view, but this is only useful for Google Duo video calls, since Lenovo has yet to implement a vertical version of the UI, and there aren't any other video call options. You can, thankfully, make audio calls to any cellular or landline number.
As a side note, if you're afraid of someone spying on you through the product's webcam, a slider not only shuts off the camera but physically blocks it.
Let's continue: YouTube, YouTube Music, and YouTube TV are the only video content services currently supported, as it turns out. Lenovo has hinted at the possibility of Netflix, but don't hold your breath.
You can't yet cast to the device from the Google Photos app, and it's also temporarily lacking multi-room audio. The Smart Display is the pioneer of a new category, and unfortunately it shows, if not nearly as badly as it could have.
Conclusions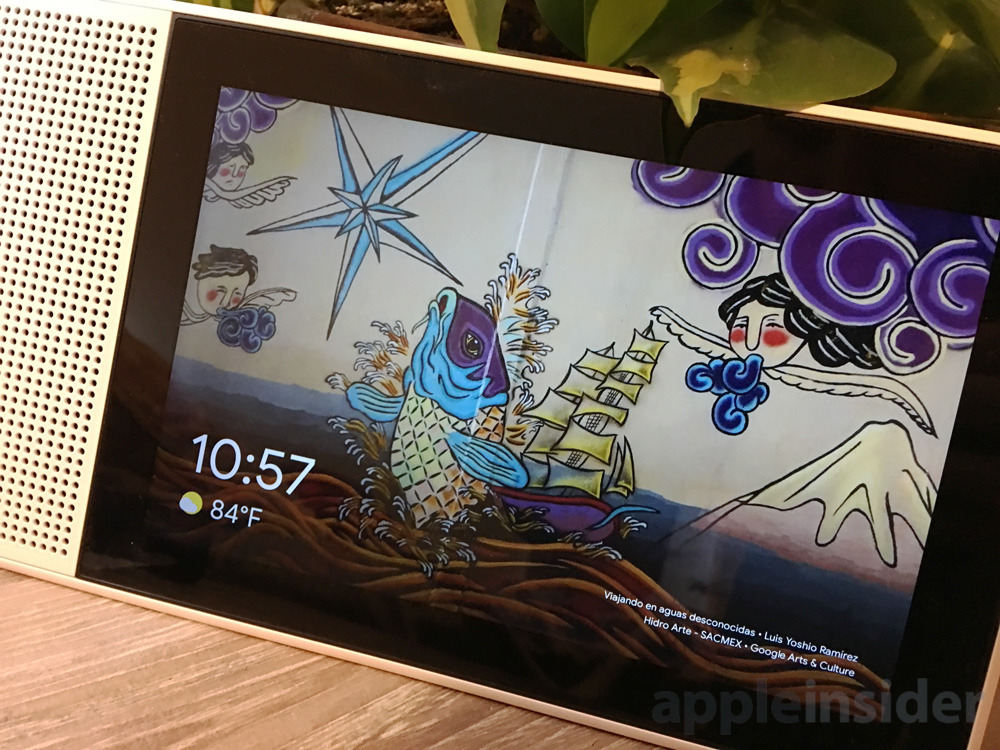 This is one of those rare instances in which we were surprised by a product we were initially skeptical about. Let's face it: AppleInsider isn't the target audience for a Google-based product, and Lenovo has a mixed reputation. With a first-gen product, we were prepared for something mediocre.
The Smart Display feels like it was knocked out of the park though, and should only get better as Lenovo smooths over the rough edges. For those willing to mix Apple and Google ecosystems — some people are inherently suspicious of Google, and not without reason — you owe it to yourself to give it a try.
Score: 4.5 out of 5
Where to buy
Lenovo's Smart Display is available in two sizes: 8 inches and 10 inches. The 8-inch model in White and Soft-Touch Gray retails for $199.99, while the 10.1-inch edition in White and Bamboo sells for $249.99. Both options are available at Best Buy with an expected ship date of Aug. 13. B&H Photo, also a Lenovo authorized dealer, expects to ship orders in the beginning of September with free expedited delivery and no sales tax collected in most states.