Samsung's foldable smartphone tipped for November unveiling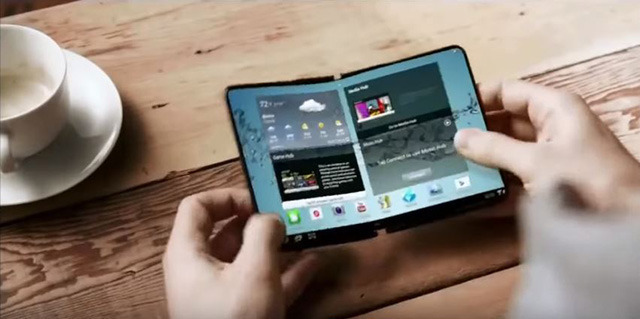 AppleInsider is supported by its audience and may earn commission as an Amazon Associate and affiliate partner on qualifying purchases. These affiliate partnerships do not influence our editorial content.
Following years of rumors of its development, Samsung will be revealing its plans to produce a foldable smartphone later this year, the head of the electronics giant's mobile division has confirmed, with the first appearance of the fabled device potentially occurring in November.
Samsung CEO DJ Koh advised the Korean firm will provide details of a foldable smartphone it intends to produce, confirming the product was under development. While it is unlikely for a finished product to be available to consumers before the end of the year, Koh suggested to CNBC there is a possibility it will make an appearance at the Samsung Developers Conference, held in November.
Koh did not state how the smartphone's folding action works, but in describing the logic behind its design, suggested it would be more like a smartphone when folded, but like a tablet when unfolded.
"You can use most of the uses... on a foldable status but when you need to browse or see something, then you may need to unfold it," advised Koh at the IFA electronics show last week. "Even unfolded, what kind of benefit does that give compared to the tablet? If the unfolded experience is the same as the tablet, why would they (consumers) buy it?"
According to the company's consumer surveys, Koh claims there is a market for such a device to exist, and that it is "time to deliver" the technology to consumers.
Samsung has reportedly invested considerable resources into flexible OLED screens over the years, but while flexible screens have so far been used in relatively limited ways, such as with fixed bends, a foldable display has yet to make it to market.
Numerous reports in the past have speculated that a foldable smartphone was on the way, with one codenamed "Project Valley" consisting of a screen that could fold in half. Another has also been rumored to consist of a smartphone with a 5-inch display when folded, but turns into an 8-inch screen when unfolded.
As Samsung is a major supplier of displays to Apple, reports have also circulated suggesting it was developing flexible displays for iPhones, but not necessarily a foldable version. Current analyst speculation suggests an iPhone with a foldable display could launch as soon as 2020, potentially in collaboration with LG.