Apple removes Alex Jones' Infowars app from App Store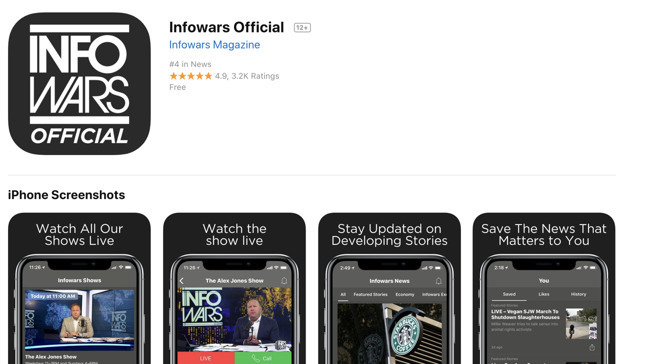 Nearly a month after Apple dropped Alex Jones' podcasts from iTunes and Podcasts, the company has removed the Infowars app from the iOS App Store, completing a purge of the conspiracy theorist's content from its various distribution platforms.
Apple confirmed the removal of Jones' app to BuzzFeed News on Friday, but declined to comment on the decision. Instead, the company pointed to App Store guidelines that prohibit "content that is offensive, insensitive, upsetting, intended to disgust, or in exceptionally poor taste."
The iOS App Store was one of the last bastions for Jones, who on Thursday saw his Twitter account, and that of Infowars, permanently banned for violating the microblogging service's abusive behavior policies.
Explaining the decision, Apple said that while Jones' podcast content violated iTunes policy regarding hate speech, the Infowars app did not do the same for App Store guidelines.
"We strongly support all points of view being represented on the App Store, as long as the apps are respectful to users with differing opinions, and follow our clear guidelines, ensuring the App Store is a safe marketplace for all," Apple said at the time. "We continue to monitor apps for violations of our guidelines and if we find content that violates our guidelines and is harmful to users we will remove those apps from the store as we have done previously."
The app served as a gateway to rotating streaming video content served up by the Infowars website, much of which won Jones a ban from other social networking platforms like Facebook. Importantly, Infowars did not store that same content on its iOS app, a key consideration that likely saved it from an immediate ban in August.
Apple's removal of the Infowars podcasts renewed interest in the site's iOS app, boosting its ranking among other "News" category apps from 47th to 3rd in only two days.
It appears Apple has scrubbed the App Store of all reference to Infowars, as searches for the title no longer yield results.
Editor's note: Due to its political nature, comments for this article have been disabled.