Morgan Stanley sees Apple's 'iPhone Xs' offseting threat of longer replacement cycles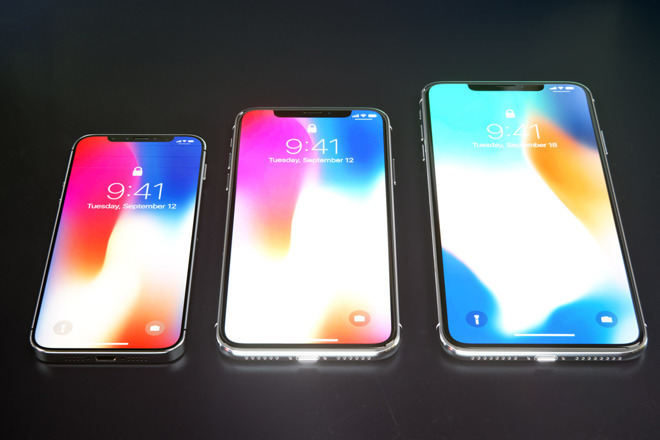 AppleInsider may earn an affiliate commission on purchases made through links on our site.
Morgan Stanley's expectations for Apple's "Gather Round" iPhone event are relatively muted, but the impact of new iPhone models could be both a negative and a positive for Apple on a full-year basis, due to the effects of lengthening smartphone replacement cycles and the huge potential for older iPhones to be upgraded to newer versions.
On what is to be expected at the September 12 event, a report from Morgan Stanley Research analysts provided to AppleInsider generally agrees with current rumors and speculation, with three iPhone models consisting of the OLED-based 5.8-inch OLED "iPhone Xs," the 6.5-inch OLED "plus" sized version, and a lower-cost 6.1-inch LCD model.
It is also expected that the Apple Watch Series 4 will make an appearance, as well as an updated 11-inch bezel-less iPad Pro with Face ID, and some form of update to the company's Mac product lines.
The analysts are unsure on whether Apple will show off the AirPower wireless charging mat at the event, but notes that the timing could make sense as it was initially shown at last year's September event.
Expectations for iPhone shipments are apparently being muted by a "recent lengthening of smartphone replacement cycles," with the claim the cycles have elongated from two years to three years over the last 24 months. The analysts cite carriers moving away from two-year contracts and high subsidies of handsets, as well as improvements to overall device quality, as factors behind the changes.
As evidence, the analysts point to unit declines in global smartphone shipments for the last three quarters, after over a decade of growth. The forecast for iPhone shipment growth is a deceleration to 0.6 percent, equating 220 million units, for the full year 2019, down from 0.9-percent year-on-year growth for the full year 2018.
The report does cite a few reasons that could positively impact iPhone growth for 2019. First is an argument that the replacement cycles could lengthen at a slower pace, citing consumer changes in using a smartphone as a primary device instead of a tablet or smartphone, resulting in increased usage and a need for "near-peak performance" to be maintained, which could prevent cycles from reaching four years, like PC ownership cycles.
Another reason is the analysts' estimate of 46 percent of the current iPhone base owns an iPhone 6s or older, equating to approximately 300 million iPhones that are at least 3 years old and in need of an upgrade.
Lastly, the addition of new technologies, including edge-to-edge displays, Face ID, and wireless charging, will be a greater incentive for users to upgrade their phone" over the next year.
Morgan Stanley goes on to suggest that investors are concerned about average selling prices for iPhones could decline in 2019, in part due to the launch of the LCD model as a value proposition. The analysts estimated earlier this year that the ASP could go down 2 percent year-on-year, based on if the OLED iPhones were sold at $899 and $999 respectively by size, while the LCD is sold for $669.
Taking into account Apple's comments that the iPhone X has been the best-selling iPhone of the year despite the high $999 price tag, the analysts now suggest the LCD model could end up being priced between $699 and $799 at its best case, with the larger OLED model potentially going above $999. Under new expectations, the ASPs could grow 2 percent year-on-year, or under the analysts' "bull case," 7 percent.