Renders reveal purported 2018 iPad Pro with near edge-to-edge display, iPhone-like antenna lines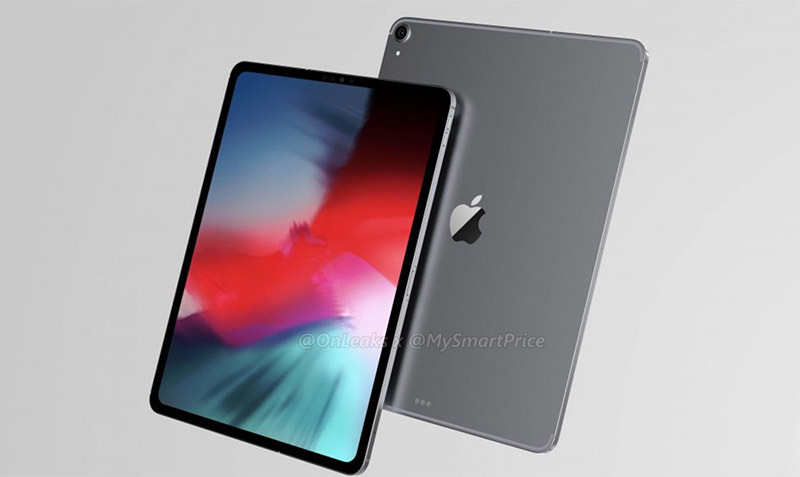 Computer renders based on leaked CAD images could offer a first look at Apple's next-generation 12.9-inch iPad Pro, complete with slim-bezel display, iPhone-esque antenna "lines" and an angular chassis reminiscent of the iPhone 4 series.
Shared by OnLeaks' Steve Hemmerstoffer in a post to Twitter on Monday, the high-resolution renders, created in conjunction with tech blog MySmartPrice, claim to reveal a vastly redesigned iPad Pro model widely expected to debut this fall.
The images are polished versions of CAD schematics first aired by OnLeaks last week and show an iPad device that departs from Apple's current aesthetic. Gone are the soft edges of iPad's rounded chassis, replaced with an angular case design featuring chamfered edges and breaks along the circumference to accommodate radio-transparent material. A similar architecture defined the iPhone 4 in 2010.
As seen in a set of CAD images supposedly showing off an 11-inch iPad Pro last month, today's renders feature two rows of speaker vents flanking a centrally-located Lightning port at the bottom of the device, a design mirrored on the tablet's top edge. Two microphone ports are also in view up top, sitting above a TrueDepth camera system embedded in iPad's bezel.
Button positioning appears to remain unchanged from existing iPad models, though the familiar home button has been removed to make way for more screen real estate. Also deprecated is iPad's headphone jack, a modification that would bring the device family in line with iPhone.
More dubious is a repositioned Smart Connector that supposedly lives on the back of the tablet directly above its Lightning Connector. MySmartPrice believes the positioning is a concession for Face ID, incorrectly stating that Apple's facial recognition feature is unlikely to work while iPad is in landscape mode. Code discovered in past iOS 12 beta versions have revealed Face ID will indeed accommodate landscape operation in future devices, with iPad thought to be a prime candidate for inclusion.
Whether the renders, and indeed the CAD from which they are based, are legitimate is unknown. Hemmerstoffer himself hedges on the renders' veracity, saying in a tweet, "I can't confirm this one is 100% accurate."
Rumored for release this fall, Apple's next-generation iPad Pro models are speculated to boast a smaller footprint while retaining screen dimensions thanks to the deletion of Touch ID. According to analyst Ming-Chi Kuo, the shift to a button-free design will allow Apple to squeeze an 11-inch display into the existing form factor, initially designed to house a 10.5-inch screen. Apple is also anticipated to carry over the jumbo-size 12.9-inch model that ushered in "iPad Pro" branding in 2015.
Apple is scheduled to hold a special media event at its Apple Park headquarters on Sept. 12, where the company is widely expected to launch this year's iPhone lineup. Whether the smartphones will share stage time with a revamped iPad Pro is unclear.