Share prices of Apple's suppliers in Asia hit following Trump tariff tweet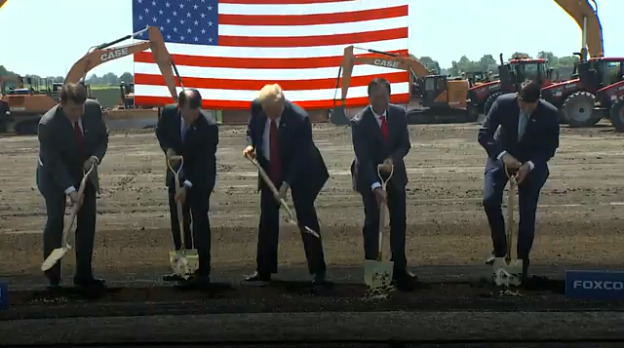 Share prices of Apple's suppliers in Asia slipped on Monday, after U.S. President Donald Trump tweeted in response to Apple's letter to the U.S. Trade Representative about the proposed Chinese tariffs, with the President calling a shift in production from China to the United States an "easy solution."
A number of companies in China and Taiwan were found to have lower than expected share prices on Monday, Reuters reports after compiling a list of share price movements for firms connected to the Apple supply chain. The biggest hits were felt by the China-based Luxshare Precision Co, Shenzhen Sunway Communication Co, and Suzhou Dongshan Precision Manufacturing Co, who all saw their share prices drop by as much as 10 percent after the weekend.
Lens Technology Co, Universal Scientific Industrial Shanghai Co, and Suzhou Anjie Technology Co felt the effects to a similar level, with losses between 6 percent and 8 percent. The Taiwan-based camera lens producer Largan Precision had its share price slide by almost 8 percent.
Major Apple assembly partners were not immune to the slide either, with Foxconn dropping 3.4 percent and Pegatron down 4 percent. Taiwan's ASE Technology Holding fell 2.9 percent during the period, and acoustic and haptic component supplier AAC Technologies of Hong Kong saw its price go down by more than 5 percent.
Japanese suppliers also saw drops, but at far lower magnitudes. Display producer Sharp saw its price reduce by almost 1 percent, Japan Display dropped 0.7 percent, and Nissha was down 0.4 percent.
The sudden share price drops are likely to have been caused by the results of Apple's letter to U.S. Trade Representative Robert Lighthizer, concerning the proposed 25 percent duty on $200 billion worth of goods imported from China. The importation is likely to affect a large number of Apple products, ranging from the Apple Watch to Mac mini, as well as numerous accessories and peripherals, custom tooling for U.S. manufacturing and product repair facilities, and test equipment used for product development.
"Our concern with these tariffs is that the U.S. will be hardest hit, and that will result in lower U.S. growth and competitiveness and higher prices for U.S. consumers," Apple wrote.
President Trump hit back against Apple's letter, noting on Twitter that Apple's prices may increase once the tariffs are imposed on China, but claimed "there is an easy solution where there would be zero tax, and indeed a tax incentive." His solution is for Apple to make its products in the United States, a refrain the President has repeated many times during his term, as well as before his election.
Apple does already perform some manufacturing in the United States, as CEO Tim Cook has previous noted, including iPhone display glass in Kentucky, chip production, and the setting up of new plants in other areas.
On Thursday, Trump advised to reporters he was preparing to impose an additional $267 billion of tariffs on top of the earlier $200 billion figure.
"People are in a bit of a panic today," advised analyst Kevin Chung of JihSun Securities Investment Consulting. "Looking forward, the focus would be on how the market reacts after Apple releases its latest models."
Apple will be holding its annual September event on Wednesday, and is expected to launch three new iPhone models alongside potential iPad Pro, Apple Watch, and other announcements. While the stock market response to Trump's tweet and tariffs would most likely recover in a short timeframe, the knowledge of new products requiring components will probably cause the correction back to normal to occur earlier.