Apple Watch Series 4 is first consumer device to receive FDA clearance for ECG monitoring [u]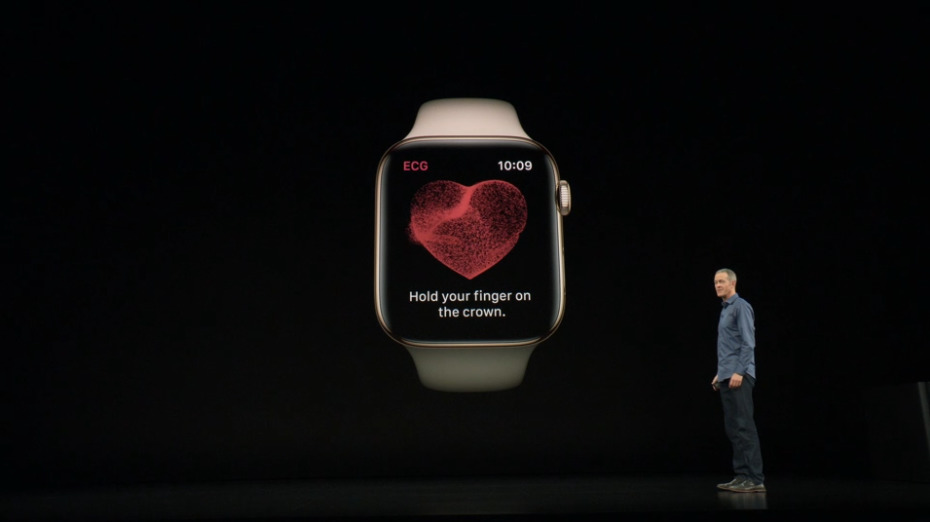 The Apple Watch Series 4 has received clearance from the U.S. Food and Drug Administration to operate as an over-the-counter ECG-monitoring device, becoming the first device available to consumers over the counter to offer the functionality.
Confirmed on-stage at Apple's September event, the approval from the FDA for the Apple Watch's electrocardiogram functionality makes it one of the only devices on the market to provide its users EKG readings. Typically ECG devices are not available for purchase by consumers, making the Apple Watch Series 4 an exception.
Similar technology is already in use by AliveCor, which markets the KardiaBand accessory for Apple Watch. The company reached out to AppleInsider to note that KardiaBand was first to receive over-the-counter FDA clearance in 2014, three years prior to wide general release in November 2017. As CNBC reporter Christina Farr explained in a tweet, however, users must have their first ECG reviewed by a doctor in order to "unlock," or view, the reading.
AliveCor details the process on its website, saying that "due to regulatory necessity, new U.S. accounts are required to have their first EKG reviewed by a U.S. board-certified cardiologist free of charge (a $19 value within the app)."
The Apple Watch, on the other hand, has FDA clearance to show its first ECG to users without a doctor review.
Apple has been pushing its Apple Watch to become a more useful device for healthcare, and has worked with the FDA about its ambitions. The company has previously talked to the head of the FDA about "mobile medical applications" in 2014, while in 2017 it was picked to join eight other companies in an FDA pilot program to avoid problematic regulations that could slow down the development of new health-related products.
The new Apple Watch now has electrodes in the sapphire crystal and digital crown, allowing users to take an ECG at any time using the included app. All ECG recordings are stored in the Health app, and can be shared with healthcare professionals at a later time.
The ECG functionality will be available at first to customers in the United States, with Apple also working to bring the feature to other markets at a later time.
Updated with clarification regarding AliveCor's KardiaBand.