iPhone XS, XS Max have new power chip designed by Apple, extra antenna band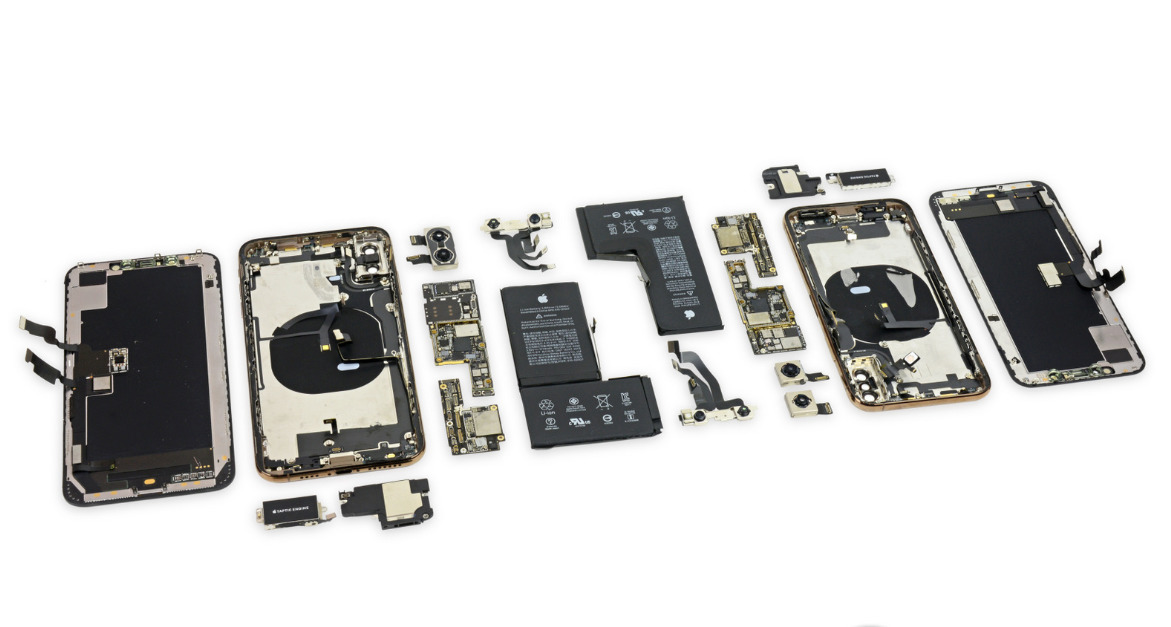 A second teardown of the iPhone XS and iPhone XS Max has confirmed the minimal internal changes made by Apple over its predecessor, the iPhone X, but adds that there is an antenna change that may help the device achieve faster connection speeds over cellular networks.
The customary iFixit teardown could be best described as a rerun of the iPhone X's disassembly, performed last year, with the vast majority of components being similar to the previous model, and installed in practically the same way. After taking off the displays, the iPhone XS Max appears to be constructed in a similar fashion to its smaller counterpart, but with slightly more room for component placement.
An external change spotted by the team is the addition of an extra antenna band where the left microphone hole used to reside. It is suggested by iFixit this could be used to add support for "Gigabit LTE," though it would also presumably help with improving reception with carriers in general.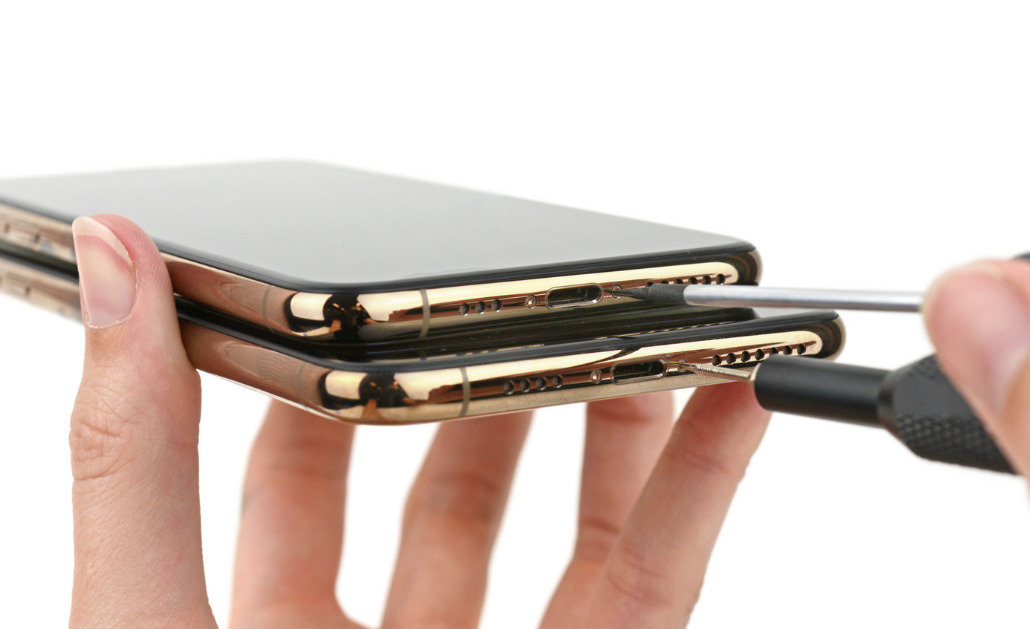 One major difference between the two models is the battery, in that while the iPhone XS has progressed to a single-cell L-shaped unit, the iPhone XS Max retreads last year's design by using two cells in a similar shape. The iPhone XS' battery change was discovered in an teardown on Thursday.
As with the earlier teardown, iFixit found the battery in the iPhone XS to be a slight downgrade from the iPhone X, with 2,659mAh of capacity. As expected, the XS Max battery is bigger, offering 3,179mAh in its dual-cell design.
That battery is charged and power is provided to the iPhone XS Max by an Apple-designed power controller. Apple has been rumored to be designing its own power management chips for some time, rather than relying on components created by third parties, allowing it greater control over the supply chain and how devices function.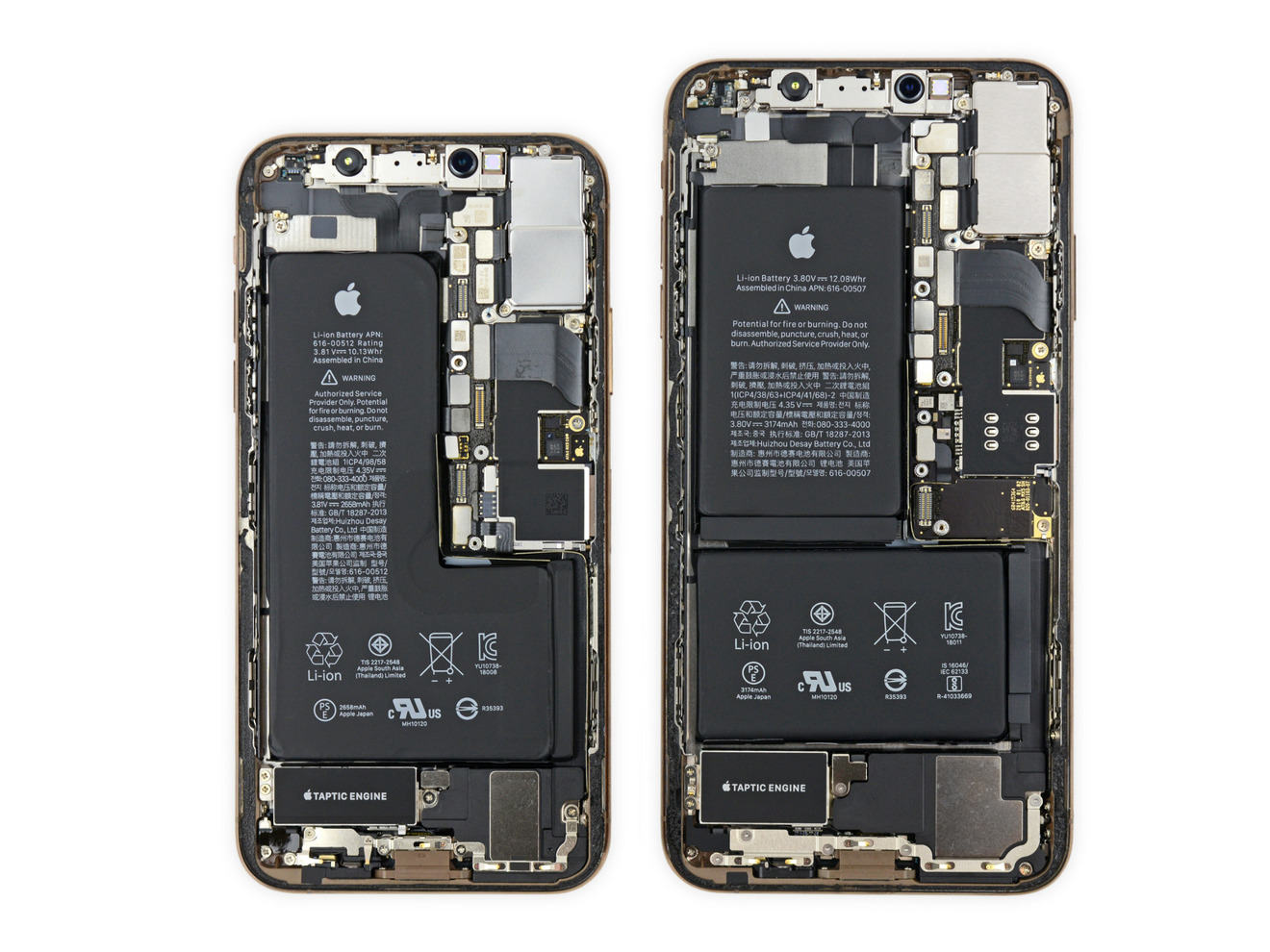 The larger XS Max takes advantage of the extra internal space by including a larger Taptic Engine, as well as an extended logic board that shifts one of the display connectors to the base. The wide angle sensor's pixel size increase is also found to have grown the camera bump in the iPhone XS, prompting a warning of compatibility with iPhone X cases.
Getting to the back glass, it is noted to have the same construction as used for the iPhone X and iPhone 8. According to iFixit, this means a single small crack in the back panel would require a whole chassis replacement if repaired.
At the end of the teardown, iFixit issued a "repairability" score of 6 out of 10. While display and battery repairs are identified as a priority of the design, and that the display could be replaced without disabling the Face ID hardware, the waterproofing measures and the issue with repairing the glass back harm the iPhone XS and iPhone XS' score.