Marc Benioff reveals Siri integration with Salesforce Einstein, lauds Apple's Cook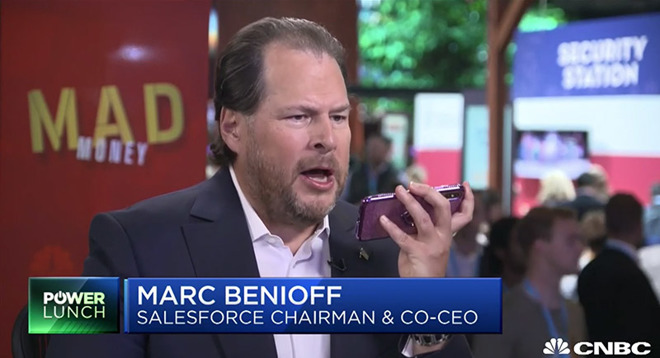 AppleInsider may earn an affiliate commission on purchases made through links on our site.
Salesforce's Dreamforce conference kicked off on Tuesday and CEO Marc Benioff was on hand to detail what the company's recent partnership with Apple will bring to customers. Notably, Benioff played up Siri integration with Salesforce's Einstein AI platform, a major feature largely glossed over in official press materials
Speaking to CNBC's Jim Cramer prior to taking the stage at Dreamforce in San Francisco, Benioff touched on his company's partnership with Apple, revealed on Monday, saying every company needs to "rethink who they are in the fourth industrial revolution." For Benioff and Salesforce's big-name customers, that means integrating with third parties to better connect with consumers.
The Salesforce CEO chose to spotlight Marriott, both in the CNBC interview and onstage during the Dreamforce keynote, as a customer whose business model will soon be impacted by the Apple tie-up.
"And you're going to see in the keynote, we are going to show a whole new vision for the future of Marriott. All the technology, everything they need to do to connect with their customer in a whole new way — and yes that includes starting right when you get into a Marriott and your digital key, right on your phone," Benioff said, holding up his iPhone. "And then of course the ability to talk to Siri and say, 'Please order me my favorite sandwich.'"
He went on to explain that Siri is merely the front-end of the experience. While details went undiscussed, Benioff said users will be able to ask Siri to control hotel room lights, temperature and more with their voice, all courtesy of Salesforce Einstein.
Introduced in 2016, Einstein is an artificial intelligence solution for delivering personalized and predictive customer experiences through the integration of machine learning, deep learning, predictive analytics, natural language processing and smart data discovery.
Like other machine learning systems, Salesforce Einstein tweaks itself with every customer interaction and new datapoint to become "smarter" at targeted tasks. The service is performing billions of transactions each day, Benioff said. Applied to Siri, the AI will serve as the voice assistant's backend.
"How does [Siri] know, where does it get all the data? How does it have the customer background? It comes from Salesforce, we're the backend," Benioff said.
Benioff's comments confirm Apple's virtual assistant will soon tap into Salesforce's customer relationship management (CRM) database to elicit user data. Further, Siri will have access to Salesforce customers that rely on Einstein, like Marriott.
"So, what we do is we're connecting Einstein to Siri, or Einstein to any other voice platform, then we take that voice recognition and move it to the database. Don't forget, when I say, 'I want that turkey sandwich' or 'I want my favorite sandwich,' Siri knows what I'm saying with my voice, but then we have to be able to take that and retrieve it or insert it into the customer database," he said. "That's the magic, that's Einstein voice. It is the glue, the middleware, it is the energy that links all the voice systems that you're using in your home and on your phones with the number one CRM in the world, Salesforce."
Access to Einstein was not mentioned in Monday's announcement.
During the Dreamforce keynote, Benioff thanked Apple CEO Tim Cook for standing ground on controversial social and tech industry issues, most notably gender equality.
"Thank you to Apple for becoming a strategic partner. Thank you, Tim Cook. Thank you for fighting for gender equality. Thank you for fighting for equality and love in our industry. You are somebody in our industry we all can follow," Benioff said.
Apple presents annual diversity reports, which break down employee gender and ethnicity statistics, and the company routinely touts its various "Inclusion & Diversity" programs. The most recent report, released in late 2017, showed a largely static gender balance of 68 percent male employees versus 32 percent female. In April, Apple was required to issue a gender pay gap analysis by the UK government, noting men working for the company in that country earn an average of 5 percent more than women.
The "fighting for equality and love" statement might be an allusion to Apple's efforts to battle discrimination of LGBT individuals. As Business Insider points out, however, Benioff was previously critical of Cook on the same topic.
In 2016, Salesforce, like Apple, was battling anti-LGBT legislature in a number of Southern U.S. states. Though Apple decried bills in North Carolina and Mississippi, Benioff at the time said Cook should do more to halt a similar action Georgia.
In any case, Benioff seems keen on clearing the air now that Salesforce and Apple are strategically aligned.