Apple accused of unsavory business practices in 'Memoji' trademark lawsuit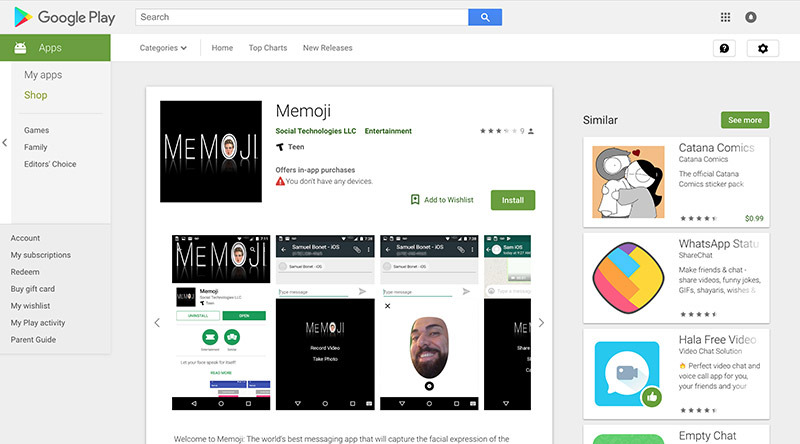 A lawsuit filed on Thursday alleges Apple snaked the Memoji trademark from an Android app of the same name through a series of questionable behind-the-scenes moves, one of which allegedly involved the creation of a single-purpose LLC.
A complaint filed with the U.S. District Court for the Northern District of California claims Apple's Memoji mark, used to describe a marquee iPhone X and XS feature, infringes on a similar trademark — "MEMOJI" — currently in use by Android app maker Social Tech.
According to the suit, Social Tech filed an intent-to-use application for the MEMOJI mark in April 2016, but before registration was obtained, Apple made a play for its version of the name.
The app maker alleges Apple formed a subsidiary called Memofun Apps LLC to obtain a "forgotten and abandoned" app using the name "Memoji." Along with goodwill, Apple sought prior rights to a then-suspended "Memoji" trademark application from owners Big 3 ENT and Lucky Bunny. A deal was apparently reached, as Memofun assigned rights to Memoji to Apple on June 4, 2018, the same day Memoji for iOS was introduced at the Worldwide Developers Conference.
Further, Social Tech said an unknown person inquired about buying the rights to MEMOJI in May, just two weeks prior to Apple's Memoji debut. The person, who declined to identify the company he worked for, was told the MEMOJI name was not for sale. Social Tech believes the unknown man was a representative of Apple.
On June 30, Social Tech filed a Statement of Use with the U.S. Patent and Trademark Office. The agency subsequently registered the mark on Sept. 18, with a "first use" and use "in commerce" dated June 28, the day the app was made available on the Google Play store.
In its complaint, Social Tech says Apple's Memoji launch "completely swamped" efforts to associate the mark with the app maker's brand. Beyond name recognition, the debut of Memoji for iOS in June forced Social Tech's hand, the company says, prompting the developer to release a "basic but functional" version of MEMOJI that was not fully baked. A more complete iteration would have hit market if Social Tech was able to stick to its planned release schedule, the filing claims.
"Apple's infringing product has, since the day of its announcement, caused Social Tech to lose control of its brand: a Google search and YouTube search for MEMOJI is dominated by Apple's Infringing Memoji," the complaint reads.
Counsel for Social Tech in early June informed Apple that the MEMOJI app would soon launch on Google Play, and that registration for MEMOJI would be sought from the USPTO. In response, Apple said it would be able to cancel the registration because its "common law rights" predate those of Social Tech's April 2016 application. Social Tech refutes these claims.
Exacerbating the situation is the relative similarity between the two products marketed under "Memoji" and "MEMOJI," Social Tech argues. For example, both apply to messaging features offered to mobile platform users.
Beyond their messaging functions, however, the two products are grossly divergent.
Widely publicized as a highlight iOS 12 feature, Apple's Memoji creates three-dimensional avatars which users can animate using facial expressions captured by iPhone's TrueDepth camera system. Social Tech's version, on the other hand, allows users to edit videos and photographs and send the results as messages.
Social Tech seeks preliminary and permanent injunctions restricting Apple from using the Memoji trademark, damages, profits attributable to Apple's unauthorized use of the name and confirmation of rights to the mark.
Ironically — and perhaps typical of Google's wild and woolly storefront — there are already multiple copycats on the Google Play store taking advantage of Apple's "Memoji" hype. Dozens of apps incorporate "Memoji" in search term metadata, while at least seven include the term directly in their name. Whether Social Tech is also seeking redress from publishers of those Android apps is unknown.