Apple may not have bought music analytics firm Asaii, might be 'acquihire'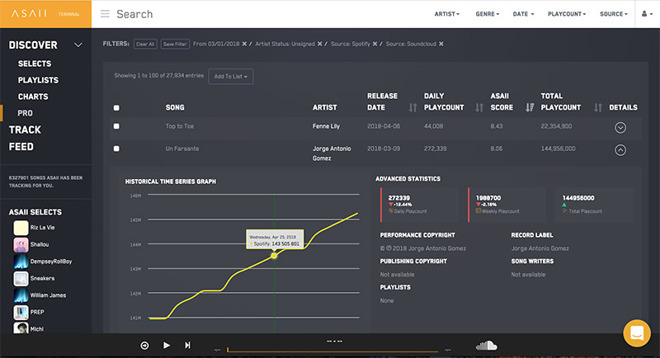 Music analytics startup Asaii was not acquired by Apple, a report claims, with the iPhone producer said to have performed an "acquihire" for the three founders rather than buying the entire company's assets as previously reported.
On Sunday, it was reported Apple had paid less than $100 million for Asaii, with the three co-founders already working for Apple on Apple Music. A second report supposedly confirmed the initial acquisition murmurs, with a shareholder acting as the source.
According to TechCrunch, the deal wasn't a purchase of the entire startup, but what is known as an acquihire, typically where a company is bought out by another for the expertise of its employees, not its products or services.
The discovery was apparently due to Apple's customary way of either confirming an acquisition outright or issuing standard boilerplate, advising it buys smaller technology companies regularly and doesn't typically discuss purpose or plans for its assets and staff. In this case, Apple declined to confirm the deal to the report and did not allow the use of the standard statement, leading to the conclusion that Apple did not buy the startup's assets.
Co-founders Sony Theakanath, Austin Chen, and Chris Zhang are all confirmed to be working for Apple since October, though it is unknown exactly what they will be working on. It is highly likely the knowledge of the trio will be put towards analyzing music, bolstering recommendations and looking at new and up-coming artists.
Two of the three had previous experience working for Apple. Theakanath was a software engineer on the company's Special Projects Team from May 2015 to August 2016, working on Core OD and iAd, while Chen was a global operations manager for four months in 2016.
While the Asaii website is still active at the time of writing, the company announced it was shutting down on October 14 via Twitter, with no explanation as to why it was winding down operations.
It is unclear what will happen to the company's assets, if they were not part of the Apple deal.
Launched in 2016, Asaii performed analysis on play counts and other data from Apple Music, Facebook, Instagram, SoundCloud, Spotify, and Twitter, with the machine learning systems determining new and popular tracks. Each song was assigned an "Asaii" score based on real-time data, with hot new artists able to gain the attention of A&R executives.
Data was supplied to industry insiders via an analytics dashboard, complete with a newsfeed that contextualized social media reach, and a tracking module for artist management. The Asaii Recommend API was able to be used by streaming services as a data point in creating algorithmically-generated playlists for users.