Apple confirms 'beautygate' fix for iPhone XS camera arriving in iOS 12.1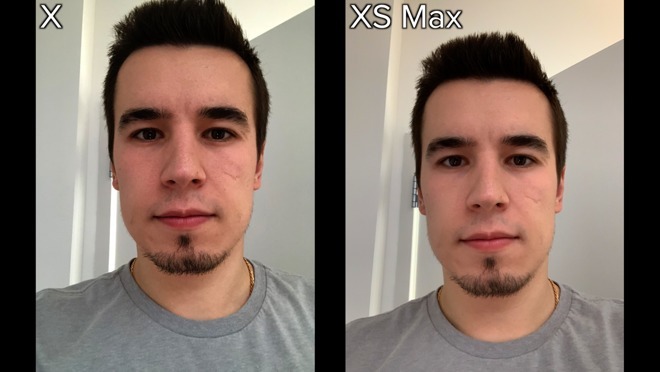 The so-called "beautygate" may soon be coming to an end, as Apple will be fixing the bug causing the smooth skin effect on photographs taken by the iPhone XS' front-facing camera when it releases iOS 12.1 to the general public in the future.
The release of the iPhone XS and iPhone XS Max was greeted by complaints from users discovering an issue when they took self portraits, in that the iPhone appeared to smooth out the subject's skin. The effect seemed like a purpose-made beauty filter or "really poor Photoshopping" according to user comments, with some instances causing a person's skin to change to an unnatural color.
Apple has confirmed to The Verge it will be issuing a fix to the problem in iOS 12.1, specifically by squashing a bug in the smart HDR camera system. AppleInsider was previously informed by sources not authorized to speak on behalf of Apple that the company was looking into the situation on September 28.
The Smart HDR function was selecting the wrong base frame for HDR processing when taking a selfie, according to the report's sources. Rather than selecting a frame that used a short shutter speed, in order to maintain as much detail as possible, the function would sometimes select a frame that had a longer shutter speed that was blurrier.
The issue is made worse by the front-facing camera lacking optical image stabilization, which again caused shots to be blurrier than sensors that did use the technology.
Apple is currently on its fifth developer beta for iOS 12.1. It is unclear when exactly it will ship, but it is likely to be within the next few weeks.