iPhone XR sales better than iPhone 8 at launch, yet analyst still calls them 'weak'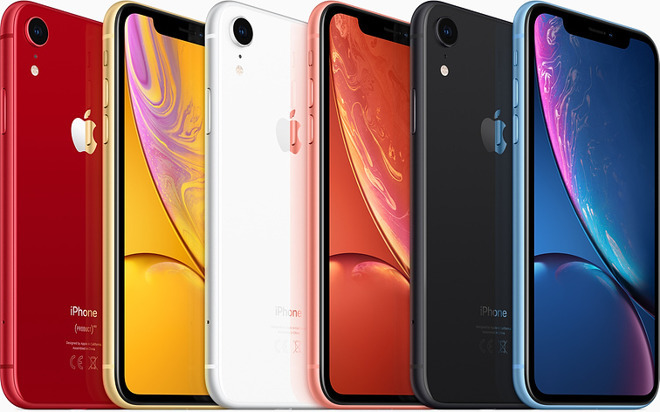 AppleInsider may earn an affiliate commission on purchases made through links on our site.
Rosenblatt Securities' Jun Zhang continues to be pessimistic about Apple, with him now saying that global first weekend sales of the iPhone XR are about nine million units, a full million lower than he expected.
Because of "slowing demand," Zhang has trimmed iPhone XR shipping forecasts by three million units due to "weak preorders." Zhang believes that Apple will start reducing iPhone XS and iPhone XR production by a combined six million units in November and December, with two million of them being the iPhone XR, and iPhone XS units hit for one million.
Zhang previously modeled new iPhone production of 90 million to 95 million units and shipments of 80 million and 85 million units. Rosenblatt is revising estimates to show new iPhone production of 88 million units and shipments of the new models between 76 million and 77 million units including the few days of availability in September and the remainder of the calendar year.
The iPhone data is culled from "sell-through data from various retail channels" with little other detail about how the figures were gleaned. Zhang notes that there were supply constraints at launch for the iPhone 8 — but failed to note that the launch allotment of the iPhone XR sold through in four days.
Because of the ASP increase, and the Mac plus iPad ramp, Zhang believes the revenue and earnings will be in line with his previously forecasted figures of $61 billion and $2.65 EPS, with the Apple's revenue guidance figures for the holiday quarter in line or slightly better than $91.2 billion.
Despite all this, Zhang says that Apple stock is a "buy" stock. However, his price targets remain at $200 per share — a figure that the stock exceeded on August 1. Rosenblatt's target price has lagged behind Apple's actual price for the last four years, with the analyst increasing the price over time — but never to where the stock is at that point.
Rosenblatt's analysis of Apple's supply chain and sales lie generally on the pessimistic side of the analyst pool. AppleInsider's Daniel Eran Dilger has previously highlighted issues with Rosenblatt's predictions relating to the iPhone, including proclamations about the iPhone X that turned out to be wrong.