Everything you need to know about the new 13-inch 2018 MacBook Air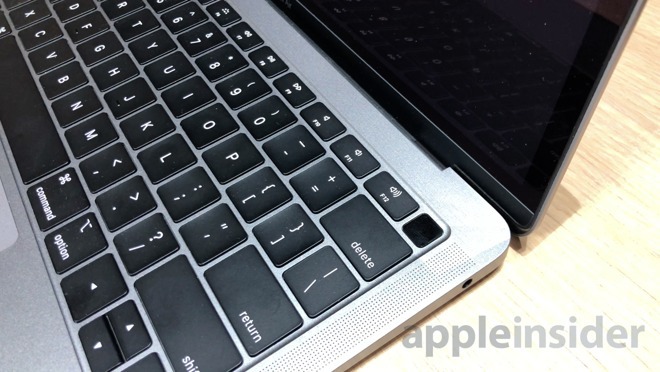 AppleInsider may earn an affiliate commission on purchases made through links on our site.
It's been 10 years since Steve Jobs revealed the original MacBook Air, a laptop so thin he introduced it by pulling it out of an envelope. In those 10 years, Apple hasn't changed the iconic large bezel design of the MacBook Air at all — until now.
The new design of the MacBook Air is basically the same as the 12-inch MacBook, except it's a little bit thicker, and heavier. The display is one inch larger, so the speakers are on the left and right sides of the keyboard. In another move similar to the 12-inch MacBook, you can choose between Space Gray, Silver or Gold casing options.
There are also two Thunderbolt 3 ports instead of the slower USB 3.1 type C, like the single port on the 12-inch MacBook. This means you can connect an external GPU or even a 5K external display to the MacBook Air, the same way that you can to a MacBook Pro.
User input
Perhaps controversially, the new MacBook Air has Apple's third-generation butterfly keyboard. The keys are also individually backlit, which is a nice touch. If the new third-generation is more reliable than previous models isn't clear yet, but we'll keep looking into it.
There's also a Touch ID sensor which can be used instead of entering a password, and it makes online shopping with Apple Pay more secure. It's also packing Apple's T2 chip, which we think is a pretty big deal.
The Force Touch trackpad on the Air is practically identical to the 12-inch MacBook's version.
Audio and video
Apple also said during the announcement that the speakers are 25-percent louder with twice as much bass, something that will need to be tested once it is released.
The display is finally packing a Retina display, just like the rest of Apple's MacBook line. It's got the same resolution as the 13-inch MacBook Pro's display, but while the Pro's screen supports P3 wide color gamut and 500 nits of brightness, the Air's does not.
Processor performance and GPU
Moving onto performance, the new MacBook Air is packing Intel's recently-released Core i5-8210Y processor, with clock speeds similar to Apple's $1299 13-inch MacBook Pro's i5 processor. It has a thermal envelope of 7 watts of power, less than half the Pro's 15 watts. The new processor is more efficient, and at the same time won't draw as much power when needed.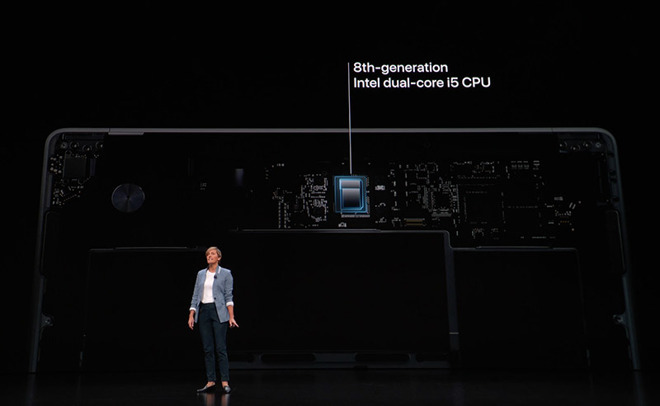 The new MacBook Air has integrated graphics that is slightly faster than the 12-inch MacBook's graphics, but the 13-inch MacBook Pro's graphical performance is over 50% faster than the MacBook Air. Considering that you can get a 13-inch MacBook Pro for just $50 more at assorted vendors, it's hard to justify buying the MacBook Air if you're thinking in terms of GPU performance.
Even so, people don't generally buy the MacBook Air for the best possible performance from a Mac. They buy it because it's the cheapest way to get an Apple laptop, one that's thin, light, has great battery life, and lots of ports.
Pricing
The issue here is that the price just went up by $200, making it only slightly cheaper than a MacBook Pro. Not only that, but the port selection that everyone loved are now gone and replaced with two Thunderbolt 3 ports that require adapters for legacy devices.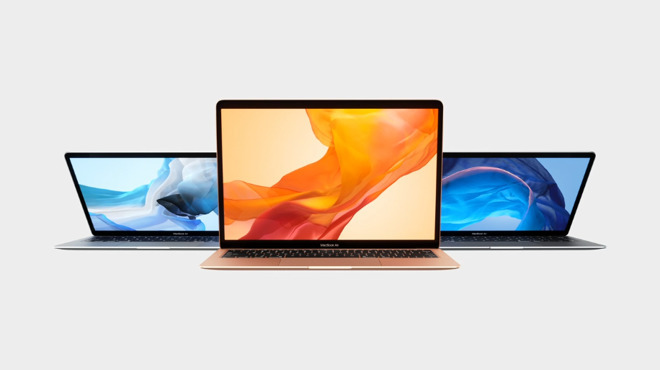 With the price point so close to the 13-inch MacBook Pro, it's a toss-up whether to choose the new MacBook Air or the MacBook Pro with Function Keys. The MacBook air is overall thinner and lighter, it has Touch ID, the T2 chip, and new keyboard technology, but the MacBook Pro has it beat in performance.
For a lot of people, they just need a reliable Apple laptop that can surf the web and occasionally do a little bit more. If that's you, then you'll love the new MacBook Air, apart from needing adapters for the USB-C ports.
Where to buy
The new MacBook Air can be preordered from Apple authorized reseller Adorama with no tax collected on orders shipped outside New York and New Jersey. Prices start at $1,199.00 with free shipping for the new models.
Prefer the 13-inch MacBook Pro with function keys? Shoppers can save $50 to $100 on the Pro models with prices starting at $1,199.00 as well. A full list of discounts can be found in our 13-inch MacBook Pro Price Guide.
A previous version of this article incorrectly stated MacBook Air is a fan-less design.