Apple targeted in new patent infringement lawsuit over video processing technology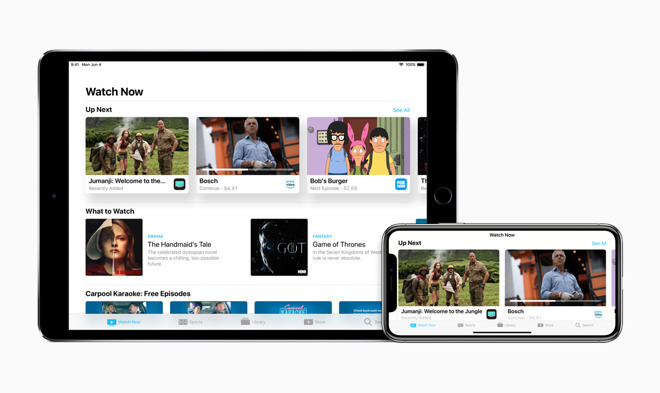 AppleInsider may earn an affiliate commission on purchases made through links on our site.
Apple has been hit by a new patent lawsuit from Dynamic Data Technologies, with the suit alleging Apple's products and services have infringed on 11 patents relating to video streaming, processing and optimization.
Filed on Monday at the United States District Court for the Eastern District of Texas, Marshall Division and found by AppleInsider, the suit from Dynamic Data accuses Apple of infringing on 11 specific patents the company controls. The patents listed by the company are varied in terms of what they cover, but they are all within the field of video manipulation.
The patents start with one covering the enhancement of images in a video stream that are "encoded based on previous frames using prediction and motion estimation," and the decoding of such streams. A second, covering "color key preservation during sample rate conversion" entails the processing of a keyed image, while the "unit for and method of estimating a current motion vector" explains how to estimate a current motion vector for a group of pixels in an image, which could be used to track the position of objects in a video.
The list also includes a "video overlay processor with reduced memory and bus performance requirements" from the year 2000 for adding an overlay to a screen, one for reducing processing time and power consumption when encoding and decoding video stream data, and another for "motion estimation."
The remainder is made up of a video compression technology, a "high quality video and graphics pipeline," more motion vector determination, a "runtime configurable virtual video pipeline," and a "system for and method of displaying information" from 2003.
The 68-page filing declares there to be 11 counts of infringement, one for each named patent, naming products such as the Apple TV, iPhones, iPads, and even specific versions of iOS throughout the document.
The suit ends with a request that the court issues a judgment in its favor, an award for damages for infringement, a judgement and order finding Apple's infringement was "willful, wanton, malicious, bad-faith, deliberate, consciously wrongful, flagrant, or characteristic of a pirate" in order to award enhanced damages, attorney's fees, and any other relief to which the company is entitled. A trial by jury is requested.
The suit has many indications that it is a case of "patent trolling" by a non-practicing entity. The suit reveals the company was based in Delaware, and a search revealed it was incorporated in April of this year.
Marshall, Texas is also a major venue for patent trolling, with thousands of suits filed in the district every year on the subject.
It is also revealed in the suit itself that the firm has a portfolio of over 1,000 patent assets that encompasses "core technologies in the field of image and video processing," with the suit's patents specifically sourced from Philips.
Said to be an "effort to facilitate the licensing if Philips' foundational technology," the firm wrote in the filing it is "pursuing remedies for infringement" in venues around the world. It has also filed enforcement actions against a number of major firms, including Google, AMD, Microsoft, and even against Apple in one suit in Germany.