First wave of 2018 iPad Pro reviews praise new features, but warn on price & OS limitations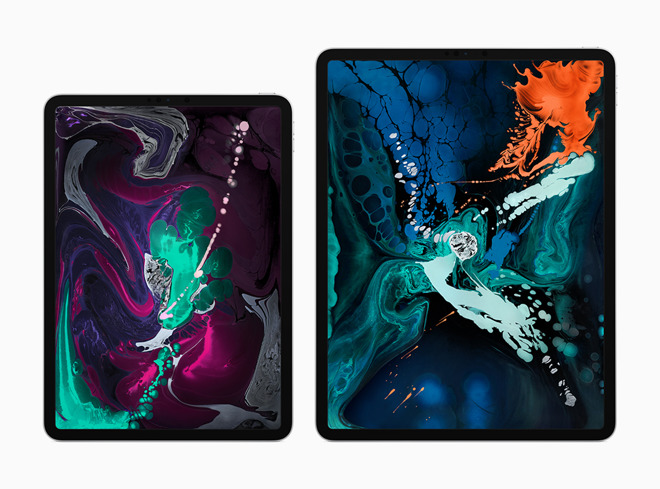 AppleInsider may earn an affiliate commission on purchases made through links on our site.
Some of the earliest reviews of the 2018 iPad Pros have gone live, lauding the tablets for their improvements, while cautioning that they may not be for everyone, given high prices and limits in completely replacing a laptop.
This year's models are a "refreshing, positive step forward for the iPad," Wired wrote, adding that they "put other tablets to shame." Focusing on the possibility of using a Pro as a laptop replacement however, the magazine argued that people will need "the right kind of occupation, and a lot of patience and determination," since iOS multitasking isn't on par with a Mac or Windows machine, and some apps and websites are limited on the device, though the latter is as much a matter of developer support.
TechCrunch called the Pro "an excellent tablet," but said that it "really shines" when paired with the second-generation Apple Pencil and a keyboard. The double-tap gesture on the new Pencil could potentially make it the "mouse for the tablet generation," the site remarked, becoming "the key to unlocking an interface that somehow blends the specificity of mouse-driven computing with the gestural and fluidity of touch-driven interfaces."
A recurring theme in reviews is the cost of a Pro, which is higher this year at a minimum of $799. CNET for example was positive on the tablets' use of Face ID, "all-screen design," and "scary-fast performance," but commented that the Apple Pencil and Smart Keyboard Folio are effectively mandatory add-ons that "jack up the already-high total price." The issue is potentially compounded by the switch from Lightning to USB-C and the removal of a headphone jack, since existing iPad owners may need to replace other accessories too.
Mashable called the new Pros "beautiful slabs of glass," and "more powerful than any iOS device or competing tablets." Going further the site enthused about the "physical closeness with digital content creation," describing it as a "paradigm shift from mouse and keyboard."
"It's such an intimate creation process that it made me realize that Apple's not merely trying to change my or your old habits," the site elaborated. "Apple's not trying to make the iPad Pro a laptop replacement because the device isn't one. It's trying to do something bigger: invent a new way of creating for a new generation that is not bound to the old computing laws of clicking a mouse."
Nevertheless, it said that "iOS on an iPad still isn't as robust for general work as a MacBook running macOS." A common complaint is that iOS still lacks an open filesystem, which would make it easier to manage data and allow customization. Apple has kept iOS locked down on both iPhones and iPads in order to control the user experience and deter hacking.
The Verge's conclusion summarized many reviews.
"Is the new iPad Pro a stunning engineering achievement? Without question," the site wrote. "Has Apple once again produced mobile hardware that puts the rest of the industry to shame when it comes to performance, battery life, and design? Yep. Is the iPad Pro the best, most capable iPad ever made? It certainly is. But you know what? It's still an iPad."