'Tim Cook for President' and other tawdry campaigns from Qualcomm's PR bulldog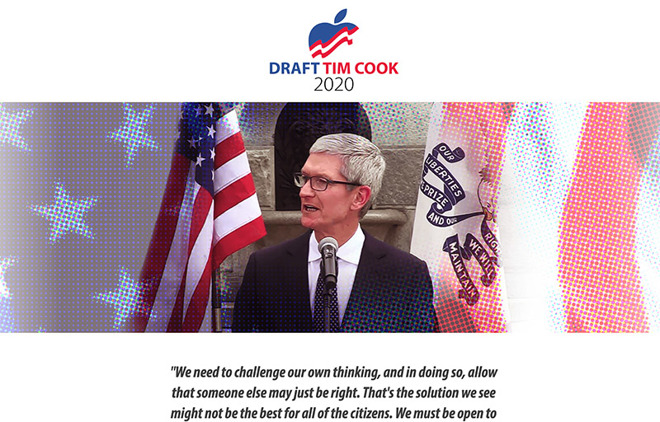 AppleInsider may earn an affiliate commission on purchases made through links on our site.
Definers Public Affairs, the PR firm Facebook contracted to sling mud at critics after the Cambridge Analytica debacle, also conducted campaigns against Apple at the command of Qualcomm, according to a report Wednesday.
In a wide-ranging report detailing Definers' successful attempt to employ Washington, D.C., political strategy to Silicon Valley public relations, The New York Times uncovered links to targeted attack campaigns aimed at Apple and its leadership.
Qualcomm hired the agency as it tussled with Apple in court over patent licensing and royalties, sources told the Times. The chipmaker has been angling for a settlement as the protracted action costs the firm billions in royalty payments, but Apple appears to be content to move forward with court proceedings that span the globe.
Against that highly contentious backdrop, Definers conducted opposition research against Apple, plying its trade to a number of projects designed to mold perception of the Cupertino tech giant.
Definers used conservative leaning news aggregator NTK Network to disseminate stories critical of Apple and its CEO Tim Cook. The network has posted at least 57 articles pertaining to the company this year, the report said, some of which directly address the dispute with Qualcomm.
Like other Definers campaigns, the issue at hand was not always central to a campaign's narrative. In one example, an article published by NTK in 2017 explained the iPhone 8 "might be slower than the competition" because it uses baseband chips made by Intel, not Qualcomm. Another story pointed said, "For Apple, the choice will be clear: make nice with Qualcomm, or offer a slower, inferior product to consumers."
NTK editor in chief Joe Pounder, who is also listed as a co-founder of Definers and its sister company America Rising, in a statement said the publication is independent.
"What NTK writes and posts on is what NTK chooses to write and post on," Pounder said.
Tim Miller, head of Definers' Silicon Valley operation, painted a slightly different picture in a proposal sent to a client last year, according to the report.
"Definers manages NTK Network, a news aggregation platform that targets Washington D.C. influencers. Through NTK we can directly re-publish favorable news from other outlets, and work with like-minded individuals to help create an echo chamber effect," Miller wrote.
Citing emails, the report claims Definers hawked "anti-Apple research" to various media outlets without divulging a funding source. One memo, titled "Apple Bowing to Chinese Cyber Regulators," took Apple to task over a seemingly contradictory stance on privacy in China. The report says "dozens" of articles were "planted" on conservative news sites.
Miller contacted AppleInsider in June 2017 with a pitch suggesting coordination between between the U.S. Federal Trade Commission, Apple, Intel and Samsung before Apple filed its suit against Qualcomm earlier that year. Miller did not state who Definers was working for in the email correspondence.
Beyond NTK and media pitches, Miller himself penned an article accusing Cook of lying to President Donald Trump about building manufacturing plants in the U.S., according to an email reviewed by the Times. The piece, which included claims that Cook leaked a "fabricated story" on Trump immigration reform to the Times, was peddled to right-wing website GotNews, which published it without attribution.
Trump has in the past criticized Apple for running production of its popular consumer products through offshore partners like Foxconn, but last year announced the company planned to build three "big, big, big" manufacturing facilities in the U.S. Apple declined to comment on the matter at the time and has yet to establish a major first-party plant in its home country.
In perhaps its most outlandish — and ingenious — play, Definers created a campaign promoting Cook as a potential presidential candidate, a move thought to disrupt thawing relations with Trump. Researcher Kyle Ehmke of cybersecurity company ThreatConnect found the "Draft Tim Cook 2020" website includes "digital links" to Definers employees, the report said.
For its part, Definers says the tactics used by Miller and other employees are par for the course. Chief executive and co-founder Matt Rhoades in a statement said its work "is absolutely no different than what public affairs firms do every day for their clients across industries and issues across the country. We are proud of the work we do for our clients."