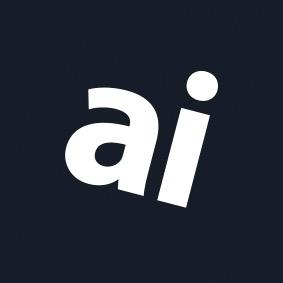 Why you can trust AppleInsider
Review: Sonos Beam is an ideal Apple TV companion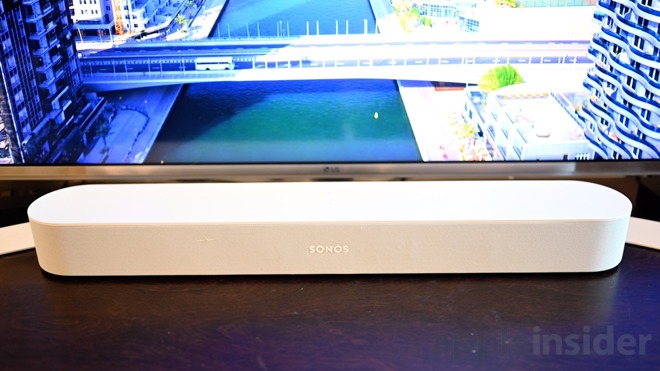 ---
The Sonos Beam is a compact soundbar with expandability that makes it a perfect companion for Apple users. AirPlay 2, Apple Music, and a big bag of tricks make this great sounding speaker a must-have.
Many tricks found in other Sonos speakers are baked into the Beam, but instead of taking up shelf space, Beam finds its home right in front of your TV, making it a useful multi-purpose device for watching your favorite movies or relaxing to some tasteful playlists.
In the box
Not much is included with Beam, as like other Sonos speakers it is meant to be primarily controlled through the Sonos app.
Inside the box is the Beam itself, a power cable, an audio adapter, and an HDMI cable. A getting started guide walks you through the basic setup process.
Design
Sonos has gone with a simple Apple-esque design for the Beam, keeping things minimalistic. Available in both black and white, we chose white to match our HomePod.
Fabric wraps around the front, sides, and most of the back. It looks great, but it is sheer enough to snag fairly easily. On the back are the ports used by Beam — the power input, HDMI, and 10/100 Ethernet.
Beam can be either placed in front of your TV or if you've mounted your TV, it can be wall-mounted as well.
TV connectivity
Getting content to the Beam is simple — assuming you have a somewhat recent TV. The primary method of routing television audio is over HDMI Audio Return Channel — or ARC. Many modern TVs have ARC output and it is easily identified by those telltale letters emblazoned next to the port on the rear of the TV.
Assuming you are using ARC, Beam setup consists of nothing more than connecting the included HDMI cable and power.
If you don't have ARC output, you aren't entirely out of luck, you just have a few more steps to undertake. You need to use the included Optical TOSlink to HDMI adapter to connect it to the digital output of your set. A few more steps take place in the app on top of the standard setup to make sure it operates correctly and remotes work as expected.
After connecting the speaker and adding it in the Sonos app, there are additional — and optional — steps for better performance. One of those is enabling Trueplay Tuning. During this two-step process, you first sit in your usual spot, then you move about the room wildly waving your phone while a series of tones and beeps are emitted from Beam. Yes, this will confuse any cats or dogs you may have around.
We ran through the Trueplay Tuning process and didn't notice a huge difference right away, but Sonos says over time you will notice improving clarity. We'll let you know if we ever do.
If you'd like to get granular, there are several other tuning options you can apply manually such as treble, bass, and volume limits.
AirPlay 2
One of the aspects of the Sonos Beam we were most excited for was AirPlay 2 support. Original AirPlay was baked in from the start, but AirPlay 2 followed at a later date. This adds yet another great way to utilize the Sonos Beam instead of just using it for your TV's speaker.
With AirPlay 2, you can send audio to multiple speakers at once. You aren't limited to just Sonos speakers, but any AirPlay 2 compatible ones. For us, we streamed Gaelic Storm from our iPhone to the Sonos Beam in the living room, the Libratone Zipp in the office, and the HomePod in the kitchen for full-home sound.
Like other AirPlay 2 speakers, the Beam will show in the Home app, but that's about all it can do. When playing music on the HomePod, you can play or pause from the Home app. Sonos Beam (and other third-party AirPlay 2 speakers) instead just show up. They don't do anything in the Home app — for now. We hope in the future Apple expands HomeKit functionality for speakers, letting them be built into scenes and automation routines.
Amazon Alexa
Right now the sole voice assistant available on the Beam is Amazon's Alexa — turning your soundbar into a much louder Amazon Echo.
Between the five built-in mics and Amazon's Far-Field tech, Alexa seldomly had issues picking up our voice. But, like other Alexa devices, she was triggered accidentally on more than a few occasions.
We aren't huge fans of Alexa, but many do rely on Amazon's virtual assistant. Those that do will certainly appreciate the inclusion. It also can help keep from putting another smart speaker on a table in the TV room. Any chance to reduce the number of devices needed to perform a task is a positive.
Musical sources
So far, there are two ways to play audio through your Beam. You've got your TV and you've got AirPlay 2. There are then countless music services within the Sonos app you can activate. The list is huge — which anyone familiar with Sonos will know — and includes everything from SoundCloud to Radio Disney to Plex to Spotify.
If you can stream it, chances are you can get it on the Sonos Beam.
One of the biggest faults with Beam is the lack of integration with existing home theater systems or receivers. It won't play nice, and that seems primarily by design. Beam wants to be an easy to use speaker with minimum setup but a multitude of other options for playing your content.
Controls
Absent from the box is a remote, a standby that would be expected with any other soundbar. Sonos assumes all volume controls will be handled by your TV's remote, Apple TV's remote, or the Sonos app.
We'd consider this an ideal situation because no one wants to have yet another remote littering their living room table. Adjusting from the app is not as often used while watching TV, but can be useful if across the home and want to turn it down.
Alexa can also be used to control the volume with your voice right from the couch which is one of the few times we've really enjoyed Amazon's voice assistants.
For physical controls, a trio of touch-sensitive buttons reside right on top of Beam. A play/pause icon in the center with a button on either side from controlling volume. With these being on a soundbar, they largely went ignored, unless we were trying to replicate the past by getting up to the TV to make adjustments. Sonos does allow these physical controls to be toggled off, as well as the status light, to keep things simple.
Sound
Out of the gate, we wanted to get an idea how dialogue would sound with the Beam. Unlike using the HomePod as a TV speaker, dialogue came right through the center channel and never was muddied by the soundtrack. Mids shined most brightly, but whether in a movie or streaming music, bass was never as punchy as we'd like.
This makes sense as Beam doesn't ship with a dedicated sub. It is certainly passable and the majority of people will find it provides an ample amount of bass but more serious cinephiles will yearn for more. When we compared it to other comparable soundbars that came with a subwoofer, they all performed better in the lows, but lacked everywhere else while Sonos excelled.
Even though the bass wasn't exceptionally heavy, it did have better articulation on the low end. Likely because of the smaller built-in woofers.
In our townhome, being confident of your neighbors is a real concern which is why we were excited about the night mode toggle offered on Beam. By enabling this in the app, it cuts out some of the power in the lower register which helps prevent reverberation through walls and ceilings. You get a bit less bass but your neighbors will thank you if you are watching Independence Day at 1 in the morning.
Another area Beam lacked a bit was in stereo separation. We ran through our usual playlist of testing music and noticed not a huge amount of differentiation between the left and right channels. It was there, but with such a narrow physical size it wasn't as pronounced.
Moving to streaming audio, we did appreciate how easy it is to send over audio and how it switches between the TV and streaming. With our receiver, we could send over AirPlay but we'd have to change the input on the receiver first for this to work.
Comparing directly to the HomePod, we feel that when connected to a television, the HomePod is too bass-heavy and vocals can get drowned out. Overall balance and fidelity goes to Beam while bass for music goes to HomePod.
Upgrades
One aspect we've always loved about Sonos was how easy it was to add on additional speakers. It should be this easy, assuming you've just dropped a pile of cash on multiple speakers.
For the Beam, sound-wise it is perfect for a small to medium sized room. In our approximately 200 square foot living room, at max volume Beam was a bit too loud to handle. Still, we found ourselves desperately yearning to add both the Sonos Sub and Sonos surround speakers — all which connect wirelessly. The combination makes for a more immersive experience and add some extra volume and depth for larger rooms.
If you are going all out, this adds up fast. You've got the Beam up front, two wireless Sonos Ones for satellite speakers, and the Sonos Sub can easily get you to $1500 for a full surround system that still doesn't offer Dolby Atmos support.
Confusion afoot
What makes Beam a bit different from other speakers is that it is already connected to your TV and Apple TV. If you want to play from your Apple TV, you don't need to use AirPlay. However, if you want to play through your TV and your HomePod in the other room, you have to instead use AirPlay to cast to both speakers.
This isn't entirely intuitive. Novice users may struggle knowing to switch both their Apple TV to the Beam as well as the second speaker over AirPlay.
Controlling volume can also be near overwhelming with so many ways to do so and the odd limitations in between. Alexa, TV remote, Apple TV remote, physical buttons on the soundbar, and the Sonos app. If you are casting through AirPlay, you can also change it from Control Center on your iPhone but not through Siri.
Listen up
Soundbars are a popular alternative to full-blown surround sound systems. They are more compact, easier to set up, and often more affordable.
The Sonos Beam has a great deal of versatility between the sources it can play, as well as how it is played. Other than lack of substantial bass, sound quality is exceptional and can grow and expand with you — at a steep price.
Rating: 4 out of 5
Where to buy