Steve Jobs' handwritten Apple I specifications sheet could fetch $60,000 at auction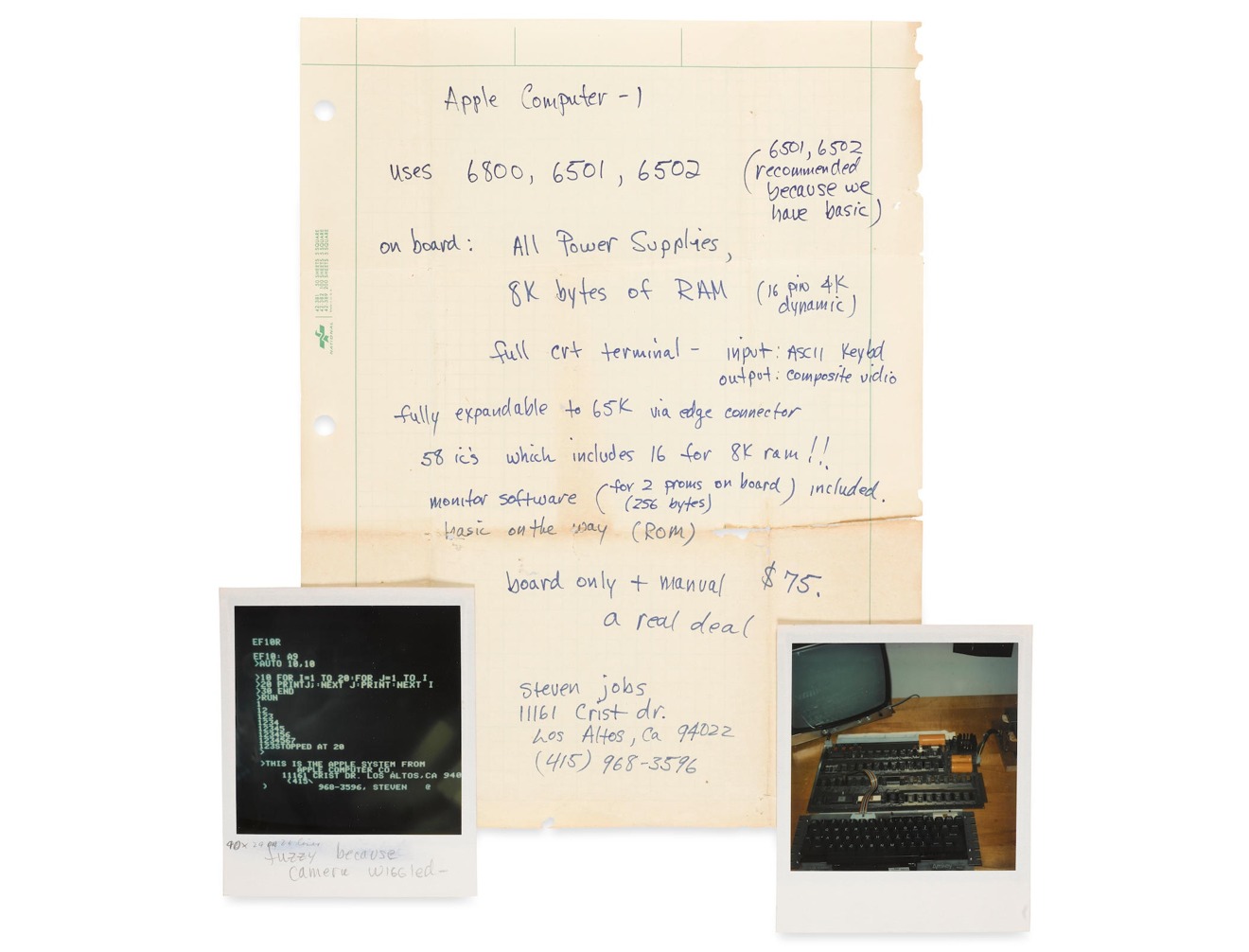 A sheet of paper featuring the handwriting of Steve Jobs is headed to auction, with the document consisting of a specification sheet for the Apple I expected to fetch up to $60,000 when it goes on sale on Wednesday.
Offered as part of Bonham's History of Science and Technology including Space History auction, taking place in New York on December 5, lot 631 is described as an "Autograph Manuscript Signed" by "Steven Jobs" that amounts to the specifications of the Apple I motherboard.
According to the auction house, the Apple co-founder continued his momentum after selling 50 boards to the Byte shop by marketing the Apple-I PCBs to friends and acquaintances. The page itself is said to have been given to a cosigner during a visit to Jobs' garage, as a description of what he was offered.
The sheet itself mentions the board uses either the 6800, 6501, or 6502 microprocessor, with the latter two recommended "because we have basic," with Jobs also touting the "full crt terminal" and "58 ic's which includes 16 for 8K ram!!" The claim of "basic on the way (ROM)" eventually did happen, but in the later Apple II.
Towards the bottom of the sheet, it is revealed the offer of a board and manual for $75 was considered "a real deal" by Jobs, who also provided his contact information. Polaroid photographs were also supplied, and also accompany the lot.
One shot depicts an Apple-1 on a table alongside a power supply, monitor, and keyboard, and is said to be similar to the "Production Prototype" number 2 in Mike Willegal's Apple I Registry. The other shows the readout from a display connected to an Apple-1, with handwriting below the image including Jobs' contact details and the line "40x24 OR 26 lines / fuzzy because camera wiggled."
The document, on 3-hole punched graph paper, stands to raise considerably more money at auction than the Apple I it was attempting to sell. According to the guide price, it is expected to bring in between $40,000 and $60,000.
The auction is far from the first where Apple and other Jobs-connected items have gone on sale and fetched high sums. A rare working Apple I logic board sold for $375,000 on September 25, while a Macintosh Plus Computer signed by Jobs and the original nine team members fetched $28,750 at the same auction.
A 1988 copy of Newsweek featuring Steve Jobs on the cover and his signature sold for $50,587 on October 17, tripling pre-auction estimates. In March, an autographed poster from the 1992 NeXTWorld Expo went for $19,600.
More items of Jobs memorabilia may also hit auctions soon. Woodside, California is considering selling off items of historical and architectural significance that it collected from Jobs' Jackling mansion prior to its 2011 demolition.