Bloomberg continues iPhone panic mongering by conflating Apple's Give Back trade-in program with price slashing
Bloomberg is back with a story that presents Apple's trade-in program as being an example of desperate price slashing in response to supposedly flagging sales of what Apple has actually stated is its most popular phone — the iPhone XR.
Writing for Bloomberg, Mark Gurman cited an unnamed "person familiar with the situation" as provocatively portraying the work of Apple's marketing team to sell more iPhones as being a "fire drill" and "a possible admission" that new iPhones "may have been selling below some expectations."
As Roger Fingas reported on Tuesday, AppleInsider spoke with sources actually inside Apple, who stated that the moves were in no way a "fire drill" as described by Bloomberg but rather a "normal seasonal response to expected consumer trends," although they said they were not authorized to speak on behalf of the company.
Gurman seemed particularly shocked to find Apple "adding a new banner to the top of its website advertising the iPhone XR for $449, $300 less than its official sticker price," a subject he also tweeted about as if the trade-in program — or marketing in general — was new and unprecedented.
For Bloomberg, Gurman more conservatively characterized the offer as being "discount promotions via generous device buyback terms," although Apple's "limited time" trade-in offer of $300 for an iPhone 7 Plus in good condition is only $50 more than the typical credit it offers, and likely less than a private buyer might offer. It's also significantly less than Apple currently sells an iPhone 7 Plus for in its refurbished online offerings, where 128GB models — the only ones currently available — are listed as regularly costing $669, with a temporary sale price of $569 right now.
Apple's trade-in and refurbished sales are not money-losing efforts desperately trying to subsidize new phone sales. They exist to help people to buy the newest model and to find second-hand buyers looking for an affordable iPhone.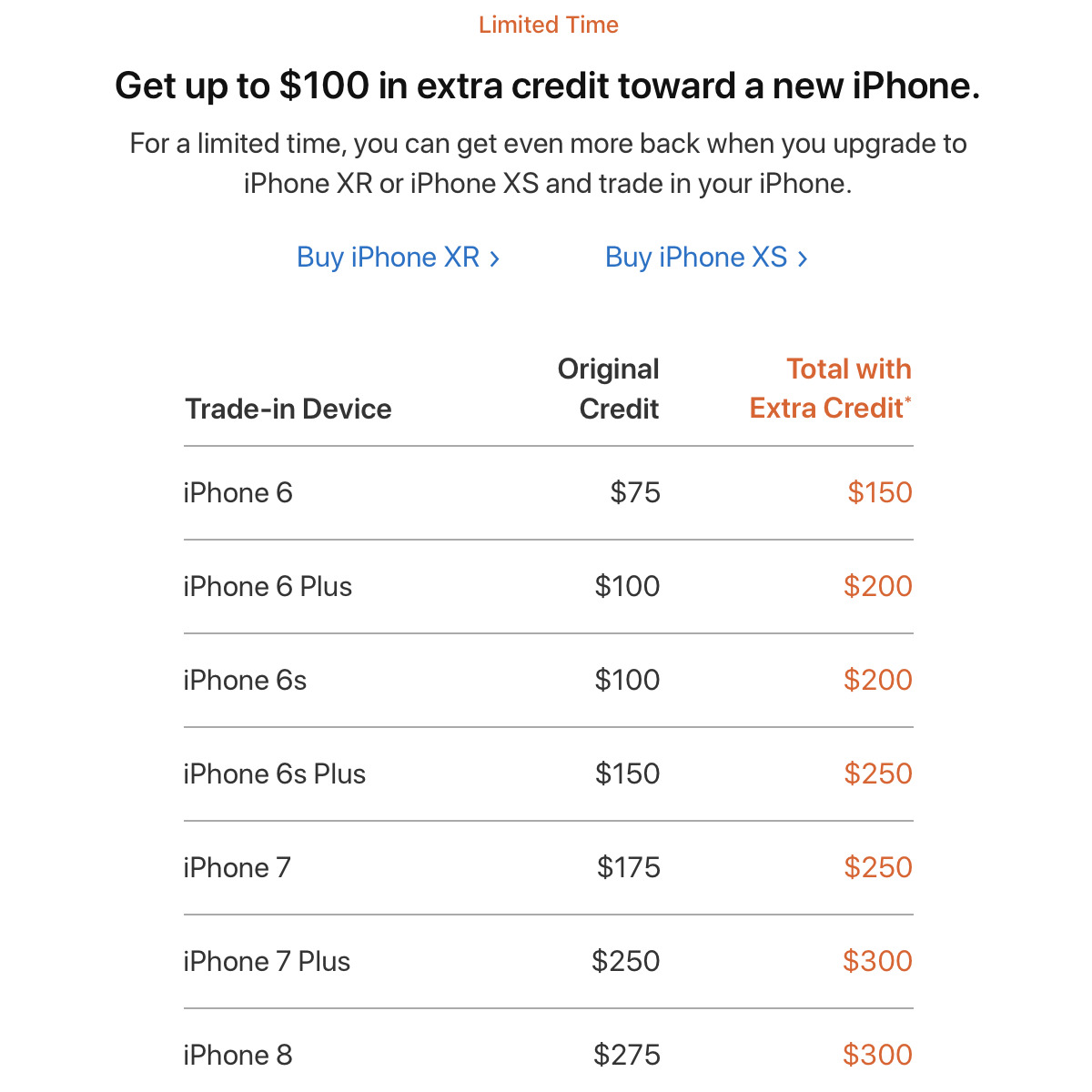 The business of second-hand phones
This year, Apple changed the name of its used device trade-in program to "Give Back," but it is not a new program, nor was it hastily released after discovering that new iPhones weren't selling. It's actually an expanded effort by Apple to get in on the second-hand business related to buying used devices. Because its products are durable and support software upgrades for years, their long usable lifespan makes used iOS devices more valuable than comparable Androids.
The higher third-party resale value of Apple's products enables users to confidently buy higher-end models with the assurance that they will be able to resell the device in the future, retaining significant residual value that can be applied to buying the newest one. Apple's entry into the third-party resale market also gives it a supply of devices it can refurbish and sell in developing countries where a sizable portion of the market lacks the ability to pay for brand new Apple products.
In March, Counterpoint Research Director Tom Kang stated, "with 13 percent growth, refurbished smartphones are now close to 10 percent of the total global smartphone market," and added, "the mid low-end market for new smartphones is being cannibalized by refurbished high-end phones, mostly Apple iPhones."
Bloomberg's double standard on smartphone demand
In dramatic contrast, Google relentlessly advertised its Pixel 2 phone online last year, offering buyers $300 off with "no trade-in required," if only they would please take delivery of the device the search giant invested incredible amounts of money into developing, advertising and promoting as the highest rated cameraphone.
But rather than presenting Google's fire sale as an obvious sign of weak demand for Pixel, Bloomberg provided disproportionate, informercial-like coverage of Google's Pixel products without any concern for how well they were selling.
Despite Google's advertising and price slashing, plus highly favorable coverage from Bloomberg very few Pixel phones sold. That demonstrated the extremely minor impact of Google's incessant brand advertising, its huge loss leader rebate offers, and even the fawning media adoration provided by supporters who portray themselves as independent journalists— factors that also did nothing to rescue Google's tablet inititives.
Google's inability to break into the mobile device markets that Apple has successfully navigated over the last decade is also partly due to the difficult headwinds faced by anyone attempting to enter into a crowded, established market — particularly the highly competitive smartphone business that appears to be reaching a global saturation in demand. That included Android's founder Andy Rubin, who left Google with the idea of launching an advanced new phone at Essential.
Over the last quarter, even phone giant Samsung's smartphone-driven Mobile IM revenues experienced a 12 percent decline YoY, and its profits fell by more than 32 percent. Barely a mention was given, despite the fact that Samsung has long sold the most handsets every year. Samsung's decline is particularly notable because it represents the majority of mainstream Androids with support for Google services, which are not supported by AOSP Android licensees in China, where unit growth is still occurring.
However, despite intense competition among middle and lower-tier Android makers in markets where sales units and average selling prices are both waning, Apple continued to sell slightly more phones in the quarter. It also generated more revenue YoY, thanks to higher average selling prices and new sales of accessory hardware and related Services.
While Bloomberg and other media outlets continue to focus on unit sales, the reality is that new smartphone growth is largely over, the same way that tablets peaked around 2015 and conventional PCs plateaued around 2010. In all three markets, Apple continues to capture the majority of the valuable high-end segments, taking virtually all of the available profits. Even more importantly, Apple has uniquely built a massive Services business that its hardware rivals haven't.
Bloomberg's casual indifference for accuracy
Bloomberg admitted in its trade-in sensationalism piece that "last year, there were similar concerns about sales of the iPhone X, and the handset ended up selling well," a gross simplification of the regular reports the site itself actually promoted as an ongoing narrative, which didn't just "raise concerns about sales," but confidently insisted that Apple's "$999 starting price was too much for some consumers," while in parallel crafting a false "pile of bad news" with story after story of supply chain rumors that implied Apple might be slashing production due to weak demand.
"Apple Inc. earnings this week," Bloomberg wrote unequivocally this spring, "will confirm what most investors have finally accepted: The iPhone X didn't live up to the hype."
Days later after being proven entirely wrong, Bloomberg sheepishly published the headline, "Apple earnings show growing immunity to smartphone malaise."
Bloomberg also published an alarming but thinly sourced security story that claimed Apple's iCloud servers had been compromised for an extended period of time by hackers using chips surreptitiously installed on the hardware used in its data centers. The report was refuted by Apple, by other companies, buy national security experts, and even by its own named source as a confused mess of writing that took a plausible-sounding concept and confidently presented it as a factual news story, rather than being what it was — poorly-investigated investigative journalism.
Yet Bloomberg has refused to retract or substantiate its allegations, and instead cycled right back into "raising concerns about sales" of the latest iPhones using the same discredited supply chain pseudo-scientific "plausibility raised to the level of reality" that made it look foolish just nine months ago.
Apple's new iPhone XR promotes its Face ID vision for the future
While Apple's trade-in program isn't new, it is new that the company has greatly accelerated its efforts to upgrade its installed base of users to the new technology it first unveiled last year.
Over the decade-long history of iPhone, Apple has typically resold previous generations at an incremental discount alongside an all-new flagship model. Last year, it introduced the all-new design of iPhone X with Face ID, at a new peak entry price of $999 alongside the more conventional iPhone 8 and a discounted iPhone 7 lineup.
This year, rather than continuing its pattern of only offering discounted older generations next to its newest iPhone XS lineup, it introduced the $750 iPhone XR as its "one more thing," effectively serving as a value-engineered version of its vision for the future of iPhones at a new, much lower price tier. That pricing and engineering work was done long in advance of knowing exactly what level of demand it would encounter for each model when its new phone lineup went on sale.
iPhone XR was priced to move— and to spread iPhone X's technologies to more users at a new lower price tier 2.5 times greater than the $100 discount it has typically offered on the previous year's iPhone generation.
Portraying a $50 bonus holiday trade-in offer— which can be applied to any new iPhone XS or iPhone XR— as "a possible admission that the devices may have been selling below some expectations" is remarkably ignorant in view of the fact that Apple already engineered a $250 retail price reduction well in advance of any sales, clearly to accelerate upgrades to modern iPhone models supporting Face ID and the new Home-free gestures introduced with iPhone X last year.
Apple's installed base of users, now near 1 billion globally, represent a valuable demographic of buyers who are more likely to pay for software, services, and other new hardware, and they consistently pay a premium for iPhones often without even evaluating the competition. By upgrading more of its vast global base of users to its newest technologies faster, Apple can drive wider adoption of its TrueDepth technology and attract more custom development that takes advantage of front-facing depth imaging and face mapping AR.
It's not surprising that Apple is "marketing" and incentivizing sales of the new mass market phone.