Review: Polk Assist is an attractive and small speaker with Google Assistant support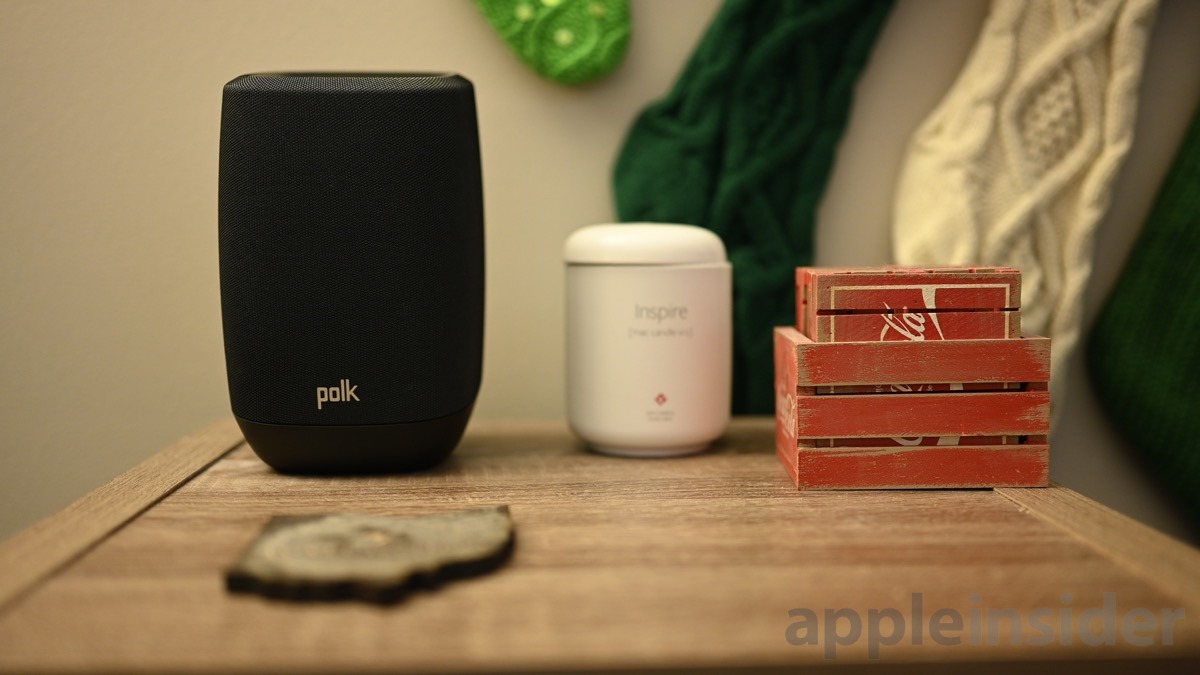 AppleInsider is supported by its audience and may earn commission as an Amazon Associate and affiliate partner on qualifying purchases. These affiliate partnerships do not influence our editorial content.
With the popularity of the Amazon Alexa lineup and Apple's own HomePod, others have been rushing to market with their own speech recognition-capable speakers, baking in Microsoft's Cortana, Amazon Alexa, or as in the case of the Polk Assist — Google Assistant. AppleInsider takes a look to see what it offers the Apple user.
Design
The Polk Assist is a minimal device that largely doesn't differentiate itself from the looks of most other speakers. Both the bottom and top are made of plastic with a fabric grille wrapping around the outside.
On top is a quartet of buttons, one to invoke Google Assistant, another for play/pause, and a pair of volume buttons. Each sits in a corner of the top.
Audio exits out the front of the speaker, not giving the same 360-degree audio found on the HomePod. A woofer and tweeter combo sit behind the fabric.
On the rear, towards the bottom, is a mute button to disable the twin microphones found on top for some privacy, or just to stop Google Assistant from chiming in accidentally. Considering this is the data-hungry Google's assistant here, the addition is welcome.
There is no aux import, but it does support Bluetooth and Chromecast.
Sound quality
Polk is known for solid audio, and we hear that pedigree exemplified here. The unit sounds better than we expected a speaker of its size to sound like, and even performs well at high volumes without distortion or crackling at high volumes as we see from lesser-known companies.
Bass is substantial, though not overboard. Compared directly to our HomePod, Polk Assist sounds very narrow and light on bass. It also couldn't match its volume. Of course, HomePod is substantially more expensive, so this shouldn't be a huge surprise.
We listened to our usual playlist — not through Apple Music, though — of testing tunes and they all sounded good, but there wasn't enough range or stereo differentiation to blow us away.
Since we use Apple Music instead of Spotify or Google Music, going through Google's app was problematic.
Google Smarts
Turning to Google Assistant, everyone seems to have a preference on which is best. Some Apple users prefer to stay in Apple's own ecosystem and rely on Siri — especially given Apple's privacy stance. Others go with the more robust Alexa, and still more prefer Google's Assistant.
We aren't going to fully vet Google Assistant here, but there are a few omissions that are important to point out. Primarily, Polk Assist can't make phone calls. You also can't access the equalizer as you can with Google's own speakers.
We mostly relied on Google Assistant for asking random questions and controlling a few bits of our smart homes. Many different smart home accessories work natively with Google Home, so Hue, WeMo, and Nest behaved as expected. It works well with the microphones picking us up more often than not. We also got to use it multi-room style with other Google smart speakers.
Keep jamming
Siri is still going to be my assistant of choice — Polk Assist didn't change that — but if you already buy into Google's home, Polk Assist performs better than the Google Home and Google Home Mini, while coming in cheaper than the Google Home Max or Apple's HomePod.
Rating: 3.5 out of 5
Where to buy